Cher slams Miley Cyrus, but feels 'ashamed' for her comments
updated 11:09 AM EDT, Fri September 20, 2013
STORY HIGHLIGHTS
Cher says Cyrus "come out naked, and if she'd just rocked the house"
Cher later backtracked on Twitter
The singer said Cyrus is talented
(CNN) -- Reactions to Miley Cyrus at the VMAs: People are still having them!
Earlier this week, we heard what both Britney Spears and Paula Patton had to say about the performance. (Spoiler alert: They think she's just being Miley.) But while both those stars were shrugging their shoulders, another music legend was sharpening her claws.
"I'm not old-fashioned," Cher told USA Today in an interview published Tuesday. "She could have come out naked, and if she'd just rocked the house, I would have said, 'You go, girl.' It just wasn't done well. She can't dance, her body looked like hell, the song wasn't great, one cheek was hanging out. And, chick, don't stick out your tongue if it's coated."
EW: Paula Patton reacts to Miley Cyrus' VMAs performance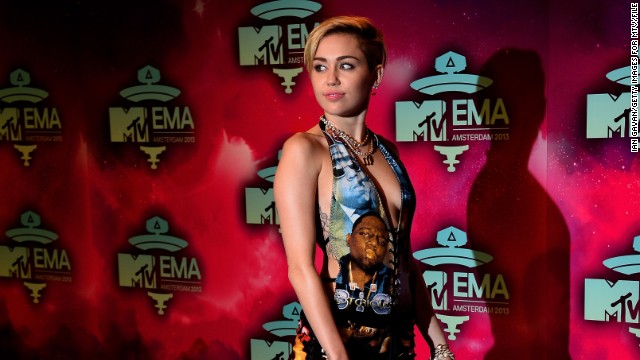 Miley Cyrus became a household name for families when her Disney Channel television show, "Hannah Montana," premiered in 2006. From there, Cyrus quickly rose to pop star fame and has been changing her appearance ever since.
The future pop star with her father, Billy Ray Cyrus, in October 1994 in Memphis, Tennessee.
The father and daughter team make a New York appearance for the Disney Channel in February 2006.
Cyrus performs during the Radio Disney Totally 10 Birthday Concert in July 2006 in Anaheim, California.
Cyrus chats with VJ Susie Castillo during an appearance on MTV's Total Request Live in February 2007 at MTV Studios in New York City.
Cyrus starred with Emily Osmand in an episode of "Hannah Montana" in June 2007.
Cyrus appears at the 2007 American Music Awards in Los Angeles.
The actress arrives at the Teen Vogue Young Hollywood Party at Vibiana in September 2007 in Los Angeles.
Cyrus arrives at a film premiere in Hollywood in January 2008.
Cyrus performs for ABC's "Good Morning America" at New York's Bryant Park in July 2008.
Cyrus appears at the Nickelodeon Kids' Choice Awards in Westwood, California, in 2009.
Cyrus performs during her "Wonder World" tour at Nassau Veterans Memorial Coliseum in November 2009 in Uniondale, New York.
Cyrus and her mother, Tish Cyrus, at the 52nd Annual Grammy Awards in January 2010 in Los Angeles.
Cyrus impersonates singer Justin Bieber in a Saturday Night Live skit with Vanessa Bayer in March 2011.
Cyrus performs at a music festival in June 2010 in Arganda del Rey, Spain.
Cyrus and Liam Hemsworth arrive at the 2012 People's Choice Awards at the Nokia Theatre L.A. Live in January 2012 in Los Angeles.
The singer arrives at the 2012 Billboard Music Awards in Las Vegas in May 2012.
Cyrus poses on the red carpet for the MTV Video Music Awards in Los Angeles in September 2012.
The grown-up Cyrus performs during the "VH1 Divas" concert in Los Angeles in December 2012.
Cyrus attends the Costume Institute Gala for the "PUNK: Chaos to Couture" exhibition at the Metropolitan Museum of Art on May 6 in New York City.
Cyrus winks during an interview at a radio station in Bad Vilbel near Frankfurt, Germany, on July 22.
Cyrus shows off her moves with Robin Thicke during the 2013 MTV Video Music Awards in Brooklyn, New York, on Sunday, August 25.
Cyrus is seen leaving her London hotel on September 11.
Cyrus performs onstage during the iHeart Radio Music Festival Village on September 21 in Las Vegas.
Taran Killam and Cyrus pose in a promo for her upcoming "Saturday Night Live" episode on October 5.
Bobby Moynihan, left to right, Vanessa Bayer and Cyrus perform a skit on "Saturday Night Live" on October 5, in which they mock Cyrus' VMA performance.
Cyrus smokes a marijuana joint onstage during the MTV Europe Music Awards in Amsterdam, Netherlands, on November 10.
Cyrus performs on the European competition show "The X Factor" in London on November 17.
Cyrus opens her Bangerz Tour on February 14, 2014 in Vancouver, Canada. The stage features a giant image of Cyrus' face with her signature exposed tongue serving as a slide.
Cyrus performs with false teeth during her Bangerz Tour at Rogers Arena on February 14, 2014 in Vancouver, Canada.
Cyrus rides an oversized hotdog during the Bangerz Tour opening concert in Vancouver, Canada.
Miley performs a racy number atop a car during her Bangerz Tour at Honda Center on February 20, 2014 in Anaheim, California.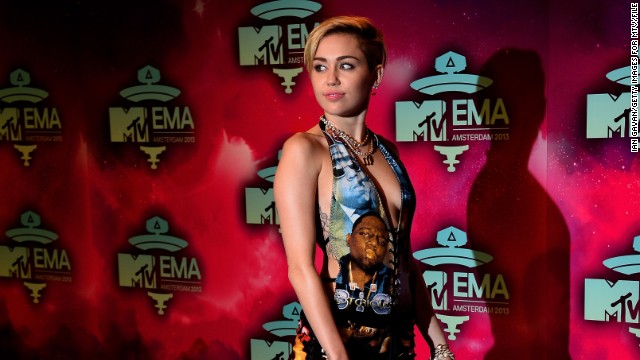 Photos: Evolution of Miley Cyrus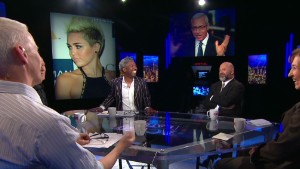 Should we be worried about Miley Cyrus?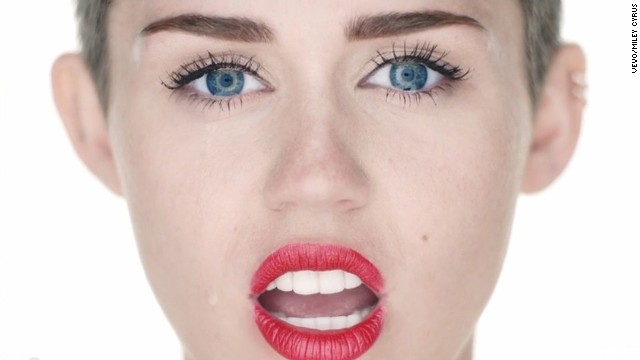 Miley Cyrus gets naked in music video
Ouch! It's one thing to slam Miley's choice of outfit or sexually-charged behavior; it's quite another to question the girl's talent itself. And coming from someone who knows a thing or two about rockin' it while wearing revealing outfits — not to mention clearly visible buttocks — that comment is harsher still.
EW: Britney Spears defends Miley Cyrus on 'GMA', plus 4 other things we learned
Evidently, Cyrus is taking Cher's burn in stride. She hasn't responded to Cher's words on social media, choosing instead to keep touting the phenomenal success of "Wrecking Ball," her latest single. ("#1 on Billboard. #1 on iTunes. #1 on Spotify. #1 on Streaming. #1 on Digital songs. #1 most added to pop radio. #1 on VEVO," according to Miley.)
And maybe it was the young star's high-road tactics — not to mention a barrage of criticism about her criticism — that prompted Cher to backtrack on Twitter yesterday. "What I should have said [is],"I didn't like it that much,but she's Pushing The Envelope,being an ARTIST !" the Oscar winner wrote. "She's Talented,& DIDNT COMMIT A FELONY[.]"
Good points all, Cher — though some might argue that "flicking that tongue as deamons do" should be grounds for at least a time-out.
See the original story at EW.com.