Billy Ray Cyrus on his daughter: 'That's still my Miley'
updated 11:07 AM EDT, Fri September 20, 2013
STORY HIGHLIGHTS
Billy Ray Cyrus sits down with CNN's "Piers Morgan Live"
He speaks at length about his daughter's appearance at MTV's Video Music Awards
"There's no middle of the road for passion," he says
(CNN) -- She might have had the world talking after her controversial appearance at MTV's Video Music Awards last month, but to at least one person, Miley Cyrus is still just who she is.
"She's just Miley," her father, Billy Ray Cyrus, told CNN's "Piers Morgan Live."
"She's an artist. She's real. I think that what's happened over the years, Miley has been reinventing her sound. She's evolving as an artist herself. I think that all of what everyone is calling controversy now, that's still my Miley," he said.
Billy Ray Cyrus spoke at length Thursday night about his daughter's performance at the VMAs.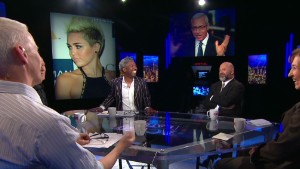 Should we be worried about Miley Cyrus?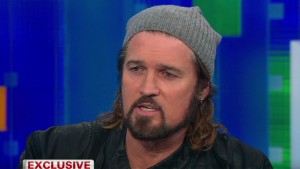 Cyrus: Miley is very, very smart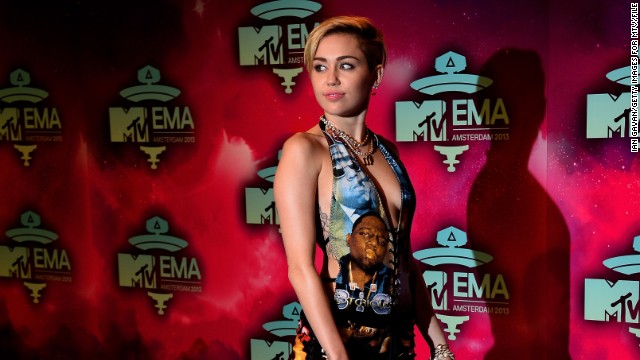 Miley Cyrus became a household name for families when her Disney Channel television show, "Hannah Montana," premiered in 2006. From there, Cyrus quickly rose to pop star fame and has been changing her appearance ever since.
The future pop star with her father, Billy Ray Cyrus, in October 1994 in Memphis, Tennessee.
The father and daughter team make a New York appearance for the Disney Channel in February 2006.
Cyrus performs during the Radio Disney Totally 10 Birthday Concert in July 2006 in Anaheim, California.
Cyrus chats with VJ Susie Castillo during an appearance on MTV's Total Request Live in February 2007 at MTV Studios in New York City.
Cyrus starred with Emily Osmand in an episode of "Hannah Montana" in June 2007.
Cyrus appears at the 2007 American Music Awards in Los Angeles.
The actress arrives at the Teen Vogue Young Hollywood Party at Vibiana in September 2007 in Los Angeles.
Cyrus arrives at a film premiere in Hollywood in January 2008.
Cyrus performs for ABC's "Good Morning America" at New York's Bryant Park in July 2008.
Cyrus appears at the Nickelodeon Kids' Choice Awards in Westwood, California, in 2009.
Cyrus performs during her "Wonder World" tour at Nassau Veterans Memorial Coliseum in November 2009 in Uniondale, New York.
Cyrus and her mother, Tish Cyrus, at the 52nd Annual Grammy Awards in January 2010 in Los Angeles.
Cyrus impersonates singer Justin Bieber in a Saturday Night Live skit with Vanessa Bayer in March 2011.
Cyrus performs at a music festival in June 2010 in Arganda del Rey, Spain.
Cyrus and Liam Hemsworth arrive at the 2012 People's Choice Awards at the Nokia Theatre L.A. Live in January 2012 in Los Angeles.
The singer arrives at the 2012 Billboard Music Awards in Las Vegas in May 2012.
Cyrus poses on the red carpet for the MTV Video Music Awards in Los Angeles in September 2012.
The grown-up Cyrus performs during the "VH1 Divas" concert in Los Angeles in December 2012.
Cyrus attends the Costume Institute Gala for the "PUNK: Chaos to Couture" exhibition at the Metropolitan Museum of Art on May 6 in New York City.
Cyrus winks during an interview at a radio station in Bad Vilbel near Frankfurt, Germany, on July 22.
Cyrus shows off her moves with Robin Thicke during the 2013 MTV Video Music Awards in Brooklyn, New York, on Sunday, August 25.
Cyrus is seen leaving her London hotel on September 11.
Cyrus performs onstage during the iHeart Radio Music Festival Village on September 21 in Las Vegas.
Taran Killam and Cyrus pose in a promo for her upcoming "Saturday Night Live" episode on October 5.
Bobby Moynihan, left to right, Vanessa Bayer and Cyrus perform a skit on "Saturday Night Live" on October 5, in which they mock Cyrus' VMA performance.
Cyrus smokes a marijuana joint onstage during the MTV Europe Music Awards in Amsterdam, Netherlands, on November 10.
Cyrus performs on the European competition show "The X Factor" in London on November 17.
Cyrus opens her Bangerz Tour on February 14, 2014 in Vancouver, Canada. The stage features a giant image of Cyrus' face with her signature exposed tongue serving as a slide.
Cyrus performs with false teeth during her Bangerz Tour at Rogers Arena on February 14, 2014 in Vancouver, Canada.
Cyrus rides an oversized hotdog during the Bangerz Tour opening concert in Vancouver, Canada.
Miley performs a racy number atop a car during her Bangerz Tour at Honda Center on February 20, 2014 in Anaheim, California.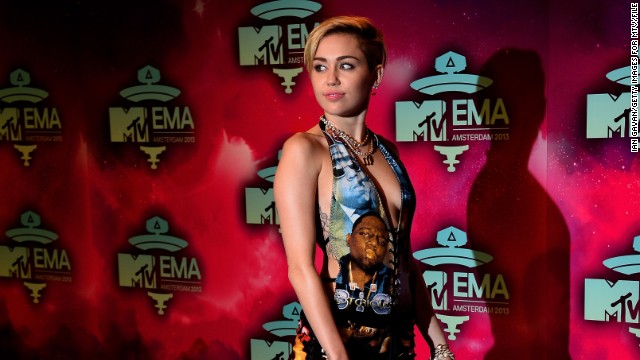 Photos: Evolution of Miley Cyrus
You know the one.
Wearing a flesh-toned bra and matching underwear, Miley Cyrus appeared on stage with gigantic, dancing bears and stunned the crowd by grinding against singer-songwriter Robin Thicke and yes -- twerking.
The performance was a far cry from her Disney days as "Hannah Montana."
Billy Ray Cyrus said he had known his daughter planned to do "something really special" at the VMAs to get everyone talking.
"Miley's smart enough to know that to come out of the shadows of 'Hannah Montana,' it really takes something extremely drastic, which when you go to that level, it creates passion, and passion is either love or hate. But there's no middle of the road for passion," he said, adding that the performance pushed his daughter to new heights.
"She has risen to a whole new level. I thought I had seen it all -- until these last couple of weeks," he told CNN's Morgan.
Cher slams Miley Cyrus, but feels 'ashamed' for her comments
Miley and Liam: The engagement's off
Miley's 'Wrecking Ball' wrecks Michigan college statue
Watch Piers Morgan Live weeknights 9 p.m. ET. For the latest from Piers Morgan click here.