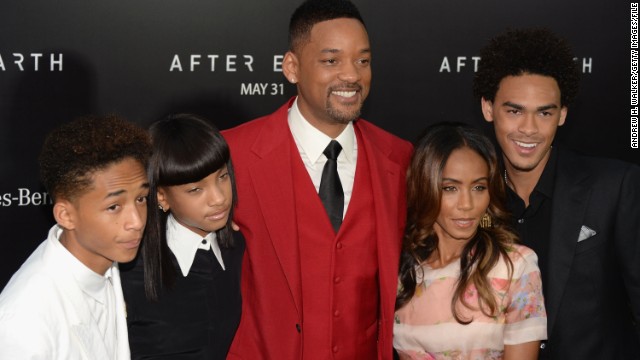 The Smiths -- from left, Jaden, Willow, Will, Jada Pinkett and Trey -- stay busy attending one another's movie premieres and listening parties. Jaden has rapped on songs with Justin Bieber and appeared in films such as "The Karate Kid," "The Pursuit of Happyness" and "After Earth" (the latter two with his dad). Willow made her acting debut in her dad's "I Am Legend" but has focused mostly on music. The siblings aren't the only children of stars who are doing well on their own:
is reportedly signing his first professional contract
with an English soccer team, Arsenal. The budding athlete is pictured here with his dad and his two younger brothers, Romeo and Cruz, who also play soccer for Arsenal youth teams. It's clear David and Victoria Beckham have passed their star genes onto their kids.
It looks like David Beckham is raising some future soccer stars. His oldest son Brooklyn (far left), 15,
In the September issue of Harper's Bazaar,
the 20-year-old aspiring artist is photographed by the 23-year-old grandson of photographer Richard Avedon.
The granddaughter of style icon Audrey Hepburn, Emma Ferrer is making a stylish entrance of her own.
as seen here in GQ
-- but she dreams of going into the movie business as a screenwriter.
Does this face look familiar? That's because it's Dylan Penn, the daughter of actors Sean Penn and Robin Wright. Thanks to those stunning genes, Dylan has a side gig as a model --
Town & Country
magazine put him in a whole new light ...
We'd recognize that squint anywhere! Yes, Scott Eastwood -- actor, surfer, traveler and now model -- is one of Clint Eastwood's kids. Although Scott, seen here at the 2009 premiere of his dad's movie "Invictus," hasn't been hiding out, a feature in
... and it's not hard to see why.
Nearly everyone has heard 2013's song of the summer -- Robin Thicke's "Blurred Lines" -- but you may not realize the R&B singer's dad, Alan Thicke, played Jason Seaver on the popular ABC sitcom "Growing Pains," which ran from 1985 to 1992. Now the son is just as well-known as his dad.
Miley Cyrus wasn't even born when her dad, Billy Ray Cyrus, soared to No. 1 on the country charts with the single "Achy Breaky Heart." Fourteen years later, Miley's dad would join her on the Disney Channel's "Hannah Montana," the series that made her famous. By the time the show ended in 2011, Miley had starred in several movies and scored some hit songs of her own.
You might think that Rashida Jones would have found it difficult to step out from the shadow of her dad, Quincy Jones, the legendary music producer behind such acts as Ray Charles and Michael Jackson. But the actress has charted her own course, starring in TV series such as "Boston Public" and "Parks and Recreation" in addition to the movies "I Love You, Man" and "The Social Network." Maybe she got the acting bug from her mom, Peggy Lipton, of "The Mod Squad" and "Twin Peaks" fame.
"I'm Spartacus!" So proclaimed Kirk Douglas as the title character of the famous 1960 Stanley Kubrick epic. Douglas, one of the biggest stars of Hollywood's golden age, would have been a lot for any kid to look up to. Nevertheless, son Michael has become as much of an icon as his old man, with more than four decades in show business.
Kate Hudson has a knack for comedy in movies such as "How to Lose a Guy in 10 Days" and TV shows such as "Glee." You could say it runs in the family: Her mom, Goldie Hawn, won an Oscar for her first major movie role, the 1969 comedy "Cactus Flower."
Legendary actor Henry Fonda, center, produced a famous family. His children, Peter and Jane, both went on to notable film careers of their own, as did his granddaughter Bridget.
Angelina Jolie and her father, Jon Voight, reportedly have a contentious relationship, but they have one thing in common: The camera loves them. Jolie was born six years after her father's career took off with 1969's "Midnight Cowboy," and her first credited role came in her dad's 1982 movie, "Lookin' to Get Out." Soon Jolie had an Oscar, for 1999's "Girl, Interrupted," to go along with her dad's from 1978's "Coming Home."
Prolific actor Lloyd Bridges seemed to pass on the acting bug to his son Jeff early on. Dad starred in movies such as 1952's "High Noon" and TV series such as "Sea Hunt," a popular show that young Jeff got his start on in the late '50s. By 1971, Jeff established himself as a breakout star with an acclaimed role in "The Last Picture Show." Lloyd's son Beau also has had a successful career in movies and TV.
There's no question that stage and screen star Martin Sheen, right, has seen his sons become just as famous as himself. Older son Emilio Estevez, left, chose to use his father's birth name, following dad into acting in the early '80s. He was soon an established member of the "Brat Pack" with roles in 1983's "The Outsiders" and 1985's "The Breakfast Club." Emilio's brother Charlie (born Carlos Estevez) wasn't far behind, carving out roles in '80s films "Wall Street" and "Major League" before moving on to TV success with "Two and a Half Men."
Kiefer Sutherland got his acting start alongside his dad, Donald Sutherland. The elder Sutherland was already established with roles in 1967's "The Dirty Dozen" and 1970's "M.A.S.H." by the time his son joined him for the 1983 dramedy "Max Dugan Returns." Kiefer went on to star in the movies "Stand by Me" and "The Lost Boys" and later the TV series "24."
The story goes that Gwyneth joined her Tony-winning mom on stage
as a toddler in 1974 and recited Blythe's lines. When she began landing roles in movies such as 1991's "Hook," it was clear Gwyneth was destined for film sets. An Oscar for 1998's "Shakespeare in Love" wasn't far behind.
Gwyneth Paltrow's parents, actress Blythe Danner, left, and TV director/producer Bruce Paltrow, at first encouraged her to focus on school even though she showed an early affinity for the spotlight.
The Barrymore family is known for actors, including 38-year-old Drew. Her grandfather John Barrymore and her great-aunt and great-uncle, Ethel Barrymore and Lionel Barrymore, were all legends. Drew's father, John Drew Barrymore, right, was also in the family business but had a spottier history of roles. Drew got her start early, appearing in a Puppy Chow commercial as an infant and stealing scenes in 1982's "E.T." by age 7. After a rough adolescence, she put her career back on track as an A-list star.
Jennifer Aniston's dad, John Aniston, is most famous for his decades-long stint on daytime soap "Days of Our Lives." Jennifer also found the small screen crucial to her success: The actress became a household name as Rachel Green on the sitcom "Friends."
Country star Hank Williams Jr. inherited his dad's name, trade and fame. The senior Hank Williams was a legend in the annals of country music as the singer-songwriter behind such tunes as "Your Cheatin' Heart," "I'm so Lonesome I Could Cry" and "Hey, Good Lookin'." The elder Williams' work left its mark on his son. The latter has established himself as a well-known musician with his own spin on country fused with Southern rock and blues.
Rob Reiner was born to Emmy-winning actor, comedian, writer and producer Carl Reiner, best known as creator of the 1960s classic sitcom "The Dick Van Dyke Show." Rob, too, has been a successful actor ("All in the Family") as well as the director of beloved movies such as "The Princess Bride" and "When Harry Met Sally."
Mariska Hargitay is the daughter of '50s sex symbol Jayne Mansfield, but she took a different path to stardom. While her mother was famous for her blond hair, curves and wardrobe malfunctions, Hargitay opted to be brunette and shy away from nude scenes. Eventually she landed the starring role of Detective Olivia Benson on "Law & Order: Special Victims Unit," winning Emmy and Golden Globe awards for her work.
Born into the spotlight, Liza Minnelli followed in the footsteps of her mother, the legendary singer-actress Judy Garland, winning a Tony and landing an Oscar nod before the age of 25. The daughter of "The Wizard of Oz" star and famed movie musical director Vincente Minnelli has had an illustrious career of her own, with an Oscar for "Cabaret" (1972) and TV appearances on "Arrested Development."
Isabella Rossellini, daughter of the three-time Oscar winner Ingrid Bergman and Italian director Roberto Rossellini, has made a career for herself in film and fashion. Isabella got her start in acting in her mom's 1976 film, "A Matter of Time," and by the mid-'80s was appearing in movies such as "White Nights" and "Blue Velvet." These days, she's watching daughter Elettra Wiedemann rise in the modeling industry.
Stefan Gordy is better known to the public as Redfoo of the party-rocking group LMFAO, but around Hollywood, he's likely best known as the son of the legendary Berry Gordy. The Motown Records founder ushered in a sound in the '60s that's far different from what his son is doing today, but both men have had a major impact on music industry trends.
The star gene: Next-generation celebrity
The star gene: Next-generation celebrity
The star gene: Next-generation celebrity
The star gene: Next-generation celebrity
The star gene: Next-generation celebrity
The star gene: Next-generation celebrity
The star gene: Next-generation celebrity
The star gene: Next-generation celebrity
The star gene: Next-generation celebrity
The star gene: Next-generation celebrity
The star gene: Next-generation celebrity
The star gene: Next-generation celebrity
The star gene: Next-generation celebrity
The star gene: Next-generation celebrity
The star gene: Next-generation celebrity
The star gene: Next-generation celebrity
The star gene: Next-generation celebrity
The star gene: Next-generation celebrity
The star gene: Next-generation celebrity
The star gene: Next-generation celebrity
The star gene: Next-generation celebrity
The star gene: Next-generation celebrity
The star gene: Next-generation celebrity
The star gene: Next-generation celebrity
The star gene: Next-generation celebrity
The star gene: Next-generation celebrity