STORY HIGHLIGHTS
NEW: Death toll statewide revised downward to six
About 600 people in Larimer County are stranded, need to be rescued
Weather this week will favor rescue crews, with only slight chance for storms
In the town of Lyons, flood waters pushed entire houses around like furniture
Lyons, Colorado (CNN) -- More people were told to evacuate their homes in northeastern Colorado on Tuesday as residents of the flood-stricken towns north of Denver returned to battered neighborhoods, with some of them finding no house to call home.
The small town of Crook, about 150 miles northeast of Denver, ordered residents on the north side of town to clear out as water in a canal rose to "historic" levels, the Logan County Emergency Management Office reported. Residents on the south side of town had already been ordered out of their homes as firefighters monitored the rising South Platte River, the agency said.
Runoff from last week's floods along the Front Range of the Rocky Mountains is now rushing down the South Platte, which runs from south of Denver into Nebraska. The National Weather Service warned counties in Nebraska would start to see the river overflow its banks by Wednesday.
State emergency management officials later Tuesday revised the statewide death toll from eight to six. "The two missing and presumed dead individuals from Larimer County are now listed under missing numbers to more accurately reflect their status," officials said.
Rescuers were still plucking hundreds of stranded residents from homes cut off by last week's flooding on Tuesday. Authorities in Boulder County airlifted 215 people to safer ground on Monday, while Larimer County saw 420 people evacuated, according to officials there.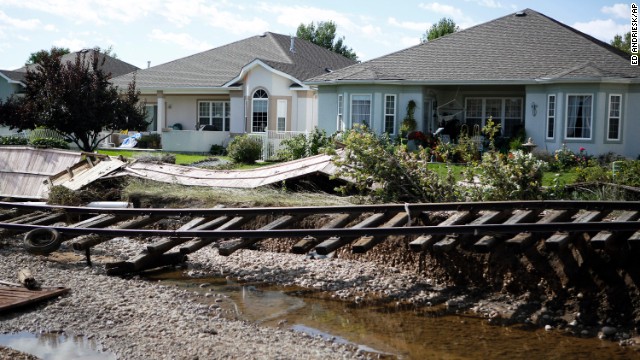 Railroad tracks washed from their path by floodwaters are seen in Longmont on Thursday, September 19, 2013. Massive flooding has left at least six people dead and damaged thousands of homes around the state.
Piles of items destroyed by flooding line both sides of a street in Longmont on September 19.
A woman disposes of ruined items from her home in Longmont on Wednesday, September 18.
David Soleta, right, and family friend John Rice remove destroyed and contaminated walls on September 18 from Soleta's father-in-law's home, which was heavily damaged by floodwaters that swept through Longmont.
From left, siblings Elizabeth, 13, Jonathan, 9, Aaron, 11, and Kitty Dipert, 6, wash mud from the clothing of family friends from church on September 18 in Longmont, Colorado.
An abandoned car sits on a destroyed road along the South Platte River near Greeley, Colorado, on Tuesday, September 17.
A Blackhawk helicopter flies over a canyon during a search around Boulder, Colorado, on September 17.
Two women are hoisted into a Blackhawk helicopter during a search and rescue mission near Jamestown, Colorado, on September 17.
Two women smile and laugh after being rescued by a helicopter crew on September 17 near Jamestown, Colorado.
Members of the FEMA Urban Search and Rescue Nebraska Task Force 1 use probes to test for water depth while crossing floodwaters looking for missing people near Longmont, Colorado, on September 17. Stranded flood victims are being rescued by military helicopters and vehicles.
A cow stands in floodwater near Kersey, Colorado, on September 17.
From left, Dale Reeves, Kathryn Reeves and Trent Mayes assist a family member by moving belongings from a flooded home in Evans, Colorado, on September 17.
A gas well is surrounded by floodwater near Kersey, Colorado, on September 17.
A woman steps over a puddle onto the foundation of a shed that was moved by floodwaters in Hygiene, Colorado, on Monday, September 16.
People wade through floodwater in Greeley, Colorado, on September 16.
Jerrie McBride checks in with authorities after being rescued by helicopter from the Big Elk Meadows area in Boulder, Colorado, on September 16.
Local residents, from left, Levi Wolfe, Miranda Woodard, Tyler Sadar, and Genevieve Marquez help salvage and clean property after days of flooding in Hygeine, Colorado, on September 16.
Floodwaters surround a home in Jamestown, Colorado, on Sunday, September 15.
Chickens take refuge on the roof of their coop to escape floodwater in the backyard of a home in Longmont, Colorado, on September 15.
Railroad tracks are washed out in Longmont, Colorado, on September 15.
Water pours out of a parking lot, overwhelming a culvert heading under the roadway, in Estes Park, Colorado, on September 15.
A road crew works on a stretch of highway washed away by flooding along the South Platte River near Greeley, Colorado, on Saturday, September 14.
Parked vehicles sit partially submerged near Greeley, Colorado, on September 14.
Eli and Noe Sura play in the mud around their Boulder, Colorado, home on September 14.
A National Guardsman stands at South Main and Missouri streets in Longmont, Colorado, on September 14.
Floodwaters swamp Longmont, Colorado, on September 14.
Dave Jackson closes a mailbox with his foot after delivering the mail to a home surrounded by water from the flooded Cheyenne Creek in Colorado Springs, Colorado, on Friday, September 13.
Rescue personnel search for flood victims near Fort Collins, Colorado, on September 13.
Chris Rodes helps Fred Rob salvage a friend's belongings after floods left homes and infrastructure in shambles in Lyons, Colorado, on September 13.
During a break in the rain, a woman walks over a footbridge past the raging Boulder Creek in Boulder on September 13. Boulder County is one of the hardest-hit areas.
Suzanne Sophocles hugs her dogs after they were rescued from her flooded home on September 13 in Boulder. Thousands of people stranded by the flood waters in Colorado were finally able to come down by trucks and helicopters, two days after seemingly endless rain turned normally scenic rivers and creeks into coffee-colored rapids that wrecked scores of roads and wiped out neighborhoods.
Residents look at the flood damage along Topaz Street in Boulder on September 13.
Will Pitner gets rescued by emergency workers and neighbor Jeff Writer on September 13 after he spent a night trapped outside above his home at the base of Boulder Canyon.
Water rushes where a bridge collapsed in a flash flood in Lyons, on September 13.
A man runs through the floodwaters in a yard in Boulder on September 13.
Topaz Street resident Jake Koplen stands at the edge of his driveway after the street in front of his home was washed away in Boulder on September 13.
Siblings Patrick Tinsley and Mary Kerns head to Boulder from the mountain community of Magnolia, Colorado, on September 13.
Samantha Kinzig of Longmont, Colorado, and her 5-year-old daughter, Isabel, take a closer look at the damaged bridge on Weld County Road 1 on September 13.
Highway 7 is completely blown out from the South St. Vrain River as a torrent of raging water rips through it about 12 miles west of Lyons on Thursday, September 12.
A woman looks at the flooded Boulder Creek on September 12.
Three vehicles crashed into a creek after the road washed out from beneath them in Broomfield, Colorado, on September 12. Three people were rescued.
Nicky Toor, 15, floats on the flooded lawn of North Boulder Park in Boulder on September 12.
Joey Schusler rides through flooded Canyon Boulevard in Boulder, on September 12.
Residents view a road washed out by a torrent of water after overnight flash flooding near Left Hand Canyon, Colorado, on September 12.
A city worker talks on his phone while surveying high water levels from Boulder Creek after flash flooding in downtown Boulder, Colorado, on September 12.
Flash flood waters rush over a walking path in downtown Boulder on September 12.
A police officer blocks off a road in Boulder on September 12.
A man walks past the swelled Boulder Creek in Boulder on September 12.
People stand at the edge of floodwaters in Boulder on September 12.
A dive rescue team moves toward floodwaters in Boulder on September 12.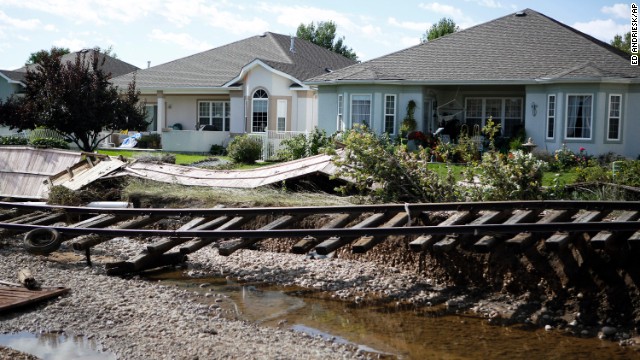 Deadly floods hit Colorado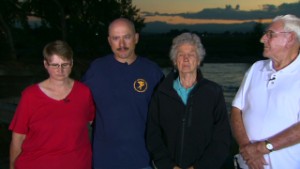 Sacrifice in Colorado's historic flood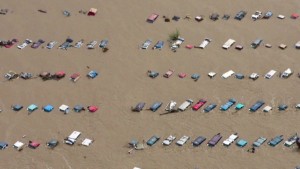 Massive flood rescue operation in Colorado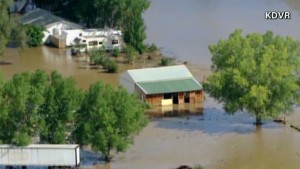 Cleaning up after Colorado floods
However, about 600 people are stranded in isolated areas of Larimer County, and rescue crews continued working to evacuate as many as possible Tuesday, authorities said. The week's weather outlook looked favorable for crews, and forecasts called for only slight chances of afternoon storm mid-week, officials said.
"At this point the mission is getting folks down off the mountain, getting them down safely," said Nick Christensen, executive officer of the Larimer County Sheriff's Office.
The air efforts may be the largest such evacuation in the country since Hurricane Katrina in 2005, the National Guard said.
"I expected to see a lot more frustration with folks," Larimer County Sheriff Justin Smith told reporters. "They have been up there since Wednesday or Thursday without an ability to come down, many of them without water and very limited on food overall."
But most were "in good spirits," Smith said. "It was just amazing. It spoke to the spirit of folks that live here."
Authorities continued checking on residences Tuesday for any occupants, Smith said.
"We have significant air resources up," he added.
The numbers of people unaccounted for during the height of the bad weather dropped again Tuesday, with Boulder County reducing its count to 183 and Larimer County dropping its figure to 197. Most of the people on the unaccounted list are likely alive and well but have failed to check in with authorities to let them know.
For many of those who've returned home, however, the scenes are heartbreaking. In the town of Lyons, about 15 miles north of Boulder, flood waters pushed entire houses around like furniture.
"Today is our first day up here since we've been evacuated," Kelly Hunt told CNN. "And I feel like it's worse than I thought it would be. We lost absolutely everything we own."
When the thick mud and water moved through the town Thursday, they lifted her house and moved it several feet.
Throughout Lyons, the streets are dotted with snapped power poles. Rescue workers and the National Guard members outnumber residents, who were forced to evacuate.
The two branches of the St. Vrain Creek bisect this town, and nearly swallowed it whole.
Abe Vasquez tried to step through the living room of his 78-year-old mother's home. His feet slowly sank in the two feet of raw sewage that had pooled there.
"Here's what's left," Vasquez said. "That's her walker. That's the other one."
Stories of grief, generosity and gratitude
It took 79 years to build the place, Vasquez said. It took 24 hours for it all to disappear.
"It's gone," he said. "It's hard."
In nearby Longmont, Jeff Larsen considered himself a little more fortunate. His home is damaged. But at least it's still standing.
"It's ruined," Larsen, who returned to Longmont for the first time since Thursday, told CNN affiliate KUSA. "Our basement is gone. It stinks so bad in there, you can barely stand it."
When the waters rushed in, his wife, Nina, watched as their SUV was whooshed away.
"We watched it float down the road," she said.
Nearly 18,000 homes around the state have been damaged.
"I think there is still going to be a lot of shock and disbelief," said Matthew Applebaum, the mayor of Boulder. "The amount of destruction, the damage to people's houses, the damage to neighborhoods, the damage to roads, the damage to our much beloved open space -- it's pretty significant and, as I said, it's extraordinarily widespread."
Like many, Casey Korbely wants to return home. But pictures from his neighborhood in Boulder County show cars buried in mud, and a huge hole that was once a road.
"The cops and firefighters said it would probably take two to three weeks before they can build a bridge and we can get our vehicles out. "
But Korbely is determined to get back -- by hiking. An uphill climb ... fueled by a Colorado spirit that doesn't give up.
In Boulder, the Schuler family surveyed the incredible damage to their home, inundated by water and mud. They live in the flood plain, but have insurance.
"It totally took all the furniture and moved it from one room to the other, so it was whipping through the house," Kim Schuler told CNN as he showed the damage.
The resident said friends have helped them clean up the muck and prepare for the next step.
"It does give you a perspective on humanity," Schuler said. "There's a lot of nice people that you don't know that don't ask for anything of thanks. They just came in, they helped and they left."
More than 6,400 Colorado residents in the disaster have applied for aid from the Federal Emergency Management Agency, and more than $430,000 has been approved in individual assistance such as temporary housing and home repairs, FEMA said Tuesday.
Opinion: What we learned from Vermont's epic flood
CNN's Kyung Lah in Lyons, Tory Dunnan in Longmont, Ana Cabrera in Boulder County, George Howell, Dana Garrett, Elwyn Lopez and Shawn Nottingham contributed to this report.