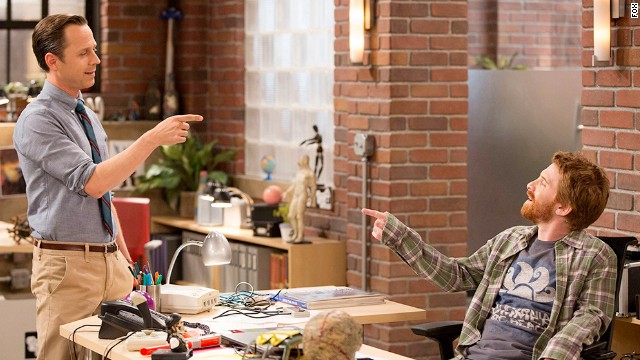 Giovanni Ribisi, left, and Seth Green star as as two successful gaming entrepreneurs and childhood best friends in "Dads." The series has already been labeled as "offensive" before it has even aired. It joins a long list of shows that have been called such:
Carroll O'Connor was so good as the racist, sexist and often insensitive Archie Bunker on "All in the Family" (1971-1979) that fans sometimes forgot he was acting. Jean Stapleton as his wife, Edith, was a much more likeable character.
Given that the show ran from 1972 to 1978, some of the issues "Maude" tackled were considered offensive at the time. The series didn't shy away from discussing everything from abortion to gay rights.
The couples on "Temptation Island" were there to test the strength of their relationships, but the concept ended up testing the nerves of some fans who didn't like it. The reality show aired in 2001 to low ratings and returned briefly in 2003 where it once again was not embraced by viewers.
Charles Correll (left) and Freeman Gosden appear in blackface makeup in a promotional portrait for the television series "The Amos 'n' Andy Show," which was offensive to many African-Americans and others when it ran from 1951to 1953.
Ed O'Neill and Katey Sagal starred in "Married With Children," which often got slammed for its risque humor when it ran from 1987 to 1997.
Where to even begin with "South Park?" From it's use of the n-word to its depiction of the Virgin Mary menstruating, the animated series has not shied away from controversy since it premiered in 2000.
a call for the boycotting
of another MacFarlane show in February 2013: "Family Guy." The series originally began in 1999 and ended in 2003 after it was canceled. Fox brought it back in 2005.
A joke about pedophilia led to
"The Secret Diary of Desmond Pfeiffer" aired on UPN in 1998 and was criticized before it even premiered because of its comedic take on slavery. The series ended after only 4 episodes.
"Big Brother" has had its share of controversies courtesy racial remarks and fights among the house guests. The show premiered in the U.S. in 2000.
"$#*! My Dad Says" was deemed politically incorrect right out of the gate thanks to its title. William Shatner played Ed Goodson, an opinionated dad who relishes expressing his unsolicited and often insulting observations. It ran for one season from 2010 to 2011.
ABC's "Don't Trust the B---- in Apartment 23" had the original title toned down from actually using the "b word" so as not to be offensive. It aired from april 2012 to January 2013.
The same title alteration happened with "GCB," which was originally known as "Good Christian B****es," leading some to joke that ABC was coming to be known as the American B***h Corporation.It only lasted from march to May of 2012.
"the worst show on television"
when it debuted in 2012. Critics lamented that the humor about Schneider integrating with his wife's Mexican-American family was shallow.
From left, Cheech Marin, Rob Schneider and Claudia Bassols appear on "Rob," which was called
reportedly lost advertisers
after the Parents Television Council labeled it indecent. The show was axed in 2011 after only three episodes.
"The Playboy Club"
The comedy "Outsourced" was set in a call center in India and called racist by some critics. The show ran for one season from 2010 to 2011.
'Offensive' TV shows
'All in the Family'
'Maude'
'Jersey Shore'
'Temptation Island'
'Amos 'n' Andy'
'Married With Children'
'South Park'
'Family Guy'
'Secret Diary of Desmond Pfeiffer'
'Big Brother'
'$#*! My Dad Says'
'... Apartment 23'
'GCB'
'Rob'
'The Playboy Club'
'Outsourced'
STORY HIGHLIGHTS
Critics have already lambasted the new series "Dads"
The pilot contains jokes about Asians; the series premieres on Tuesday
The second episode tones down the politically incorrect humor, reviewers say
(CNN) -- Is the new Fox series "Dads" a dud?
According to many of the critics who have reviewed the new sitcom from executive producer Seth MacFarlane, the answer is yes. But some are also saying it's more than just a creative misfire, it's also blatantly offensive.
"It's racist, homophobic, sexist, ageist," says Maggie Furlong, West Coast editor for HuffPost TV. "You name it, (producers) were just piling on the many, many offenses."
The show revolves around a pair of friends, Eli (Seth Green) and Warner (Giovanni Ribisi), who own a video game startup. "Comedy" ensues when the guys' dads (played by Peter Riegert and Martin Mull, respectively) unexpectedly move in with them.
OK, nothing too offensive there, although the premise doesn't score many points for originality.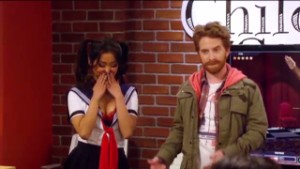 Controversy surrounds Fox's 'Dads'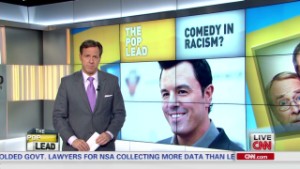 Seth MacFarlane offends with new show
But in the pilot episode, it doesn't take long for some questionable humor to crop up: Eli and Warner force an Asian-American co-worker to dress as an anime nymphet to titillate potential Chinese investors, and Warner's dad declares, "You can't trust (Chinese people). There's a reason 'Shanghai' is a verb."
"It's incredibly racist toward Asian people," said Guy Aoki, founder of the Media Action Network for Asian Americans. His organization asked Fox to reshoot the pilot to cut out what it considered the most offensive material, but the network refused.
"We're really surprised ... they're going to broadcast it as is," Aoki told CNN. "I mean, how can you have an episode which is so 'anti' any one group?"
It's small consolation to Aoki that gays and Latinos are also the butt of jokes in the pilot. The show includes a Latina housekeeper (who naturally speaks in "comically" broken English) and at one point, Warner's Latina wife is mistaken for a maid.
"Seth Green, Giovanni Ribisi, Peter Riegert, Martin Mull -- people who have been in this business for a very long time, saying these words, is 100 percent cringeworthy," Furlong told CNN. "It's not OK."
Fox has taken the novel approach of making a virtue of all the criticism.
It released a "Dads" promo countering the bad reviews ("offensive," "reprehensible," "morally wrong") with positive comments from fans who apparently watched a taping of the sitcom. One such fan urges, "Don't listen to the critics!"
But there are indications network executives have listened to the critics. The second episode of "Dads," which Fox provided to reviewers, featured much less politically incorrect humor, although it did include an anti-Semitic joke (playing off the stereotype that Jews "love a bargain").
"Fox has said, 'We've heard you. Give ("Dads") a chance. We understand. We're going to dial it back,' " Furlong told CNN.
Fox Entertainment Chief Kevin Reilly promised as much at a presentation to critics in August.
"Do I think all the jokes right now are in calibration in the pilot? I don't," Reilly told journalists. But, he added, "I have never seen a comedy in which all the jokes are in calibration."
Co-creator Wellesley Wild told reporters at that August presentation, "We want to keep ["Dads"] insulting and irreverent, but the most important thing is that it's funny. If we missed the mark in the pilot, we're shooting to hit it better in upcoming shows."
But Furlong is among the critics who don't think the second episode -- although less offensive -- was any funnier than the pilot.
"It's offensively bad," she told CNN. "It's just not funny, and I think that's the biggest problem."
"Dads" premieres Tuesday night on Fox.