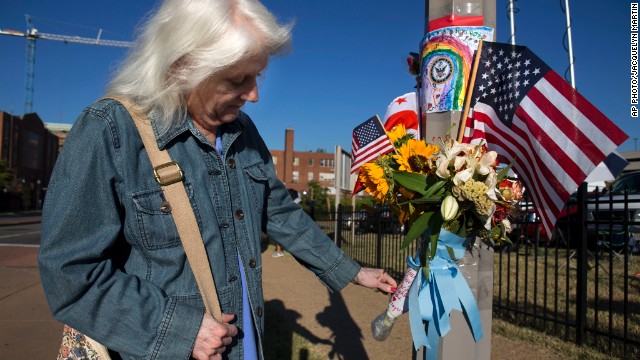 A woman who said she works at the Washington Navy Yard looks at a memorial to the shooting victims on Wednesday, September 18. Authorities said 12 people -- plus the gunman -- were killed in the shooting on Monday, September 16.
View photos from the scene of the rampage.
A handwritten note is taped to a post across the street from the Washington Navy Yard on September 18.
A man puts a bouquet at the anchor outside the Washington Navy Yard on Tuesday, September 17.
A flag flies at half-staff behind Valerie Parlave of the FBI and Washington Police Chief Cathy Lanier during a press conference on September 17 outside the FBI's field office in Washington.
Defense Secretary Chuck Hagel, right, and Gen. Martin Dempsey, chairman of the Joint Chiefs of Staff, second from right, present a wreath at the Navy Memorial in Washington on September 17.
Washington Nationals relief pitcher Ian Krol wears a Navy hat in the dugout of Nationals Park in Washington before a game against the Atlanta Braves on September 17.
The Washington Nationals have a moment of silence for the shooting victims before their game on September 17.
U.S. flags surrounding the Washington Monument fly at half-staff on September 17.
From left, Brittany Carter, Jibri Johnson and Bryan Beard attend a small candlelight vigil at Freedom Plaza in Washington on September 16.
Brittany Carter wipes tears away at the September 16 vigil.
Dave Gray and his wife, Brittany, of Salt Lake City hold candles in remembrance of people affected by gun violence.
The U.S. flag above the Treasury Department flies at half-staff on September 16.
Gordon Morris, left, and wife Laura watch as flags are lowered to half-staff during the September 16 vigil at Freedom Plaza.
Eddie Weingart of Project End Gun Violence speaks to the media on September 16.
Members of the media cover the vigil on September 16.
The U.S. flag flies at half-staff above the White House the day of the deadly shooting.
The Rev. Andrew Royals offers communion to Vinh Tran during a Catholic Mass at the St. Vincent De Paul Church on September 16. A prayer for the shooting victims was held at the church, which is just blocks away from the site of the violence.
Nation mourns Navy Yard shooting victims
Nation mourns Navy Yard shooting victims
Nation mourns Navy Yard shooting victims
Nation mourns Navy Yard shooting victims
Nation mourns Navy Yard shooting victims
Nation mourns Navy Yard shooting victims
Nation mourns Navy Yard shooting victims
Nation mourns Navy Yard shooting victims
Nation mourns Navy Yard shooting victims
Nation mourns Navy Yard shooting victims
Nation mourns Navy Yard shooting victims
Nation mourns Navy Yard shooting victims
Nation mourns Navy Yard shooting victims
Nation mourns Navy Yard shooting victims
Nation mourns Navy Yard shooting victims
Nation mourns Navy Yard shooting victims
Nation mourns Navy Yard shooting victims
STORY HIGHLIGHTS
Parents nationwide must decide whether to talk to children about latest tragedy
Some Washington-area mothers say they plan to tell their kids what happened
Reassurance is one of the most important things a parent can provide, experts say
Parents of middle and high schoolers should ask children what they've heard
Editor's note: Kelly Wallace is CNN's digital correspondent and editor-at-large covering family, career and life. She's a mom of two girls and lives in Manhattan. Read her other columns and follow her reports at CNN Parents and on Twitter.
(CNN) -- Not again.
That's what I thought, and what many parents across the country were thinking aloud on social media following the Washington Navy Yard shooting rampage that left 12 people plus the suspect dead.
Fort Hood. Aurora. Sandy Hook. Boston. And now the nation's capital. Another mass tragedy filled with incomprehensible loss, nonstop news coverage and a major question for parents: What do we tell our kids?
That question is even more difficult for parents in the Washington area since their children -- from elementary school age on up -- are likely to hear about the attacks that unfolded in their backyard.
Navy Yard shooting rampage kills 12; dead suspect is contractor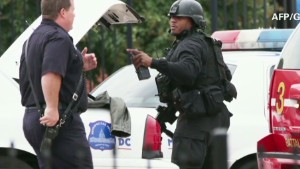 Tragedy at Washington Navy Yard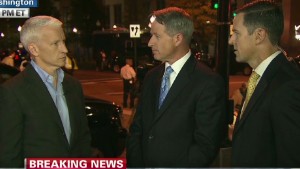 Navy yard shooting and base security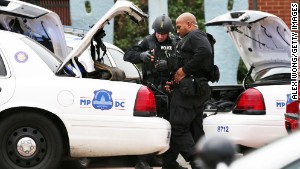 Witnesses recount Navy Yard shooting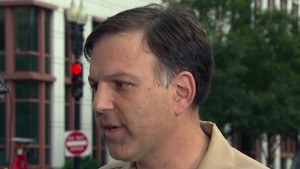 Witness: We looked up, saw bullet holes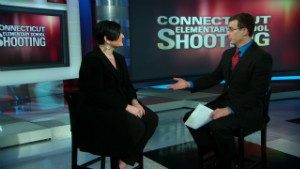 How parents can handle safety fears
Jessica McFadden, a mom of three who lives in Silver Spring, Maryland, just outside Washington, said she'd be taking her cues from her children about what to say and when. At the same time, she'll try to ensure she and her husband are the first sources of information for their eldest, a 9-year-old son.
"He's going to hear about it, and I don't want him to be scared or to feel as if his world is insecure if he hears about it from kids on the bus," said McFadden, who founded the blog A Parent in Silver Spring.
"So we will be talking about it with him; we will talk about how his school has great safety procedures, how my husband's office has good safety procedures, how our neighborhood is safe, that this isolated incident shouldn't make us more fearful in our day to day," she said.
Sadly, this is not the first such conversation McFadden will be having with her kids, because three years ago, an incident hit even closer to home. McFadden's husband worked inside the Maryland headquarters for Discovery Communications, where a man armed with a gun took three people hostage before police shot him to death.
"We had to talk about it because other adults that came into our family's sphere were talking about it, and so we wanted to make sure that we were the sources for the children's information so that they weren't overly scared hearing about it kind of second hand," she said.
Photos: Navy Yard shooting suspect
Stephanie Dulli, who lives in Washington with her two boys, ages 2 and 5, said at this moment, she doesn't have any plans to tell them what happened. "It would accomplish nothing but creating anxiety, especially for my eldest," said the host of the blog Stephanie Says.
But there will come a day when her boys are older, when sadly, another tragedy strikes and when she'll definitely have to talk with them about it. It's not an easy conversation for any parent, but for Dulli, it will be exponentially harder.
Her father was murdered when she was around the same age as her 2-year-old.
"I guess I can only try to do what my mother did. No matter how terrified or scared she was, she never let it affect me," Dulli said. "I will try to do the same. To explain what happened as clearly as I can, reassure and then show by example that we just have to keep going. I may be terrified to let my child go on the overnight trip, but he will never know that."
Reassurance is one of the most important things parents can provide children during a time of tragedy, when they fear it could happen to them, said Dr. Glenn Saxe, chairman of the Department of Child and Adolescent Psychiatry at NYU's Langone Medical Center.
"The first kind of thought and feeling is, 'Am I safe? Are people close to me safe? Will something happen? Will people I depend on protect me?' " said Saxe, who is also director of the NYU Child Study Center.
"You want to be assuring to your child, you want to communicate that you're ... doing everything you can do to keep them safe," Saxe said. "You also want to not give false assurances, too. And this is also depending on the age of the child. You have to be real about it as well."
Victims from Navy Yard shooting identified
Don't miss out on the conversation we're having at CNN Living.
Follow us on Twitter
and
Facebook
for the latest stories and tell us what's influencing your life.
Sarah Grosjean, who lives in Leesburg, Virginia, about 45 minutes from the scene of the tragedy, hopes to arm her 5-year-old daughter with information when she talks to her about what happened in Washington.
"I want to be able to make sure my daughter knows, in the event she's ever in something like this ... how would she react? Would she know what to do?" said Grosjean, founder of the blog Capitally Frugal, who said she'll be emphasizing how her daughter should listen to the police or teachers in case of an emergency when her mom isn't around.
Saxe said there are "no hard and fast rules" on the right age to talk to kids about tragedies such as the one in Washington. He said parents should take into account whether they think their kids will have heard about the shootings, but -- especially for middle and high schoolers -- parents should bring the subject up.
"I think the most important thing is that the parent communicates a willingness to talk about this, an openness about it, that parents are really attuned to where their children are in this, even just asking a general question, 'Have you heard about this?' and see where your kid goes with that," Saxe said.
5 tips on talking to kids about scary news
Parents should also be mindful of what images their children are seeing on the news and make sure even older ones, who may be watching the nonstop coverage, aren't "flooded with images ... without any attempt to help make meaning for them or bring perspective to it because that could be very difficult," Saxe said.
McFadden has been keeping the television off but has been following the latest developments via social media on her laptop. She knows she will be only so prepared when she ultimately has the conversation with her kids.
"One of the biggest questions children ask is why, and that's something that we can't answer," she said.
Follow Kelly Wallace on Twitter and like CNN Living on Facebook.