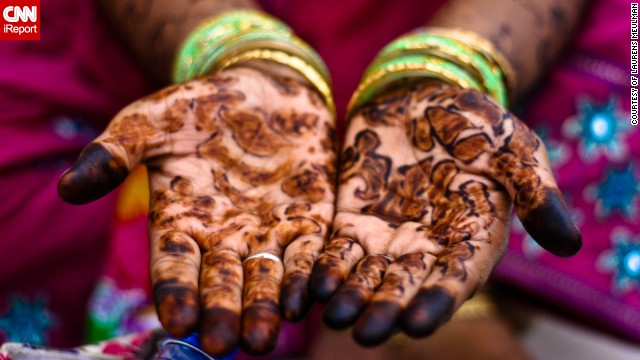 During an Eid spent in India, Laurens Meulman, 35, from the Netherlands, spotted an irresistible photo-opportunity after she'd been invited to share food with a family in a square behind the Taj Mahal. "The henna-painted hands of one of the women in the group caught my eye and I asked her if I could to take a photo," she said.
This Eid 3-year-old Mazin from Jeddah in Saudi Arabia will be wearing a brand new customized thobe. His father Yassir Nassif said that for most people Eid is a family holiday where you go from house to house to visit relatives they never got around to visit during the rest of the year. "We have scheduled breakfasts, lunches and dinners. I never knew how exhausting it was on my parents until I became one myself, but I enjoyed it as a kid and would love my children to have the same pleasures."
The hustle and bustle of the Matia Mahal bazaar close to Old Delhi's principal mosque Jama Masjid was captured on film by 70-year-old Ramesh Lalwani. The samosas are in the process of being fried and the pakoras, jalebis and gulab jamuns are ready for sale to the Eid crowds.
The night cooking at the Nakhlistan Eid-al-fitr Feeding Scheme in Cape Town, South Africa was captured by Amien Phillips. More than 69,000 people were fed and five tons of meat, four tons of rice, 2.7 tons of potatoes, 850 kilograms of onions, 27,000 pieces of wood and 151 pots were used.
This colorful feast of a photo was taken by Ashish Tibrewal in his native Mumbai, India, during Eid in 2009. "Being a Hindu, I do not celebrate Eid myself but I visit my Muslim friends to greet them on Eid, and it's a great symbol of peace and brotherhood between different religions," he said.
This moment of brotherly love was taken by Anupama Kinagi in Mumbai, India: "Muslims had just offered prayers and were wishing each other a very happy Eid. It is absolutely fine to hug and wish strangers on this auspicious occasion. The police officer specially arranges for rose flowers and greets Muslims outside Masjid on this special day. The Muslims accept their wishes and thank them for their extraordinary service," said the 37-year-old graphic designer.
"There are four mosques in the immediate neighborhood and each one celebrates Eid slightly differently," said Stephanie Keith from Bedford-Stuyvesant, a part of Brooklyn that has become a popular area for African immigrants. "One mosque has the street blocked off during prayer time and all the worshippers fill the streets. Another mosque blocks off the street for the whole day and has a street party. But at every mosque, people don their fanciest outfit of the year most in an African style," said the 47-year-old travel journalist who used to live and work in Egypt.
Sammi Addahoumi, 30, from South Carolina snapped this photo of a Benghazi sweet shop while traveling through Libya for Ramadan. "Sweets, especially during Ramadan, offer a guiltless pleasure that all of Benghazi can indulge in," he said. The sweets in this photo are called Kunafah and are filled with almonds, pistachios, hazelnuts, cashews, cheese, cream, or cream cheese.
Anupama Kinagi, 37, shot this photo of Muslims in prayer from a terrace near the Hamidiya Masjid mosque in Mumbai, India. He said he wanted to capture the geometric pattern formed by so many bowed heads and bodies: "It was a beautiful morning. The sky was clear. There were hundreds of men gathered to prayer as a ritual. The men were dressed in Kurta Pajama. The place was noisy but as soon as the prayers started it was so peaceful and pin drop silence. After the prayers everyone hugged and greeted each other 'Eid Mubarak'."
This photo of a young Muslim boy was taken by Dinesh Maneer, from Bangalore, India. "Though I am from a different religion I was invited by a friend to the mosque for photographing the celebrations," said the 33-year-old engineer.
In this photo Farrah Azam can be seen drawing one of her henna designs in the sand at a beach in Antalya, Turkey. The 26-year-old henna artist from London creates bespoke designs but unusually she paints it on canvases and other objects rather than on body parts. "I am a practicing Muslim who participates in the month of fasting. Eid marks the end of the month of fasting and I celebrate it with my family and friends by visiting the mosque for the special Eid prayer, having a lavish meal, exchanging gifts and meeting relatives," she said.
Renisha Leah Bisnath took this photo of a local mosque in her native Trinidad and Tobago where Eid is one of the year's biggest celebrations. "It is a special local custom for the Muslims in my neighborhood to invite us over at their house for food."Here in Trinidad, people of different religious backgrounds live in harmony. Many of my best friends are Muslims, so maybe one or two days during the month of Ramadan, I try to observe the fast to experience what it is like. I must say, it is very enriching," said the 21-year-old medical student.
This photo of Syrian refugee children was taken last year at the Hatay's Yayladağı refugee camp in Turkey by TV journalist Can Hasasu. "Eid, or Bayram as we call it in Turkey, is like Christmas for children, a cheerful feast. They collect money and gifts. Families buy new clothes for them. It was sad to see these children behind the fences of the camp. No money, no new clothes, no gifts and for some no family anymore. Despite all the sufferings in their country these children were smiling," said the 36-year-old from Istanbul.
Dina Syazwani Sipal Anuwar, a 24-year-old teacher from Selangor in Malaysia, took this photo of her family celebrating Eid last year. The photo means a lot to her as it was the last Eid she was able to spend with her father Sipal, a policeman, who unexpectedly passed away in January 2013. It was also the first time the family had ever managed to color coordinate their outfits. "I think it was one of the signs that father would be leaving us, last Eid we could take a perfect photo as a whole family," said Dina, pictured top left. This year the family have decided to all wear pink.
This beautiful Eid decoration entitled Pillars of Celebration can be seen in a shopping center in Damansara, a suburb to Malaysia's capital Kuala Lumpur. "From the picture, you can see that it's actually a stage, build on the roof while the shoppers shop below. It's the best Eid decoration in town I've seen so far," said 34-year-old Raja Marliza Safia who shared he photo with CNN via Instagram.
In Bangladesh it is common for the city folks to return home to their villages in the days leading up to Eid to avoid the last-minute rush, according to Ata Mohammad Adnan from Chittagong. "Railways prove to be a popular form of transport, but the numbers of seats available don't do justice to the number of prospective passengers. The journey they are making is of great significance because I believe the journeys that take you home are always the most meaningful," said the 24-year-old doctor.