Valentine's Day Fast Facts
updated 3:19 PM EST, Thu February 13, 2014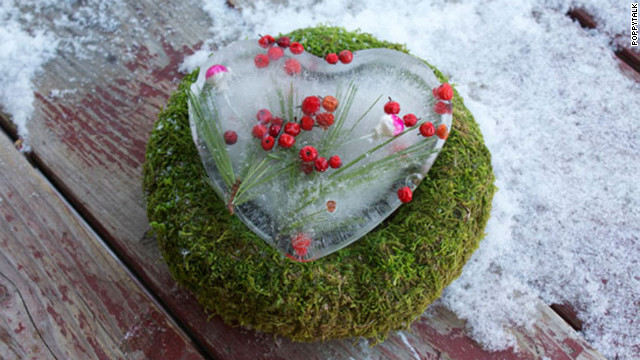 The only thing frosty about this heart crafted with love is the fact that it's made out of ice.
If you struggle to communicate your through chalky heart candy, try baring your soul with personalized M&Ms.
Would anything be more memorable than a blind date on a trans-Pacific flight in first class, with seats that fold into a bed? Air New Zealand wants you to find out.
Just because you live alone doesn't mean you have to eat that way -- video chat with a friend (or lover!) on Valentine's Day as you slurp ramen noodles.
DIY Ice Hearts
Customized M&Ms
The ways of Valentine's Day romance
The ways of Valentine's Day romance
(CNN) -- Here's some background information about Valentine's Day, celebrated every February 14th.
Facts: Both people in relationships and singles express their love through cards, candy, flowers and gifts.
School children exchange cards and often have classroom parties.
There are several different theories about the origins of Valentine's Day.
The ancient Romans held the festival of Lupercalia on February 15 to protect themselves from wolves. Men struck people with strips of animal hide; women believed that this made them more fertile.
The early Christian church had at least two saints named Valentine.
One story says that Emperor Claudius II forbade young men to marry because he believed unmarried men made better soldiers. A priest named Valentine secretly married young couples.
Another says that Valentine was an early Christian who was imprisoned for refusing to worship the Roman gods. His friends tossed notes to him through his cell window.
Many stories say that Valentine was executed on February 14 about 269 A.D.
Cupid: Cupid is a well-known symbol of Valentine's Day. He is armed with a bow and arrows in order to pierce people's hearts.
In Roman mythology, Cupid is the son of Venus, the goddess of love and beauty.
In ancient Greece, Cupid was known as Eros, the young son of Aphrodite, the goddess of love and beauty.
Timeline: 496 A.D. - Pope Gelasius I names February 14 as St. Valentine's Day. 1847 - Esther Howland, of Worchester, Massachusetts, becomes one of the first U.S. manufacturers of valentines.
1868 - The first "chocolate box" is introduced by Richard Cadbury, when he decorates a candy box with a painting of his young daughter holding a kitten in her arms. Cadbury also invented the first Valentine's Day candy box.
2014 - The National Retail Federation estimates that U.S. consumers will spend $17.3 billion on the holiday.