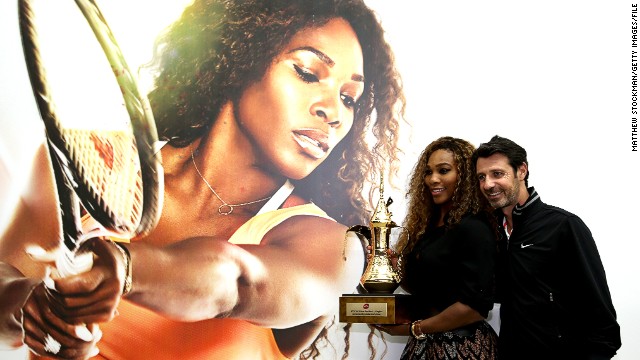 Serena Williams poses with her coach Patrick Mouratoglou after reclaiming the year-end world No. 1 ranking she last held in 2009.
The American enjoyed her best year in 2013, capped with a successful defense of her season-ending WTA Championships crown. She won 11 titles, including the French and U.S. Open trophies, and finished the year with 78 wins and just four defeats.
Serena became the oldest WTA Championships winner by beating Li Na in the Istanbul final and amassed $12.3 million over the season. She became the first player to win 11 titles in a year since Martina Hingis bagged 12 in 1997.
It marked a sensation return to form for Serena, who had tumbled to 175 in the world after a couple of injury-blighted seasons. After surviving a life-threatening blood clot, and coming back from a serious foot injury, she began a long journey to get back to the top of the rankings.
One of the lowest moments of Serena's career came with a first round defeat to unseeded opponent Virginie Razzano at the French Open in 2012. It led many to wonder whether she could recapture the glorious heights of yesteryear.
While still in Paris, Serena sought out coach Patrick Mouratoglou for help with her game. The results were immediate, Williams going on to win Wimbledon, two Olympic gold medals, the U.S. Open and the WTA Championships.
Mouratoglou, with whom Serena has been romantically linked, helped Serena win 16 titles in 16 months, with a record of 95 victories and five defeats. He told CNN of that meeting in Paris: "What surprised me at that point was the motivation she had. She really was prepared to do anything to come back to the top."
Twelve months on from that shock defeat in the first round, Serena banished her demons by winning her second French Open title, and her first since 2002, after beating defending champion Maria Sharapova.
Despite a fourth round exit to Sabine Lisicki at Wimbledon, Serena's dominance was restored in New York as she took the U.S. Open title.
Williams is now just one grand slam title behind the 18 won by Chris Evert and Martina Navratilova.
Despite having her most successful year, Mouratoglou thinks Serena can improve yet further. "If she plays her type of game with more efficiency, like being maybe even more aggressive, adding some volleys, she can give another level, which is maybe a bit frightening, but I think she can."
Serena's golden year
Best season
Roast Turkey
Injury woes
Pain in Paris
New coach
Mour to follow
Clay court champion
Fairytale of New York
Eyes on the prize
Record-breaking 2014?
(CNN) -- Here's a look at the life of professional tennis player Serena Williams, currently ranked number one in the world.
Personal: Birth date: September 26, 1981
Birth place: Saginaw, Michigan
Birth name: Serena Jameka Williams
Father: Richard Williams, tennis coach
Mother: Oracene Price
Other Facts: Currently ranked the Women's Tennis Association's (WTA) number one in the world.
Has won 63 career singles titles, 22 doubles titles and two mixed doubles titles. This includes 33 Grand Slam titles - 18 singles titles, 13 doubles titles and two mixed doubles titles.
Four-time Olympic gold medalist.
Has won over $60 million in career prize money, more than any other female athlete.
Is fifteen months younger than sister and tennis pro Venus Williams.
Is a Jehovah's Witness.
Timeline: September 1995 - Turns professional, losing her debut tennis match at the Bell Challenge in Quebec.
January 1998 - Enters the Australian Open, her first Grand Slam tournament. She loses to her sister, Venus, in the second round, 6-7, 1-6.
1999 - Enrolls at the Art Institute of Fort Lauderdale in Florida for fashion design.
September 12, 1999 - Wins the U.S. Open, becoming the first Williams sister to win a Grand Slam.
July 8, 2002 - Ranked Women's Tennis Association (WTA) world number 1 for the first time in her career, at age 20.
2002-2003 - Completes the "Serena Slam," by winning all four Grand Slam titles - the French Open, Wimbledon, U.S. Open and the Australian Open.
August 1, 2003 - Has surgery to repair a partially torn tendon in her left knee.
September 14, 2003 - Williams' older half-sister, Yetunde Price, is murdered in Compton, California.
2004 - Launches "Aneres" clothing line (Serena spelled backwards).
2008 - Establishes the Serena Williams Foundation, to assist American youth touched by violent crime and also underprivileged children around the world.
September 12, 2009 - Williams goes on a profanity-laced outburst against a line judge who calls her for a foot fault in the U.S. Open semifinals against Kim Clijsters. Clijsters is awarded a penalty point to win the match. The Grand Slam committee later fines Williams a record $82,500 and places her on probation for the next two years.
July 7, 2010 - Receives stitches in both her feet after stepping on broken glass while leaving a restaurant in Munich. Later, she has to have surgeries in July and October to repair a lacerated tendon on her right foot.
February 2011 - Undergoes emergency treatment for a hematoma related to a pulmonary embolism, a blood clot in her lungs.
September 2011 - Appointed a UNICEF international goodwill ambassador.
February 18, 2013 - At age 31, becomes the oldest female tennis player to be ranked number 1 since computer rankings began in 1975. This is the sixth time in her career to be ranked number one.
September 7, 2014 - Defeats Caroline Wozniacki to win her third consecutive U.S. Open women's singles title. The victory secures Williams' 18th career Grand Slam singles title, taking her level with Martina Navratilova and Chris Evert.