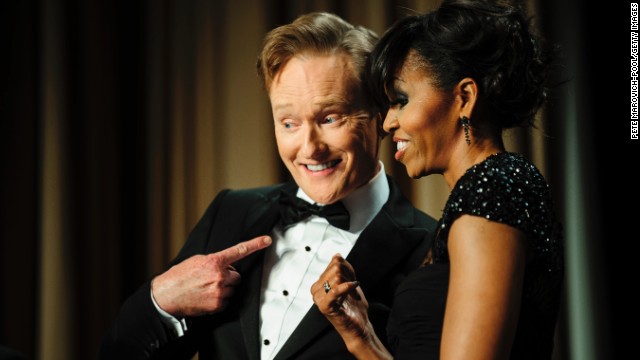 As of September 13, Conan O'Brien is celebrating 20 years in late night TV. Although he's had a rough ride -- what with 2010's late night wars over on NBC and all -- we've always made it a point to tune in to the guy behind Triumph the Comic Dog and the Masturbating Bear, no matter what channel he's on. Here are our 20 favorite moments from O'Brien's late night career.
Conan O'Brien introduced us to his wry mix of self-deprecating humor in September 1993, when he took over "Late Night" from David Letterman. After hearing repeatedly how much pressure was on him to be as funny as his predecessor, O'Brien good-naturedly accepted the ribbing before walking into his office to put a noose around his neck.
Created by head writer Robert Smigel, Triumph the Insult Comic Dog took on a life of his own following his first appearance in 1997. Now, he's Conan's most memorable recurring character.
The comedic actor gave O'Brien "what every Irish boy wishes for his birthday"
: a visit from the "birthday" -- read sexy -- leprechaun. Longtime Conan fans know how much Ferrell loved rocking this costume.
Will Ferrell thinks of the best -- and vaguely disturbing -- birthday presents.
In October 2000, Conan took Mr. T apple-picking, and the resulting segment was an instant classic. It was only nearly bested by the time Mr. T showed up during the "Late Night" 10th anniversary show and handed Conan a golden "7" for being funny 7 out of 10 years.
O'Brien responded by whipping out a dictionary
, locating the entry for "snuck" and giving the "Alias" actress an education on its definition.
Jennifer Garner was infamously corrected by Conan O'Brien when she tried to tell him that "snuck" isn't a word. "Snuck isn't a word, Conan," Garner said in an aside during an anecdote. "You went to Harvard, you should know that."
Roberto Benigni and Conan
decided to upgrade that to pants and exchanged pairs --
while live on TV.
You know the expression, "Walk in another person's shoes"? Actor
He even tried it out himself
, probably one of the most memorable remote sketches.
One of his most popular clips, Conan has name-checked his visit to an "old-fashioned baseball" league as one of his favorite segments.
to create the "Walker Texas Ranger" lever
. He used it to show clips from Universal's "Walker" at any time in a nod to NBC Universal "corporate synergy."
When NBC and Universal became one, Conan got the genius idea
Conan got a huge following in Finland when it turned out he resembled the country's female president, Tarja Halonen. After several weeks of joking about this, Conan went to Finland in 2006 and did an entire show from there, meeting the president.
When Conan shifted from "Late Night" to "The Tonight Show" in 2009, he again fashioned a classically funny transitional open: He "forgot" to move across the country to Los Angeles, so his first moments at 11:35 showed him running for his life across the country.
As he later explained on TBS' "Conan,"
Hanks repeated it on "Tonight Show" and popularized the nickname "Coco."
One of Conan's early "Tonight Show" guests, Tom Hanks, "ruined" Conan's life.
In December 2009, Sarah Palin made a surprise visit to "The Tonight Show" and returned a favor to William Shatner. Since Conan had the actor read dramatically from Palin's book "Going Rogue" during a sketch, Palin showed up to read from Shatner's autobiography "Up Till Now."
Conan wouldn't stand for it and opted to just bow out instead
. The subsequent weeks leading up to his departure supplied extremely awkward yet must-see TV as Conan ripped NBC night after night.
In January 2010, a beleaguered NBC wanted to move their failing prime-time show with Jay Leno back to 11:35, which would've knocked "The Tonight Show" to an unprecedented midnight hour.
When Conan departed NBC, he assured viewers that he didn't "regret a second" of his work on "Tonight." The final episode featured an emotional monologue from Conan, appearances from Steve Carell, Will Ferrell and Tom Hanks, and a rendition of "Free Bird."
The cold open
joked about Conan's NBC afterlife, which supposedly included doing a bunch of low-paying jobs and being a lazy bum around the house. (He even tried to get work at "Mad Men's" advertising world, where Jon Hamm as Don Draper reminded him that he has zero ad experience, and also, it's set in 1965 and Conan would be 2 years old.)
After a wildly popular nationwide comedy tour in 2010, Conan debuted his new late night show on TBS to much fanfare.
Conan O'Brien's "I've been fired!" beard briefly returned again in 2011, and ever loyal guest Will Ferrell made a huge fuss over shaving it. The Osama bin Laden raid had just happened, so Ferrell claimed the jubilant people in the streets were in reaction to the upcoming beard shaving.
Conan O'Brien: Best late-night moments
The first 'Late Night with Conan O'Brien'
David Letterman returns
Triumph the Insult Comic Dog
Will Ferrell was in a leprechaun costume
Andy Richter's exit
Conan O'Brien: Best late-night moments
Conan teaches Jennifer Garner a lesson
Roberto Benigni's pants swap
Play (old-fashioned) ball!
Conan O'Brien: Best late-night moments
Conan O'Brien: Best late-night moments
Conan O'Brien: Best late-night moments
Conan O'Brien: Best late-night moments
Conan O'Brien: Best late-night moments
Conan O'Brien: Best late-night moments
Conan O'Brien: Best late-night moments
Conan O'Brien: Best late-night moments
Conan O'Brien: Best late-night moments
Conan O'Brien: Best late-night moments
Conan O'Brien: Best late-night moments