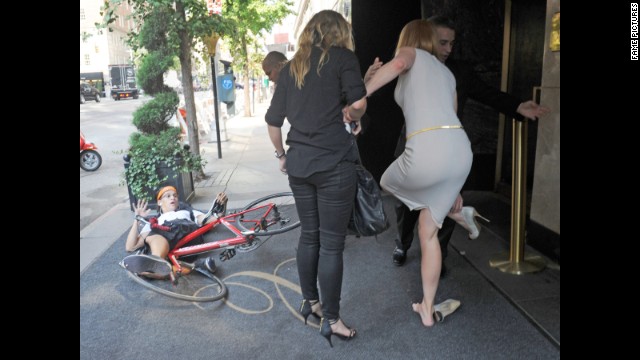 Nicole Kidman has a run-in with a paparazzo -- literally -- while returning to her New York hotel on September 12. The Oscar-winning actress reportedly was
knocked to the ground by a photographer on a bike
, and Kidman lost her shoes in the process. She's not the only celebrity who's had paparazzi woes ...
Stars and photographers sometimes have contentious relationships. Around 12:30 p.m. on August 27, both Alec Baldwin and a photographer called the police to report an incident. It seems a standoff ensued after the photographer got too close for Baldwin's liking while he was with his wife, Hilaria, who just gave birth to their daughter Carmen.
Timberlake and Diaz were hit with a lawsuit
in 2004 after two photographers accused the couple of taunting and attacking them. That lawsuit reportedly was later settled, but the pair were again in
an alleged confrontation with the paparazzi
in September 2006.
When dating in the mid-2000s, Justin Timberlake and Cameron Diaz were a magnet for problems with the paparazzi.
Then last year
, Kutcher was videotaped shoving a photographer -- although he did stop to make sure the guy was OK before getting into his car.
Ashton Kutcher has a rocky history with the paparazzi that extends all the way back to a confrontation in 2005, pictured here.
According to TMZ
, the photographer worked for its website and provoked Dourdan simply by standing nearby with a camera.
Former "CSI" star Gary Dourdan gets into a brawl with a paparazzo outside a Los Angeles nightclub in 2007.
Kanye West has turned his
Miley Cyrus is an outspoken critic of the paparazzi
, and in March 2011 she let one photographer have it. After a cameraman bumped into Cyrus' mother, Tish, outside a restaurant in West Hollywood,
Cyrus reached for his equipment and sternly told him
, "You almost hurt my mom -- don't ever do that again."
attacked a paparazzo's car with an umbrella
outside the home of her ex, Kevin Federline, in Tarzana.
Britney Spears' career has rebounded from her 2007 meltdown, but the star has yet to live down her infamous run-in with the paparazzi that year. Newly bald after shaving her head at a California salon that February, Spears
daughter, Nahla,
doesn't want to go to school because she "knows 'the men' are watching for her," a report says.
Her testimony followed a heated exchange
with paps at the Los Angeles airport in April when she was with Nahla and her future husband, Olivier Martinez. "Get away there's a child," Berry could be heard saying. "What the f**k is wrong with you people?"
Halle Berry has testified in support of California legislation that would limit a photographer's ability to take pictures of a celebrity's kids, saying her
Mike Tyson was involved
in a scuffle with a photographer who said he'd been following the boxer-turned-actor "at a respectful distance."
The Los Angeles airport is a hotbed for confrontations between celebrities and the paparazzi. In 2009,
she feels like "a caged animal"
because of the cameras that trail her every move.
In March 2009, Allen lashed out at
a photographer after he allegedly ran into the back of her car.
In an interview with The Independent magazine, British singer Lily Allen said
he spotted the cameraman and began kicking at him
.
Penn eventually reached a plea deal over the incident
, but it wasn't the first time he's found himself in hot water with the paparazzi. The Oscar winner did a monthlong bid in 1987 for assaulting a paparazzo.
Sean Penn lost it when a photographer was waiting near his pickup in 2010. The actor was at a Los Angeles shopping center when
Coldplay's Chris Martin was seeing red rather than "Yellow" in January 2008. Martin was exiting a New York hospital with his wife, Gwyneth Paltrow, when he encountered a photographer (not pictured here).
later tweeted about the incident
, "I lost my temper for a sec but wow it felt great lol MIAMI!!!"
Adam Lambert's trip to Miami in September 2010 captured headlines when he reportedly got into a tussle with a photographer. The "American Idol" alum
was having a bad birthday week
when he lost it on photographers
while in London in March.
"I'll f*****g beat the f*** out of you!" the clearly upset 19-year-old threatened a paparazzo, who was spewing choice words of his own. Bieber's bodyguard tried to restrain the pop star.
Justin Bieber
Celebs clash with paps
Celebs clash with paps
Celebs clash with paps
Celebs clash with paps
Celebs clash with paps
Celebs clash with paps
Celebs clash with paps
Celebs clash with paps
Celebs clash with paps
Celebs clash with paps
Celebs clash with paps
Celebs clash with paps
Celebs clash with paps
Celebs clash with paps
Celebs clash with paps
Celebs clash with paps