Newtown mom: 'Real heroes' in America's schools
updated 4:25 PM EDT, Fri September 13, 2013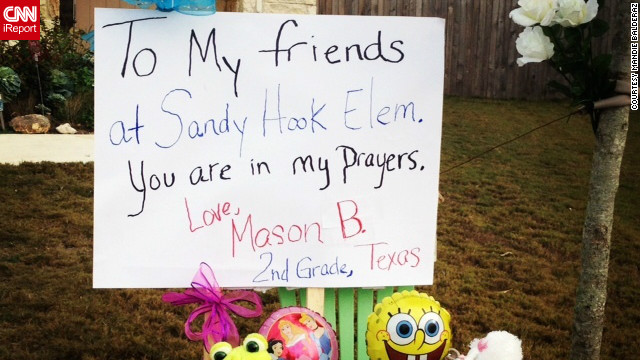 Mandie Balderaz's 8-year-old son was inspired to create his own memorial on his New Braunfels, Texas front lawn.
When Stephen Kales told his daughter the news, she went into her room and created these memorials.
Jennifer Wallace's son replaced his 12 birthday candles with 27 tea lights in honor of those lost in Newtown.
Ryan Emrich rearranged his house's Christmas lights to memorialize the 27 lives lost in Newtown.
Katie Ayala helped her son, Aaron, make a t-shirt to show his support for the victims. On the back of the shirt, they put a tree with Newtown's "core character attributes" they found on the school district's website, including "respect" and "caring". Aaron's first grade teacher, Mrs. Botino, died suddenly a few months ago and he was affected greatly by her loss, Ayala said. "When he learned of the Newtown tragedy, the first thing Aaron said to me was, 'Heaven must have needed teachers to take care of the of the children killed.' He then said, 'I wish they surrvived but Mrs. Botino will take care of them.'"
Donna Gusavitch took her two boys, ages 6 and 8, along with her friend's two boys, to Jones Beach in Wantagh, New York., to make a memorial for the victims. They picked out 20 angel ornaments for the children killed, along with seven doves for the adults. "We all held hands and we each said a prayer. My friend's 11-year-old son wrote 'Pray for these angels' in the sand. A piece of me died that Friday."
Megan Miller, a nanny in Alexandria, Virginia, was inspired by Ann Curry's online campaign to do 26 acts of kindness for each of the 20 children and six adults killed at Sandy Hook Elementary School. For her first act, she passed out candy to strangers in honor of Caroline Previdi. For her second, she is collecting thank-you notes for veterans and returning soldiers.
Mike Kirouac and his wife bought 27 flags they plan to place on their lawn every December 14.
Within an hour of hearing the news of the shooting, Deepthy Alias was moved to write a poem in tribute.
Shane Read is a graphic designer in Murfreesboro, Tennessee. As a father of two, he said he was moved to design this graphic showing that the spirit of America "is still here." He said: "I wanted to ... share it with everyone and give them a means to visually illustrate and share their love for Newtown and all those affected. Right now, it's a simple image on social media and it has been shared a humbling amount of times. It's doing its job for the 26 from Sandy Hook Elementary."
A second grader's prayers
A 9-year-old girl's condolences
Instead of birthday candles
Christmas light memorial
A first grader's t-shirt
Tribute on the beach
Notes for Noah
A promise to remember
A poem for the lost
'Wrapped in love'
STORY HIGHLIGHTS
Sandy Hook mom writes letter to teachers
"My students need me now more than ever," one teacher told her
"Real heroes don't wear capes," Nelba Marquez-Greene writes
(HLN) -- When Nelba Marquez-Greene lost her 6-year-old daughter in the Sandy Hook Elementary shooting in Newtown, Connecticut, she chose to cope with her loss in a unique way: by writing a letter.
That letter, which addresses teachers and was published September 6 in Education Week, tells a story that will shake any parent to the core.
Not powerless: What parents can do after Newtown
Marquez-Greene's daughter, Ana Grace, was one of the 20 first-graders killed December 14, when 20-year-old Adam Lanza arrived at the school with a rifle in hand. Six educators were also fatally shot by Lanza before he killed himself.
"While waiting in the firehouse that day to hear the official news that our daughter was dead, my husband and I made promises to ourselves, to each other, and to our son," Marquez-Greene writes. "We promised to face the future with courage, faith, and love."
Teachers lessons in heroism and healing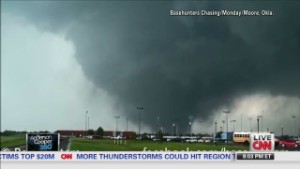 Principal: Teachers saved students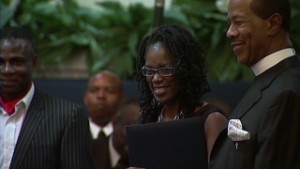 Antoinette Tuff honored for heroism
Marquez-Greene goes on to speak about the courage and bravery of teachers, marveling at how they could return to work after an event as traumatizing as the shooting. When Marquez-Greene asked her son's teacher why she returned, she got an answer that made perfect sense to her as a parent.
"Because they are my kids," the teacher told her. "And my students need me now more than ever."
Marquez-Greene says that the courage of each teacher requires faith and deep love on their part. Her image of a hero, she tells us, is the everyday worker: the principal, school lunch worker, custodian, reading specialist, teacher or bus monitor.
"Real heroes don't wear capes. They work in America's schools," Marquez-Greene writes.
Opinion: Above all, teachers do it for the kids
While Marquez-Greene, the mental health director for the nonprofit organization Sandy Hook Promise, admits that she "almost lost her mind" when she had to return her son back to the classroom, she said they sent him back because they didn't want him to be afraid.
"Parents are sending their precious children to you this fall," she writes to the teachers. "Some will come fully prepared, and others not. They will come fed and with empty bellies. They will come from intact homes and fractured ones. Love them all."
How Georgia school hero kept shooter calm