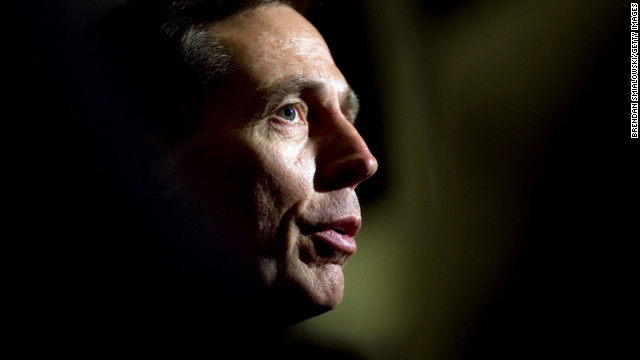 Former CIA Director David Petraeus resigned this week for what he called personal reasons after revelations that he was having an extramarital affair with his biographer, Paula Broadwell. Before his resignation, he had been a highly regarded public official, serving in the military for 37 years and taking on the roles of Commander of U.S. forces in Afghanistan and NATO International Security Assistance Force.
Petraeus served as commanding general of the 101st Airborne Division U.S. Army between 2002 and 2004 and led troops into battle when the U.S. invaded Iraq in March 2003. Pictured, Petraeus speaks with Paul Bremer, the new U.S. overseer in Iraq, during a helicopter tour of Mosul, Iraq, in May 2003.
In June 2004 Petraeus, a three-star general at the time, was tasked with overseeing the transition of power from the Coalition military authorities to the Iraqis. Pictured, Petraeus tours Kirkush Military Training Base in June 2004.
Provincial Governor Ghanem al-Basso, left, commemorates the 83rd anniversary of the establishment of the Iraqi army with Petraeus and the graduation of its new 2nd Battalion in Mosul, Iraq.
Lt. Gen. Petraeus, left, listens to President George W. Bush after Bush met with top military officials to discuss the war in Iraq in October 2005.
Gen. David Petraeus was promoted to commander of all U.S. forces in Iraq in February 2007. Pictured, Petraeus awards Purple Hearts to a wounded soldiers at the 28th Combat Support Hospital in March 2007 in Baghdad, Iraq.
Petraeus speaks with store owners in the Ghazaliya neighborhood in Baghdad in August 2007.
Petraeus, third from left, listens as President George W. Bush speaks at Al Asad Air Base in Anbar Province, Iraq, in September 2007. From the right, U.S. Ambassador to Iraq Ryan Croker, Secretary of State Condoleezza Rice and Defense Secretary Robert Gates, who arrived with Bush, look on.
Petraeus acknowledges the fans before throwing out the ceremonial first pitch of the second game of the 2008 MLB World Series between the Philadelphia Phillies and the Tampa Bay Rays in October 2008 in Tampa.
At the end of October, Petraeus was advanced to Commander of Central Command. Pictured, Petraeus and Afghan Defense Minister Gen. Abdul Rahim Wardak inspect an Afghan Guard of Honor at the Defense Ministry in Kabul on November 5, 2008. Petraeus arrived in Kabul to assess efforts against insurgents in the start of his new job, the U.S. military said.
Petraeus announced October 6 that he was diagnosed in February with early stage prostate cancer and underwent two months of radiation treatment. Pictured, the commander of U.S. Central Command meets young officers in October 2009 at Forward Operating Base Wilson in Kandahar Province, Afghanistan. Petraeus had been touring bases to meet with base commanders.
Petraeus apparently faints while testifying during a hearing before the Senate Armed Services Committee in June 2010 in Washington. Pictured, he is escorted away after the incident.
Petraeus speaks during an Assumption of Command Ceremony at the International Security and Assistance Force Headquarters in July 2010 in Kabul, Afghanistan. Following the dismissal of Gen. Stanley McChrystal, President Barack Obama named Petraeus the commander of the Afghan war and the 140,000 foreign troops serving in Afghanistan.
Britain's Queen Elizabeth meets Petraeus in March 2011. The general was still serving as commander of U.S. and NATO forces in Afghanistan.
The U.S. Senate unanimously confirmed Petraeus as the next director of the Central Intelligence Agency in June 2011. Pictured from left, Obama announces that he will nominate current CIA Director Leon Panetta as Secretary of Defense, Gen. David Petraeus as the next director of the CIA, Gen. John Allen as commander for U.S. forces in Afghanistan, and Ryan Crocker as the U.S. ambassador to Afghanistan in April 2011.
Petraeus, left, salutes his replacement as leader of the Afghanistan war, Gen. John Allen, right, and Gen. James Mattis during a change of command ceremony in Kabul, July 2011.
Petraeus retired from the military after 37 years of service before taking his new role with the CIA in August 2011. Pictured he speaks at an Armed Forces Farewell Tribute and Retirement Ceremony in his honor at Joint Base Myer-Henderson Hall in Arlington, Virginia.
Petraeus takes the oath of office as the next director of the Central Intelligence Agency from Vice President Joe Biden as Petraeus' wife Holly looks on in September 2011 in the Roosevelt Room of the White House.
Career of former CIA Director David Petraeus
Career of former CIA Director David Petraeus
Career of former CIA Director David Petraeus
Career of former CIA Director David Petraeus
Career of former CIA Director David Petraeus
Career of former CIA Director David Petraeus
Career of former CIA Director David Petraeus
Career of former CIA Director David Petraeus
Career of former CIA Director David Petraeus
Career of former CIA Director David Petraeus
Career of former CIA Director David Petraeus
Career of former CIA Director David Petraeus
Career of former CIA Director David Petraeus
Career of former CIA Director David Petraeus
Career of former CIA Director David Petraeus
Career of former CIA Director David Petraeus
Career of former CIA Director David Petraeus
Career of former CIA Director David Petraeus