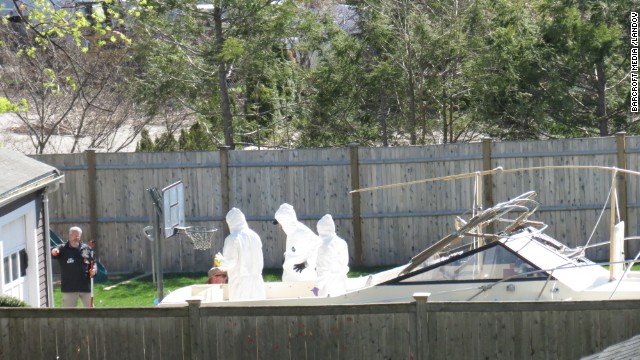 A police forensics team examines a boat in a yard on April 22, 2013, on Franklin Street in Watertown, Massachusetts, where bombing suspect Dzhokhar Tsarnaev was discovered.
Massachusetts State Police released thermal images of Boston Marathon bombing suspect Dzhokhar Tsarnaev hiding in a boat in a backyard in Watertown on April 19, 2013, which helped lead to his capture. They were taken by an infrared device on a helicopter. The first image was taken at 7:19 p.m., less than 20 minutes after a homeowner told police there was a bloodied person in his boat.
This image from 7:22 p.m. shows a white heat signature large enough to be a person.
A robotic arm tears away the cover on the boat at 7:36 p.m.
The heat signature clearly shows the suspect's feet and the rest of his body behind the boat console at 8:01 p.m., minutes before he surrendered.
Boston Marathon bomb scene pictures taken by investigators show the remains of an explosive device. The photos were produced by the Joint Terrorism Task Force of Boston and provided to Reuters on April 16, 2013, by a U.S. government official who declined to be identified.
A federal law enforcement source with firsthand knowledge of the investigation told CNN that a lid to a pressure cooker thought to have been used in the bombings had been found on a roof of a building near the scene.
One bomb was housed in a pressure cooker hidden inside a backpack, the FBI said in a joint intelligence bulletin.
The device also had fragments that may have included nails, BBs and ball bearings, the FBI said.
The recovered parts include part of a circuit board, which might have been used to detonate a device.
A law enforcement official said Monday's bombs were probably detonated by timers. But the FBI said details of the detonating system were unknown.
Scraps of at least one pressure cooker, nails and nylon bags found at the scene were sent to the FBI's national laboratory in Virginia, where technicians will try to reconstruct the devices, the agent leading the investigation said.
The U.S. government has warned federal agencies in the past that terrorists could turn pressure cookers into bombs by packing them with explosives and shrapnel and detonating them with blasting caps.
The pieces suggest each of the devices was 6 liters (about 1.6 gallons) in volume, a Boston law enforcement source said.
Evidence photos from Boston bombings
Evidence photos from Boston bombings
Evidence photos from Boston bombings
Evidence photos from Boston bombings
Evidence photos from Boston bombings
Evidence photos from Boston bombings
Evidence photos from Boston bombings
Evidence photos from Boston bombings
Evidence photos from Boston bombings
Evidence photos from Boston bombings
Evidence photos from Boston bombings
Evidence photos from Boston bombings
Evidence photos from Boston bombings
Evidence photos from Boston bombings
Evidence photos from Boston bombings