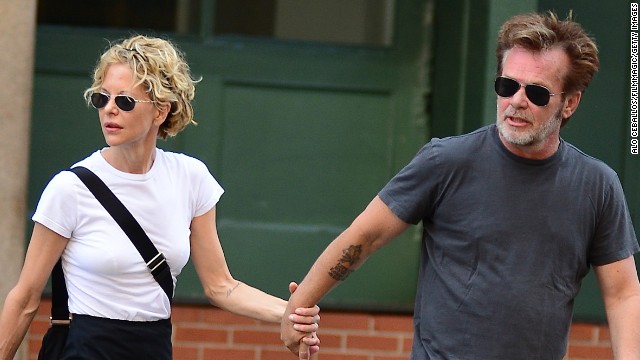 John Mellencamp and Meg Ryan
reportedly ended their three-year relationship
in August 2014. It may be a shocker for some who didn't know the two were even dating. They join a list of other celeb couples we were surprised to find out either are or were together:
People magazine
, the two have "just started to hang out," but if the pairing lasts it just might be the hottest in Hollywood -- and the latest to catch people by surprise.
If the rumors are true, actress Sofia Vergara has moved on from an engagement with Nick Loeb to actor Joe Manganiello, pictured here. According to
Travel pals, or something more? Actors Michelle Rodriguez -- who was previously linked to model Cara Delevingne -- and Zac Efron
according to People magazine.
Gere is newly single after breaking up with wife, "Law & Order" star Carey Lowell, in September. Lakshmi was last linked with venture capitalist Adam Dell, with whom she has a young daughter.
Actor Richard Gere and "Top Chef" host Padma Lakshmi are an item,
Bravo's "Watch What Happens Live"
in January: she used to date Tom Cruise waaaay back in the day. "Actually, when I dated him he was Tom Mapother still," Gilbert told "Watch What Happens Live" host Andy Cohen. "It was when he first moved to Los Angeles and I think I was ...16? 17? I did not have sex with him. We made out, but honestly, there was no sex." Intriguing!
Melissa Gilbert dropped a bombshell on
Sharon Osbourne said in 2013 that she and former "Tonight Show" host Jay Leno had a "flingy-wingy" when she was 25. (It was before her marriage to Ozzy Osbourne.)
famously dated in 1993
. The two played on-screen love interests in the comedy "Made In America," and they were soon moving the romance off screen as well.
Ted Danson and Whoopi Goldberg
dropped a bomb during an interview with Bravo's Andy Cohen
in June 2013: Not only had she hooked up with Tom Cruise when he was just a budding young star in the early '80s, but she could report that he was one of her top five lovers of all time. Cher, do tell!
Cher
that fueled endless rumors
that they were a pair following Houston's 2007 breakup with Bobby Brown.
Whitney Houston and Ray J had an affectionate bond
Let's time-travel back to 1989, when New Kids on the Block wasn't an aging boy band but rather the hottest thing on, well, the block. At the time, it did make sense that Danny Wood would fall for another rising star: Halle Berry.
Perhaps it's because of the timing -- Matt Damon's career was just taking off with "Good Will Hunting" when he hooked up with Winona Ryder -- but it's easy to forget these two were a serious couple between 1997 and 2000.
Details magazine
that they had a date in 2006, but he thinks it was a ploy for Kardashian to be seen with an MTV-famous boy band member.
Yes, before Kanye, Kris or Reggie, Kim Kardashian apparently had a little something going with Nick Lachey after his 2005 divorce from Jessica Simpson. Lachey told
Ellen DeGeneres in 2009
. "She was the biggest star in the world ... and we had the time of our lives."
John Stamos has fond memories of dating Paula Abdul in the late '80s, just as he began starring on "Full House." "She was so adorable, she was America's sweetheart," Stamos told
are said to have become romantic partners for a spell in 1991
, when they performed in the play "Brooklyn Laundry" together.
Glenn Close and Woody Harrelson
When Billy Corgan and Tila Tequila got cozy on the red carpet in 2009, the best word to describe most people's reaction was "confused." For whatever reason, the Smashing Pumpkins star seemed to be enjoying the company of reality minx Tequila at Bravo's 2009 "A-List Awards."
According to Kudrow
, she and O'Brien dated for a bit prior to her acting career before realizing they were better off as friends. But O'Brien's apparently been a great pal to Kudrow -- she's credited him with helping her launch her career.
In the case of Lisa Kudrow and Conan O'Brien, it seems that like attracted like.
Photos: Surprising celebrity couples
Surprising celebrity couples
Surprising celebrity couples
Surprising celebrity couples
Surprising celebrity couples
Surprising celebrity couples
Surprising celebrity couples
Surprising celebrity couples
Surprising celebrity couples
Surprising celebrity couples
Surprising celebrity couples
Surprising celebrity couples
Surprising celebrity couples
Surprising celebrity couples
Surprising celebrity couples
Surprising celebrity couples
Surprising celebrity couples