Creative craftsman sticks to his giant mailbox gun
updated 11:45 AM EDT, Wed September 11, 2013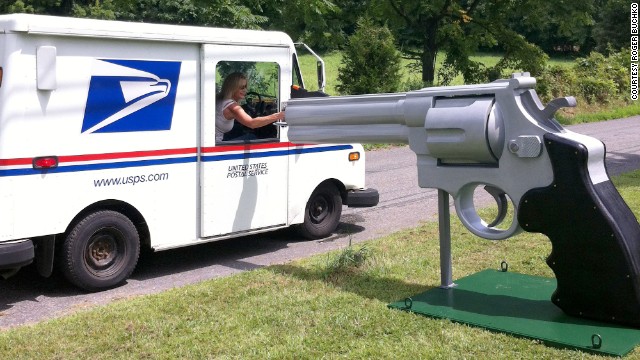 Roger Buchko spent months constructing this 10-foot-long, 5-foot-high exact replica of a Smith & Wesson Magnum .44 that doubles as his mailbox. The New Jersey man claims to be making no political statement with the enormous firearm replica and that he is only trying to drum up interest in his cabinet-making business.
The giant model is made of plywood, PVC plastic, oak and mahogany.
The beginnings of the mailbox's cylinder. Buchko says his model is exactly 11-1 scale.
Here's the replica just before it got the 5 gallons of paint needed to cover it.
The .44 Magnum replica at close range.
Buchko says his Phillipsburg, New Jersey, neighbors have been supportive.
Giant gun for a mailbox
Giant gun for a mailbox
Giant gun for a mailbox
Giant gun for a mailbox
Giant gun for a mailbox
Giant gun for a mailbox
STORY HIGHLIGHTS
New Jersey man builds a Smith & Wesson model 11 times larger than the real thing
He's using it as a mailbox and hopes to drum up interest in his cabinet-making business
Roger Buchko to critics of his creativity: I'm "not a gun-toting nitwit or anything like that"
(CNN) -- Roger Buchko insists he isn't angry about receiving too much junk mail.
And the Phillipsburg, New Jersey, native isn't trying to scare anybody off his front lawn. Nor does he say he's trying to send a message -- intimidating, political or otherwise.
The only thing Buchko hoped to accomplish by erecting a massive, scale-model .44 Magnum on his front lawn as a mailbox was to drum up business.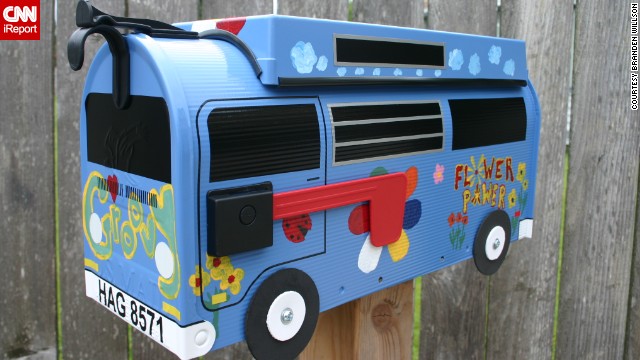 Branden Willson designs custom mailboxes to look like vintage Volkswagen buses.
This unusual mailbox gave Tara O'Connor a much-needed laugh one day in Cottage Grove, Minnesota. "After having a bad day, that was the best pick-me-up I could have asked for," she says.
In her neighborhood on Oahu in Hawaii, Ginny Clarke took note of colorful mailboxes such as this one.
Ginny Clarke spotted these Hawaiian-shirt-inspired mailboxes while wandering through a neighborhood on the island of Oahu.
This interesting mailbox marks the dirt road that presumably leads to the legendary Area 51. Throughout the years, tourists and alien-seekers have decorated it with stickers, graffiti and even a green face.
This mailbox caught Lia Ocampo's eye; it's a mini replica of the larger house behind it.
As a professor of interior design, Nadya Kozinets was drawn to these mailboxes in Stockholm, Sweden.
Megan Smutak snapped a pic of these smiling mailboxes outside an artist's gallery in Cuyahoga Falls, Ohio.
Juliana Romnes spotted these mailboxes while driving through the artist's community of Madrid, New Mexico.
Paul Tamasi spotted this hilariously tall mailbox on a road trip with his son along Route 2 in Maine.
This doggy mailbox always makes Linda Glovach smile when she passes its Glen Cove, New York, house.
Marie Sager paid a visit to Robert Frost's mailbox at the famous poet's residence in Franconia, New Hampshire.
Kathi Cordsen doesn't have a mailbox, but she does have a doorside letter slot, one she likes for its rustic appearance. Under Rep. Darrell Issa's proposal, the Postal Service would cease all individualized mailbox delivery.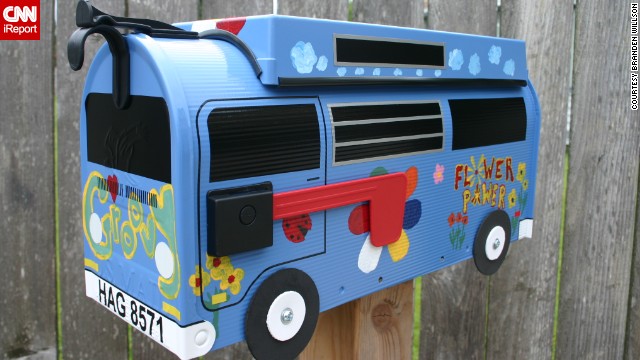 And that business of course is ... cabinet making?
"If I can show folks I'm capable of this type of craftsmanship," Buchko told CNN, "then I can certainly build them a fancy box."
That's one clever son of a gun.
"I've built some pretty elaborate stuff in my day" the 49-year-old said of his giant mailbox gun. "This one was pretty difficult. It's scaled out perfect."
At 10 feet long, 5 feet high and with an 8 and 3/8 inch wide barrel, Buchko says his Smith & Wesson is precisely 11 times bigger than the real thing.
And at 350 pounds, it's safe to say it's the heaviest mailbox on the block.
Newtown group, others call for Starbucks to ban guns in stores
Buchko said he worked on it in his shop for an hour a day for nearly four months -- using mostly plywood, PVC plastic, oak and mahogany.
Reaction has come in from all corners of the globe and from all corners of the gun debate.
Buchko, who says he is "not a gun-toting nitwit or anything like that" tells CNN his neighbors have mostly been supportive -- and that most of the criticism comes from faraway "yuppies who don't know anything about guns."
As for the person who has to stare down the barrel of that gun day in and day out? "My mail lady thinks it's great!"
While his giant gun certainly got Buchko attention, it has yet to get him any business -- any cabinet-making business, that is.
He says he's already been approached about building a giant firearm-for-a-mailbox for someone, and that is just fine by him.
"I'd rather build these things than fancy boxes."
Gun permits for the blind? Iowa grants them, stirs debate