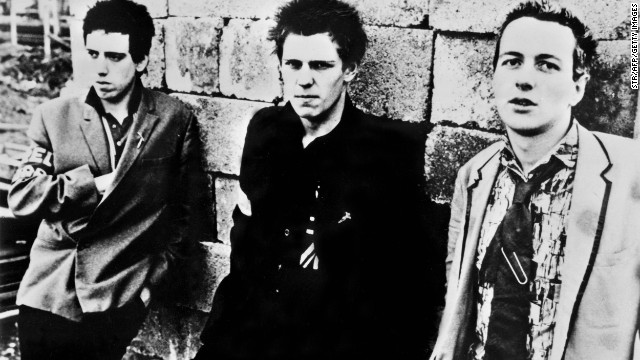 It was announced in August
that a car belonging to Joe Strummer of The Clash, right, with band members Mick Jones, left, and Paul Simonon in 1978, would be auctioned. The 1963 Chalfont Blue Ford Thunderbird was reportedly driven by him while he was recording his debut album. The Clash played a major role in the history of punk music:
Punk rock combined a DIY sensibility with stripped-down songs and a screw-you attitude. Though the best-known punk movement came out of 1976-77 Britain, the genre had its roots in 1960s garage band America, with bands such as the Seeds, the Sonics and Question Mark and the Mysterians. Their singles were collected on the 1972 LP "Nuggets," which was expanded into a series of boxed sets in the CD era.
Lou Reed, John Cale, Sterling Morrison and Maureen Tucker (with drop-bys from Nico and Doug Yule) combined raw instrumentation with avant-garde subject matter. The apocryphal story goes that only 3,000 people bought the Velvet Underground's first album, but every one of them formed a band. (Actually, the album did much better than that, but why mess with a good story?) Many of those bands were proto-punks.
James Newell Osterberg -- aka Iggy Pop -- and his band mates blasted out of southeast Michigan with loud, distorted music and lyrics that were glorious in their minimalism: "It's another year / For me and you / Another year / With nothing to do" went "1969." What more was there to say?
Heavily influenced by the Velvet Underground (their first album was even produced by John Cale), the Modern Lovers also took a back-to-basics approach at a time when progressive rock was in full swing. Jonathan Richman's songs were down to earth, even nostalgic, hailing late-night drives and disdaining the "Modern World." Drummer David Robinson later joined the Cars; keyboardist Jerry Harrison ended up in Talking Heads.
Adding a touch of glam to downtown New York grit, the New York Dolls' raw sound and theatricality proved both influential and divisive: In a Creem magazine survey, they were named both the best and worst new band of 1973. The initial lineup broke up after two albums, though members David Johansen and Sylvain Sylvain reformed the band in the 2000s.
With their leather jackets, sneering attitude and turbo-powered songs, the foursome from Queens, New York, defined "punk," and it was their July 4, 1976, appearance at London's Roundhouse that helped ignite the UK punk scene. "If that Ramones record hadn't existed, I don't know if we could have built a scene here," the Clash's Joe Strummer once said. Their rise was slower, but no less influential, in their home country.
Equal parts provocateurs, fashion victims and three-chord howlers, the Sex Pistols kicked off their meteoric rise with their angry "Anarchy in the UK" and a number of controversial media appearances. The band made just one studio album, but its echoes still reverberate.
The name could be taken literally: Joe Strummer, Mick Jones, Paul Simonon and Terry Chimes (and later Topper Headon) really did have disparate musical tastes. But they shared a fire fueled by politics and music. It made for five terrific studio albums, highlighted by songs such as "White Riot," "London Calling" and "The Magnificent Seven," and an unparalleled live act.
Captain Sensible and his merry crew actually beat the Sex Pistols to the record racks -- "New Rose" came out before "Anarchy in the UK" -- and were in the forefront of the British punk movement.
Blondie was one of the many New York bands that came out of the downtown scene revolving around CBGB. The group, led by singer Debbie Harry and guitarist Chris Stein, was distinctive in its love of girl-group pop, though such songs as "X Offender" certainly had different subject matter. The group eventually had four No. 1 hits.
Another CBGB favorite, Television revolved around guitarists Tom Verlaine and Richard Lloyd, whose tangled lines flowed through such cuts as the 10-minute "Marquee Moon," the title cut to their first album. The group split after 1978's "Adventure," though there were occasional reunions.
Richard Hell and the Voidoids recorded "Blank Generation," one of the most anarchic and wonderful of punk singles, and Hell's spiked hair and torn clothes became emblematic of the punk look.
Smith, a poet, teamed with "Nuggets" compiler Lenny Kaye and others to form this New York band, which had early success with the albums "Horses" and "Easter." Smith's androgynous look and defiant attitude influenced both punk and succeeding generations of female musicians.
One of the earliest hardcore punk bands, Bad Brains started as a Washington-based fusion band called Mind Power. Unusual in many ways -- not least because the band consisted of African-Americans playing rock -- Bad Brains ended up moving to New York after being "Banned in D.C.," as their song put it.
There was some punk in their attitude toward punk -- Izod shirts weren't exactly typical CBGB attire -- and in David Byrne's rubbery voice, but, for the most part, Talking Heads was known for being adventuresome and artsy. No surprise for these former Rhode Island School of Design students, whose albums remain inimitable.
From the mod side of the spectrum came the Jam, the Paul Weller-led trio whose blasts of anger ("The Modern World," "In the City") became more reflective and soul-infused over time.
With songs that sounded like soccer chants ("If the Kids Are United"), Sham 69 gave rise to the Oi! movement, known for its bluntness and working-class sympathies.
Punk eventually made its way to the U.S. West Coast, where it inspired a number of Los Angeles-area bands. (Many of them were featured in the 1984 film "Repo Man.") Black Flag's leader, Greg Ginn, even founded a record label, SST, which became home to such bands as the Minutemen, Husker Du and Sonic Youth.
"We had no preconceived notions of what we were going to be," leader John Doe told CNN in 2004. His Los Angeles-based band, X, got lumped in with the punks, but their influences included rockabilly and country. It was their "scary" style and singer Exene Cervenka's otherworldly voice that made such songs as "Los Angeles" and "Johnny Hit and Run Paulene" fit with the overall scene.
Led by one of the great punk names -- Lee Ving -- Fear played hardcore rock and liked to bait audiences. The tactic backfired (or did it?) on a 1981 episode of "Saturday Night Live," when slam-dancing fans damaged the set.
From Northern California came the Dead Kennedys, whose name provoked the desired clucking from the offended classes. One wonders if they ever listened to the music, which included "California Uber Alles" and "Holiday in Cambodia." But even punks have capitalist troubles: Leader Jello Biafra was sued by his bandmates over royalties.
Glenn Danzig, later of the band Danzig, founded this leader in what came to be called "horror-punk." The band now includes original member Jerry Only; the musical style is closer to metal.
Social D, as they're known, had a slower rise than other punk bands. The group had some minor success after forming in 1978, but didn't get wider notice until the late '80s, after signing a major-label deal and changing their style to what became known as "cowpunk." The group had a national hit, "Ball and Chain," in 1990.
A short history of punk
A short history of punk: 'Nuggets'
The Velvet Underground
The Stooges
Jonathan Richman/Modern Lovers
New York Dolls
Ramones
Sex Pistols
The Clash
The Damned
Blondie
Television
Richard Hell and the Voidoids
Patti Smith Group
Bad Brains
Talking Heads
The Jam
Sham 69
Black Flag
X
Fear
Dead Kennedys
The Misfits
Social Distortion
STORY HIGHLIGHTS
New Clash boxed set collects albums, video, ephemera
Group was a leader in UK punk movement and incredibly versatile
Albums include "London Calling," "Combat Rock"
Boxed set's packaging -- a boombox -- symbolizes sharing of ideas, says Paul Simonon
(CNN) -- The Clash was falling apart.
More specifically, says guitarist Mick Jones, the band's original master tapes were falling apart. "A bit like nitrate film," he says in a phone interview from Britain.
Except, instead of burning up, the oxide layers to such records as "London Calling," "Sandinista" and "Combat Rock" were disintegrating. To save them and make proper digital masters, the tapes had to be baked in an industrial oven and transferred to other media.
"It has been a bit of a restoration," says Jones. "I don't think it was a moment too soon, because the tapes were rotting -- mold in the boxes and stuff."
But the ultimate result was worth it: spanking-new releases of the band's catalog in a new boxed set called "Sound System." The collection, which is shaped like a boombox, contains newly remastered versions of the group's five official albums, as well as three CDs of demos and singles, a DVD of video footage, a new edition of the "Armagideon Times" fanzine, and even some buttons for that classic 1979 look (denim jacket not included).
The box will be released Tuesday along with a 2-CD best-of called "Hits Back."
The band, of course, broke up long ago -- 1985, two years after Jones was fired. Though relations were soon repaired, there was never a reunion. Singer and lyricist Joe Strummer died in 2002. A year later the group was inducted into the Rock and Roll Hall of Fame.
Their legacy is indisputable -- and not just in the punk movement. Indeed, calling the Clash a "punk band" is like calling the Beatles a "Merseybeat combo." Their music included dollops of rockabilly, reggae, country, rap, soul and jazz, a true mix of styles that made for some of the most exciting records and live shows of the rock 'n' roll era.
The boombox, says bassist Paul Simonon, symbolizes the way the four would share music and ideas. "When we would go out on tour, each member of the band had one of these boomboxes, so in a hotel room or backstage or on some street corner we could play music," he recalls. "Everybody was playing something."
Jones and Simonon talked about the Clash's career in separate interviews with CNN. The following has been edited and condensed.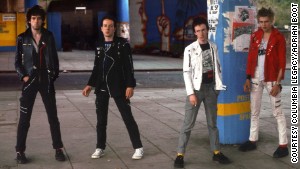 The Clash: Mick Jones, Joe Strummer, Topper Headon and Paul Simonon.
On their influences:
Mick Jones: The Big Five groups over here -- the Beatles, the Stones, the Kinks, the Who and the Small Faces. I was lucky enough to grow up at the time when they were doing their most fantastic music. When you do music yourself, it's interesting -- it's like a two-way highway. You go back and find out what influenced the people you liked, so you're going backwards, at the same time you're in the present trying to do something. It led us back to so many American artists -- blues, soul and rock and roll.
Paul Simonon: Reggae and rockabilly. And mostly reggae, because that's what I grew up on, and that's the only music that seemed to me at that time that had something to say for itself. Whereas Led Zeppelin, progressive rock, it didn't speak to me. I couldn't relate to it.
On being labeled as a punk band:
Simonon: I don't care about it. People are going to say what they want to say anyway. Some people are going to say, 'They're rubbish.' I don't really care, because I know in my mind what we were. We initially started out as a punk band, but we evolved. We evolved into quite a magnificent rock and roll band, I daresay.
Jones: We can't really deny that's where we come from, but we always hoped to be more. A lot of our contemporaries, if they did make more than one record, they made the same record. And of the people I liked, I was really looking forward to their new record coming out, because I knew they were doing something different. I knew they weren't going to do the same thing every time. That was like a given with us. That was only natural -- I always knew we were never going to make the same record twice.
On their fashion choices:
Simonon: That was my department, really. If you go see a band and they look amazing, you get really inspired. But if the band looks not very well-dressed, it's hard to get inspired by the music. As our manager said, if somebody goes to see a band, and the audience is better dressed than the band, then why should the audience listen to what the band have to say?
There's a like-minded thought process going on at this time anyway. We don't want flares, we want straight-leg trousers. The whole world's got flares. And everybody's got long hair -- (so) we want short hair. It was very tribal, too. You had the mods, you had the rockers, you had skinheads, you had hippies, people were very defined by how they looked, and it reflected the music they liked, too.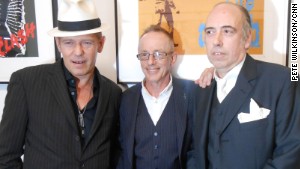 The Clash today: Left to right, Paul Simonon, Topper Headon and Mick Jones.
On "the only band that matters":
Jones: The record company came up with that; it wasn't us. We weren't like trying to blow our own trumpets. It was kind of a moniker and it stuck. Every group wants to be the best group when you're young.
On becoming stars:
Jones: I remember once, I was talking to Pete Townshend (at a stadium show). I said I know what "quadrophenia" means now, because if you look in one direction, you're ignoring 50,000 people! He just looked at me like I was mad.
It was a big thing, but we had something we wanted to say, so it was interesting to see how we'd get on in that environment.
Simonon: In the early days when we first started out in a hotel room, it wasn't a great hotel room, but the hotel was better than where I lived. Then as the journey continues you get more successful, suddenly the hotel rooms have one big bed in it rather than two narrow beds that you have to share. So it's a gradual thing. When you do get to the point where you're in the lap of luxury, it's easy to lose contact with yourself and where you're from.
In some ways it's not a bad thing that the Clash split up when they did, because we would have become "the only band that mattered" and very pompous. So maybe in some ways cutting your own throat was a good idea at the time. Who knows what sort of people we would be now?
On writing songs with Joe Strummer:
Jones: It started off as, "We need another song." "OK, give us five minutes," and we'd go upstairs to rehearsals and bang something out. At the other end of the scale would be, I don't want to see him, just post the lyrics through the post box.
(Sometimes) he would sit at the typewriter and bang it out like a guy who worked at the newspaper, and he'd pull it out of the typewriter and hand it across the table. It was always pretty quick.
It usually comes naturally, especially with Joe's lyrics. Even the tune was there sometimes. It was the words, really, and the music was kind of a vehicle for those words.
On feeling Strummer's presence while preparing "Sound System:"
Jones: Yeah, it's impossible not to. (Because) it was his words that carried the whole thing, or was the most important thing to it, I like to think he was with us. He's definitely with us through his music, and somehow with us in spirit, as well. (sounds a little choked up) I feel that, anyway.
In some ways it's not a bad thing that the Clash split up when they did, because we would have become 'the only band that mattered' and very pompous.
Paul Simonon
Simonon: No. The reason I say that, is because it's like each person in the band was an individual. There was no leader. We spent seven intense years working together, so you get a pretty good idea of how each other is.
Getting along:
Jones: We became friends very soon after, that was the main thing. I've had a great time these last couple years while we've been putting this box together. It's been wonderful to spend time with the guys, and have complete creative control over all our work.
Simonon: I see Mick and we do things. We went to a play once (in which) they wanted to use the song "Know Your Rights." They invited us to the play. What they didn't realize was that back when the record was being recorded me and Mick had like a two-hour argument in the studio about the bass sound. I said it needed to be not louder, but a bit deeper. So we went to see this play. And I heard the song being played back, and it sounded really tinny. And I turned to Mick and said, "I told you I was right!"
There's no antagonism anymore. We're sort of grown up now. We know that we were really fortunate to be working together at the time that we did.