Report: Apple testing bigger iPhone screens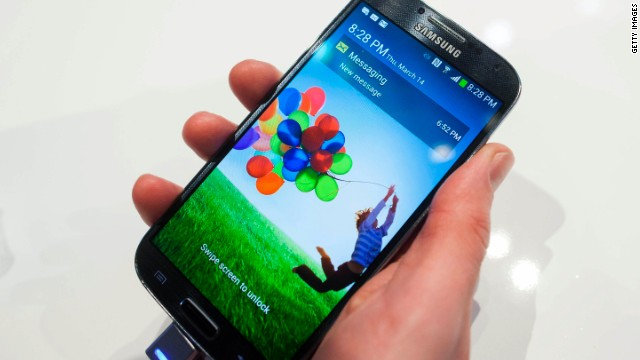 Samsung executives have said the Galaxy S5 smartphone will hit stores by April. It follows the S4, a big-screen, feature-laden phone that emerged as the top rival to the once virtually unrivaled iPhone. Samsung says the S5 will have a different design and, possibly, eye-scanning technology.
The iPhone 5S is the fastest version yet, with improved features like an upgraded camera with slow-motion video capabilities and the Touch ID fingerprint scanner for security. It ranges from $199-$399. For the first time, Apple also rolled out a second iPhone, the 5C, which is simpler, plastic and sells for between $99-199.
HTC's flagship phone, which runs the Android Jelly Bean operating system, has a 4.7-inch display screen and a souped-up camera with a countdown timer for better selfie pics.
The most ambitious smartphone from Motorola since Google bought the company, the $199 Moto X also claims to be the first phone manufactured in the U.S. Hands-free voice controls allow you to operate the phone without touching it -- a handy trick if you're across the room -- and it's highly customizable.
Geared to mobile photographers, the Nokia Lumia 1020 packs a whopping 41-megapixel camera that captures extremely high-resolution images. These features come with a price -- the Windows-based phone costs $300, about $100 more than most other high-end models.
The king of the "phablets," the Samsung Galaxy Note 3 has a vivid, 5.7-inch screen and comes equipped with a stylus. It's $299 and has been a popular No. 2 device for Samsung.
BlackBerry, once the king of business-oriented phones, is now struggling to catch up. Unlike past BlackBerry models, its flagship Z10 smartphone has no physical keyboard. It also offers a feature that splits the phone into two separate devices -- one for work and one for personal use -- so IT departments can control the flow of sensitive data.
This phone boasts a 5-inch display, a 13-megapixel camera and a feature that shuts down background activities to save battery life. And you can take it to the pool: Sony claims the phone can survive in shallow water for up to 30 minutes, providing all its ports are sealed. A new model, the Xperia Z1S, is set to go on sale in the coming month.
The leading smartphones
iPhone 5S
HTC One
Moto X
Nokia Lumia 1020
Samsung Galaxy Note 3
BlackBerry Z10
Sony Xperia Z
STORY HIGHLIGHTS
Report: Apple testing bigger screens for future iPhones
They'd run from 4.8 to 6 inches, says the WSJ
Phones unveiled next week will have 4-inch displays, sources say
The iPhone 5 has a 4-inch display, but many rivals' phones are larger
(CNN) -- Apple is testing iPhone display screens as large as 6 inches, according to a new report.
The screens, ranging upward from 4.8 inches, would be a pretty massive leap from the 4-inch display on the iPhone 5. But don't expect to see them when Apple rolls out new iPhones next week.
Citing "people familiar with the matter," the Wall Street Journal on Friday reported that the bigger screens could signal a future move by Apple to offer iPhones of various sizes. That would put them more in line with their chief rival, Samsung, which has put a dent in the iPhone's dominance with devices like their Galaxy S and Galaxy Note lines.
On Wednesday, Samsung unveiled its Galaxy Note 3, with a whopping 5.7-inch display that further blurs the boundary between large phone and small tablet.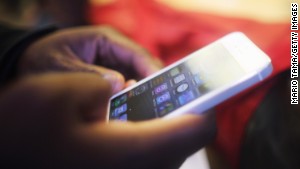 The iPhone 5's screen is 4 inches across. Future iPhones may be bigger.
On Tuesday, Apple is expected to roll out two different iPhones -- an update to the iPhone 5 and a cheaper model that would be designed to appeal to buyers in emerging markets like China and India.
Apple CEO Tim Cook has knocked Apple's rivals for making "trade-offs" in order to pack larger screens into phones, although he has not ruled out such a move for future iPhones.
Opinions are split on whether Apple will also introduce other products, like a new iPad or a much-anticipated smartwatch, next week.
The Journal report said the iPhones unveiled next Tuesday will likely have the same size screen as the current model. An Apple spokesperson, predictably, declined to comment.