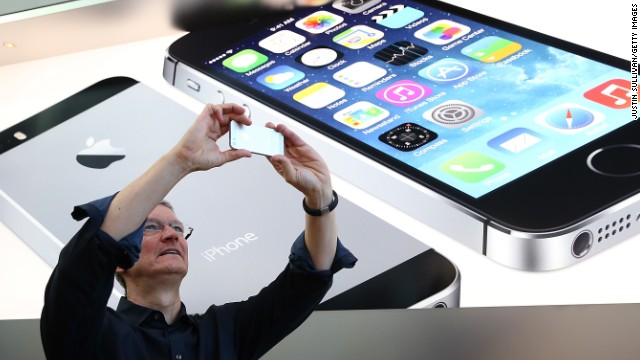 Apple CEO Tim Cook is expected to unveil the iPhone 6 -- and possibly more than one phone model -- early this fall. The phone reportedly will have a bigger screen than current Apple models. Here is a look at some other top smartphones on the market now or coming soon.
Announced in June, Amazon's Fire Phone will have a 5-inch screen that displays 3-D images. A feature called Firefly offers instant image, text and audio recognition and can supposedly recognize more than 100 million songs, videos and consumer products. It will sell for $199 for a 32GB model and $299 for 64GB and begins shipping July 25.
The Galaxy S5 is the latest in Samsung's line of big-screen, feature-laden phones.Considered an improvement, but not radical departure from, the S4, the phone features a 5.1-inch screen, 16-megapixel camera with ultra-fast shutter speed and a fingerprint sensor for added security. It sells for $199 with most mobile contracts.
The iPhone 5S is Apple's fastest handset yet, with an upgraded camera with slow-motion video capabilities and the Touch ID fingerprint scanner for security. It ranges from $199-$399, depending on storage. Apple also sells a new plastic iPhone, the 5C, which is simpler and cheaper: $99-199.
Hailed by some critics as the best Android phone yet, HTC's latest offering has a sleek, brushed-metal design that has charmed reviewers. It boasts a 5-inch screen, a dual-camera setup that lets users refocus even after they take an image and a hefty 2GB of RAM. The HTC One M8 retails for $199.
Google has sold Motorola to Lenovo, but the Moto X still has its admirers. The Moto X claims to be the first phone manufactured in the U.S. Hands-free voice controls allow you to operate the phone without touching it -- a handy trick if you're across the room -- and it's highly customizable. And because it's been out for a while you can pick it up cheaply with most wireless contracts.
The king of the "phablets," the Samsung Galaxy Note 3 has a vivid, 5.7-inch screen and comes equipped with a stylus. It's $299 and has been a popular No. 2 device for Samsung.
Some reviewers have called the Nokia Lumia Icon with a fast processor, 5-inch display screen and 20-megapixel camera, the best Windows phone yet. But the phone, selling for $199, is only available on Verizon. Nokia's other top-end phone, the bigger (6-inch) Lumia 1520, is similarly exclusive to AT&T.
BlackBerry, once the king of business-oriented phones, is now struggling to catch up. Unlike past models, its flagship Z10 phone has no physical keyboard. It also offers a feature that splits the phone into two separate devices -- one for work and one for personal use -- so IT departments can control the flow of sensitive data. The Z10 is now free with a two-year wireless contract.
This is the second generation of the Sony phone with an unusual claim to fame: The company says it's water-resistant, for up to 30 minutes. It also boasts a 20-megapixel camera, which Sony claims has the industry's largest sensor. The Experia Z1s is exclusive to T-Mobile.
The big-name smartphones
Amazon Fire Phone
Samsung Galaxy S5
iPhone 5S
HTC One M8
Moto X
Samsung Galaxy Note 3
Nokia Lumia Icon
BlackBerry Z10
Sony Experia Z1s