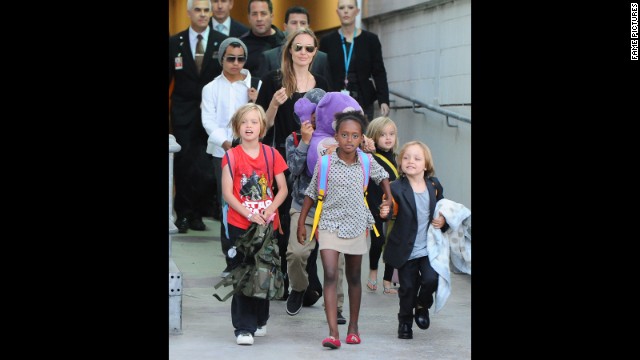 When we saw this photo of Brad Pitt and Angelina Jolie's brood -- sans father Pitt -- at the Sydney Airport in Australia, we were struck by how much the six Jolie-Pitts have grown. We can remember when ...
Maddox was small enough to fit into this little toy car. The first addition to the Jolie-Pitt family, Maddox was born in Cambodia and adopted by Jolie in 2002, when the actress was still married to Billy Bob Thornton.
In March 2013, a soon-to-be 12-year-old Maddox played soccer with friends in a park.
Zahara Marley was born in Ethiopia and adopted by Jolie in 2005. That same year, Jolie's eventual fiance, Brad Pitt, petitioned to adopt both Zahara and Maddox.
Zahara, now 8, is old enough to help lead her younger siblings through airports.
In 2006, Angelina Jolie and Brad Pitt welcomed their daughter Shiloh Nouvel, who was born in Namibia. After her arrival, they confirmed to the media that they were focusing on their growing family and didn't have plans to marry.
Pax Thien was born in Vietnam in 2003, and was adopted into the Jolie-Pitt brood at age 3 in 2007, becoming kid No. 4.
Now 9, Pax was spotted out with his parents and older brother, Maddox, at his dad Pitt's "World War Z" movie premiere in London on June 2, 2013.
Born in Nice, France in 2008, Vivienne (left) and Knox are the youngest Jolie-Pitts -- for now, anyway. The duo have the distinction of appearing at Cannes before they were even born --
At 5, Vivienne Marcheline is starting to take after her actress mother and grandmother. The budding star will perform alongside her mother in the 2014 live-action retelling of "Sleeping Beauty," "Maleficent."
Now 5, Knox Leon is already a world-traveler. He and his family visited Berlin in the summer before his fifth birthday, and after Labor Day touched down in Australia, where Jolie will reportedly film her next movie, "Unbroken."
Every so often, all eight Jolie-Pitts are caught on camera, as they were here in 2011 in New Orleans.
Brangelina's kids: Then and now
Maddox Then
Maddox Now
Zahara Then
Zahara Now
Shiloh Then
Shiloh Now
Pax Then
Pax Now
Vivienne and Knox Then
Vivienne Now
Knox Now