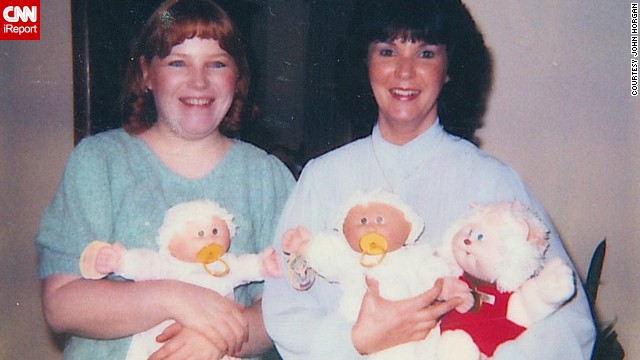 John Horgan
worked for Sears in the early '80s, when Cabbage Patch dolls were all the rage. "Each time the store announced we had received a shipment, the buying frenzy would start. I can recall several fights breaking out as people pushed and shoved each other." In 1983, he bought his wife and sister these Cabbage Patch kids and Koosa (the Cabbage Patch pet).
Marjorie Zien
, seated second from right, was a computer programmer at the Morgan Guaranty Trust Company in 1985 and frequently wore skirt-suits to work. She commuted in sneakers and changed into pumps at the office. "It all seems so formal to me. It was as if we were wearing a uniform," said Zien, now 56.
Cynthia Falardeau, left
. A college student in 1986, she spent a semester abroad that expanded her world view.
"I believed passionately that women should serve in combat, because I saw the movie 'Private Benjamin.' I also was extremely self-absorbed and consumed with sorority parties, tennis practice and shopping for the latest dress by Laura Ashley," wrote
Ellen Jo Roberts
' eighth grade autograph book from 1985. She was the photographer, and they were her best friends, all eighth graders in a Chicago Public Schools gifted program, studying Latin, logic and philosophy and literature. "We were nerds. Though, in our own way, we felt cool, different, magnetic, with our big, adult ideas. My favorite things in 1985 were: roller skating, the Chicago Cubs, drawing cartoons and writing stories, and going on city expeditions with my younger brother via public transportation."
This picture was tucked in the pages of
Janee Blackwell Cifuentes
, on the left in black and blue, spent her teen years in Wheaton, Illinois. The decade brought many firsts for blacks, she wrote. "Martin Luther King's birthday was made a holiday. Harold Washington was the first black mayor of Chicago. Vanessa Williams was the first black Miss America and that was opening the doors for a lot of black homecoming queens." There were two or three black girls on her high school pom-pom squad. "To me, that was a big deal."
Heavy metal music
helped T. Ray Verteramo find her own voice as a teenager living in Pougkeepsie, New York, in 1985. She had a front row seat to the crusade by the so-called moral majority that was convinced the bands she loved corrupted her generation's souls. Frank Zappa went on "Crossfire" that year to talk about it.
Beth Barret
, a teenager living on New York's Upper East Side in the late '80s. She saved up money babysitting and working at David's Cookies to pay for a cable box in her room. Lots of time was also spent talking on this rotary phone with her best friends Nadine, Madeline, Valerie, Netty and Katie. (But don't tell her mom!)
"MTV was the place to see, hear and learn about the world around us," said
"Some called me and my friends granolas. Some called us hippies. We didn't care what we were called as long as no one told us what we should do," said Hilary Ohm, left. She was 24 years old in 1982 and very active in the anti-nuclear-power movement.
5-year-old, Jennie,
was enthralled. If there was a full or almost-full moon, the little girl would look out the window to see if she could spot the alien.
The movie "E.T." came out in 1982, and Janie Lambert's
Martrese White
describes '80s fashions as "hideous" now, but is and was proud of all the accessories and creations she made at the time, especially this prom dress in 1986. "The senior prom was my pièce de résistance -- everything was turquoise blue and silver -- even silver nail polish. And I was SO proud of the matching handbag and shoe rosettes."
ground crew
(also known as a "helicopter hooker") and later started her own helicopter company.
The '80s seemed to offer more opportunities for people to find jobs and pursue their dreams, says Marie Sager, who was a divorced mom of two boys in 1981. Sager loved working as a member of a Las Vegas helicopter company
William Patrick Butler
mostly remembers how much he and his sister loved watching "Star Wars" over and over again on HBO whenever it came on. Here they pose in their church outfits beside Ma's old Chevrolet Cavalier, which was replaced in 1983 with a more fun red Pontiac Grand Prix.
Growing up in Jackson, Mississippi,
Cliff Olney
was more concerned with money than politics. Then the owner of a hair salon, he voted for Ronald Reagan the first time around, but switched parties after Reagan fired more than 11,000 striking air traffic controllers in 1981. Olney is now a progressive Democrat, "thanks to Reagan's 'trickle-down economics' that never trickled down."
this picture was taken
. (Furry faces were banned in the service by 1986). John Lawrence was in Port Angeles, Washington, at the time, holding his 1-year-old son. The remote control in his hand is an early model.
Beards were still allowed in the Coast Guard in 1982, when
Cabbage Patch craziness
Before business casual
Official Preppy Handbook was my guide
We were nerds on the playground
Black pom-pom girls were 'a big deal'
Living heavy metal
I wanted my MTV
Some called us hippies
We were obsessed with E.T.
Molly Ringwald had nothing on me
I was a helicopter hooker
This suit was itchy!
I voted for Reagan the first time
Inside the '80s time capsule
STORY HIGHLIGHTS
Crossfire first aired on June 25, 1982
Life then was big hair, heavy metal and Reaganomics
Readers share their memories of the era
What was your life like in the '80s? Send a picture!
Crossfire returns to CNN Monday, Sept. 9 at 6:30 p.m. ET.
(CNN) -- "Crossfire" is back, and just look how much life has changed since that first show in 1982. The clothes. The hair. The music.
Yeah, we love the '80s, too.
In the early years, the political debate show was all about the Cold War, Reagan administration, death penalty, sex education -- and bow-ties, big glasses and tweed blazers with diagonally striped ties. The first show on June 25, 1982, focused on Alexander Haig's resignation as secretary of state.
"Crossfire" Classic: '88 comments on Middle East, Syria ring true today
These days, 31 years later, we're just as diverse on the daily commentary. Syria is weighing heavily on our minds, but then we just can't seem to stop talking about Miley Cyrus' over-the-top twerking performance at the MTV Video Music Awards.
Culturally so much has changed.
With "Crossfire's" return, we invited CNN readers to dish on life in the '80s. Many readers talked about coming of age and finding themselves during that era, with a little help from heavy metal, hairspray and MTV. These are some of our favorite takeaways:
Early '80s fashions were "simply outrageous." Stripes and polka dots combined, frilly dresses with leggings topped with leg warmers and tennis shoes, were just a few of the styles, wrote Yvonne Coverdale. "My favorite clothing at that time to relax in public was a pair of black pants with a white or red stripe down the sides, a double breasted white or black tunic blouse and knee-high black leather boots; two-inch black leather belt optional."
"Crossfire" Classic: Frank Zappa on dirty lyrics
Music defined us. T. Ray Verteramo fell in love with heavy metal, which was under heavy fire at the time by Tipper Gore and those of the self-proclaimed moral majority. It was a topic of discussion on "Crossfire" when Frank Zappa was a guest. Verteramo believed it to be an issue of free speech. The experience shaped her. "When you're judged so readily, so quickly, and so harshly for so long, it's hard not to become more empathetic. My tastes haven't changed and I'll never use hairspray again. But my appreciation and gratitude to be able to enjoy and share the music I love freely has definitely grown."
Music was also a unifying force. Growing up in Illinois, Janee Blackwell Cifuentes was transcending race and making friends from all different cultures. "People may not like you on the outside, but they soften up when you sing them a song they can relate to," she said. "I remember white kids in my neighborhood ... being amazed when they found out Journey was one of my all-time favorite groups and I could sing all of their songs."
"Crossfire" Classic: Falwell opposes MLK day in 1983
There was a time before business casual and dress down Fridays. Corporate attire involved scarves tied in bows, dress pants, blazers and pumps. Marjorie Zien dug up this gem of the IT team at Morgan Guaranty Trust Company in New York in 1985. "When I look at the photo, it all seems so formal to me. It was as if we were wearing a uniform, which I guess in some ways, we were."
We were divided on Reagan. Ronald Reagan took office as president in 1981, wrote Janie Lambert, and "within minutes, the Iran hostages were released. I was relieved and happy that he had been elected, having very high hopes for the next four years."
1988 "Crossfire" Classic: Soviet military capabilities
During that same time, Hilary Ohm was protesting against nuclear weapons, America's involvement in Central America and Reagan's economic policies, which she believed were "cruel and would hurt the poor and give the rich more wealth."
Cliff Olney voted for Reagan the first time around, but switched parties after Reagan fired more than 11,000 striking air traffic controllers in 1981. Olney is now a progressive Democrat "thanks to Reagan's 'trickle-down economics' that never trickled down," he said.
Life was simpler. At least, that's how we remember those times, "when we weren't always so plugged in or bombarded with data," wrote Ellen Jo Roberts, now 41. It also seemed easier to pursue your dreams, said Marie Sager, who was a recently divorced mom of two boys in 1981. She found work as a "helicopter hooker" and later started her own helicopter company. "Today that's not so, most people have to take whatever comes their way," Sager wrote. "For me, the '80s were great. Even being a single parent, we managed to do OK."
But it wasn't all sunshine and roses. Generation X grew up "with the threat of global thermal nuclear war and under the specter of AIDS," Roberts wrote. "I like to joke now that the freewheeling baby boomers, with their sex, drugs and rock 'n' roll, got to have all the fun, leaving us with "Just Say No" and songs like Jermaine Stewart's 'We Don't Have to Take Our Clothes Off (to Have a Good Time).' However, we were lucky to be witness to new wave, the early days of beatbox and hip-hop and the earliest inkling of an environmental movement."
"Crossfire" Classic: KKK Grand Wizard in 1982
And we wished E.T. was real. After the Steven Spielberg movie came out in 1982, Lambert's 5-year-old daughter, Jennie, was enthralled. "She thought having an E.T. would be such a fun thing. She even invented a pretend E.T. of her own and would play for hours." If there was a full or almost-full moon, she would watch out the window to see if she could spot the alien. Jennie was thrilled to get a giant blow-up E.T. doll that Christmas. Wouldn't you be?
What did you care about in the 1980s? What did you look like? Share a photo here or join the conversation in the comments below.