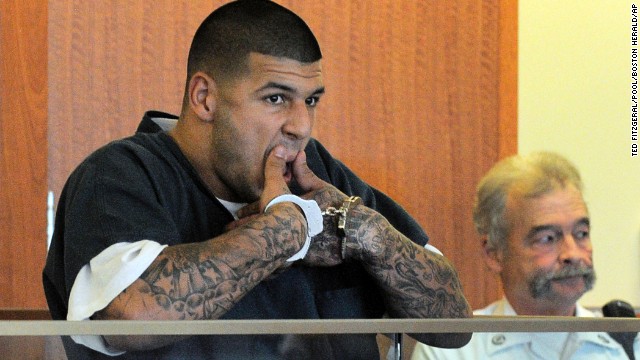 Former New England Patriots tight end Aaron Hernandez appears at a bail hearing on Thursday, June 27, in Fall River Superior Court in Fall River, Massachusetts. He was denied bail and is charged with murder in the death of semipro football player Odin Lloyd.
Hernandez is brought into the Attleboro, Massachusetts, District Court for his arraignment Wednesday, June 26.
Hernandez answers questions during Media Day on January 31, 2012, before Super Bowl XLVI against the New York Giants in Indianapolis.
Hernandez carries the ball as the Patriots play the Cincinnati Bengals in Foxborough, Massachusetts, on September 10, 2010.
Hernandez carries the ball as the Patriots play the New York Jets in Foxborough, Massachusetts, on December 6, 2010.
Hernandez looks up after being tackled during a game against the Philadelphia Eagles on November 27, 2011, in Philadelphia.
Tattoos on Hernandez's arm are visible during the pregame warmup on December 4, 2011.
Hernandez scores a touchdown against the defense of George Wilson of the Buffalo Bills on January 1, 2012, in Foxborough, Massachusetts.
Hernandez catches a pass against Chase Blackburn and Aaron Ross of the New York Giants during Super Bowl XLVI on February 5, 2012, in Indianapolis.
Hernandez runs for a 12-yard touchdown past Deon Grant of the New York Giants in the third quarter of Super Bowl XLVI on February 5, 2012, in Indianapolis.
Hernandez celebrates his touchdown in the third quarter of Super Bowl XLVI.
Aaron Hernandez
Aaron Hernandez
Aaron Hernandez
Aaron Hernandez
Aaron Hernandez
Aaron Hernandez
Aaron Hernandez
Aaron Hernandez
Aaron Hernandez
Aaron Hernandez
Aaron Hernandez
STORY HIGHLIGHTS
Aaron Hernandez is slated for arraignment Friday
He's expected to plead not guilty to slaying of friend
Video among evidence gathered by prosecutors
Former NFL star also investigated in 2012 slayings
(CNN) -- Odin Lloyd texted his sister in the wee hours of June 17.
"NFL. Just so you know."
At the time, according to prosecutors, Lloyd was in a silver Nissan Altima with Aaron Hernandez, a star tight end with the NFL's New England Patriots, and two other people.
About 3:25 a.m. -- two minutes after the message went out -- gunshots shattered the quiet night in a southeastern Massachusetts industrial park, according to witnesses.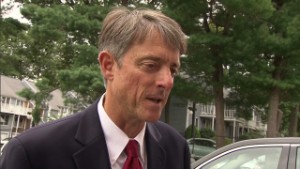 Hernandez prosecutor welcomes pressure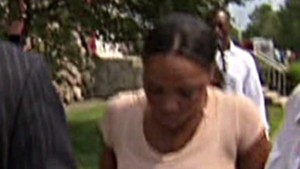 Aaron Hernandez's fiancée investigated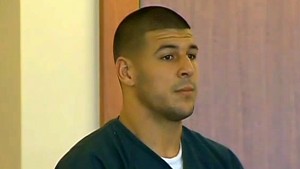 Police: Man says Hernandez was shooter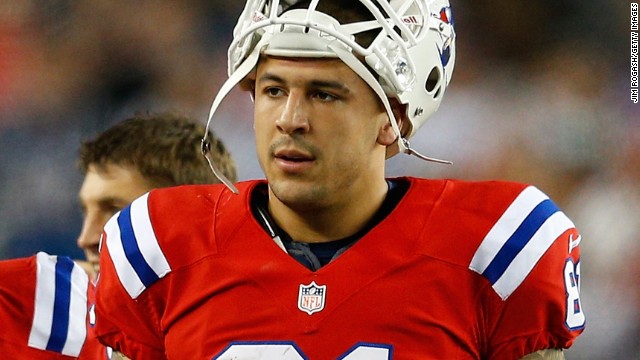 A Bristol County, Massachusetts, grand jury indicted former NFL player Aaron Hernandez on a first-degree murder charge, as well as five weapons charges, on Thursday, August 22. The case against Hernandez can now proceed to trial. In June, the former New England Patriot was charged with murder in the death of Odin Lloyd. Here's a look at other professional athletes who have been charged with murder. Some have been able to create new lives in the free world. Others are incarcerated.
Oscar "Bladerunner" Pistorius has been charged with the killing of his girlfriend, Reeva Steenkamp, who was found shot dead in his home on February 13. Pistorius was the first disabled person to compete in the able-bodied Olympics and ran for the South African team.
Rae Carruth, who was a wide receiver for the Carolina Panthers, became the first active NFL player ever charged with first-degree murder for the death of his pregnant girlfriend, Cherica Adams, in December 1999. Prosecutors said he arranged for her to be killed in a drive-by shooting. He was convicted for conspiring in her murder and is now in prison. The unborn child, a boy, survived.
Middleweight boxer Rubin Carter, known as "Hurricane" in the ring, served 18 years in prison for a triple homicide that took place in a bar in 1966. A federal judge overturned his sentence and that of his supposed accomplice, John Artis, in 1985, ruling that the conviction was based on "racial stereotypes, fears and prejudices."
Groundbreaking skateboarder Mark "Gator" Rogowski confessed to beating and raping Jessica Bergsten, then choking her to death and burying her in the desert in 1991. Bergstein was a friend of his former girlfriend, and Rogowski testified that he acted out of misplaced anger against his ex. Rogowski was denied parole in 2011 and will not be eligible for parole again until 2018.
Baltimore Ravens linebacker Ray Lewis and two others were charged with murder in 2000 after a fight in a popular Atlanta bar district left two men dead on the street. The murder charges against Lewis were dropped after he pleaded guilty to a misdemeanor charge of obstruction of justice and testified against his friends; they were later acquitted. Lewis announced his retirement before helping the Ravens win the Super Bowl in February 2013.
Bruno Souza, a former goalie for the Brazilian soccer club Flamengo, was arrested in August 2010 in the slaying of his ex-girlfriend, Eliza Samudio, who had disappeared two months before. Souza, his lover and his wife were among nine people charged with torturing and murdering Samudio, who had been trying to prove he had fathered her son. He is serving a 4½-year sentence for assaulting and kidnapping Samudio, and now faces a murder trial.
Although O.J. Simpson was found not guilty, the 1995 trial for the murder of his wife, Nicole Brown Simpson, and Ron Goldman has kept him a household name. O.J. Simpson played for the Buffalo Bills and San Francisco 49ers and was elected to the Pro Football Hall of Fame in 1985. In October 2008 Simpson was sentenced to 33 years in prison on multiple counts, including armed robbery and kidnapping, in connection with a robbery at a Las Vegas hotel in 2007.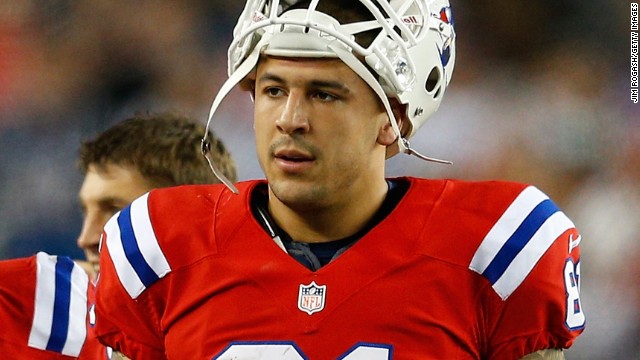 Photos: Athletes charged with murder
Not five minutes passed before a surveillance camera at his North Attleborough home captured video of Hernandez carrying what appears to be a gun, prosecutors said. Lloyd lay dead about a mile away.
The video is among the evidence prosecutors are gathering in their case against Hernandez, 23, who is set to be arraigned Friday.
Let go by the Patriots, Hernandez will step into a courtroom for the sixth time since his June 26 arrest.
He's expected to formally plead not guilty to first-degree murder in the death of Lloyd, a 27-year-old semipro football player.
"He's bearing up under the pressure," defense attorney Michael Fee said when Hernandez was indicted last month. "He understands what's in front of him, and he's committed to clearing his name."
Fee has told reporters that the case against his client, who is being held without bond, is circumstantial. "There's an incredible rush to judgment in this case," according to the attorney.
For his part, according to a TMZ report last month, Hernandez declared his innocence as he responded to a fan letter, saying that "all the people who turned on me will feel like crap."
Investigation continues in another case
Friday's arraignment comes as authorities continue to investigate Hernandez in connection with an unsolved 2012 double homicide case in Boston.
Investigators have obtained July 2012 video surveillance allegedly showing Hernandez at a nightclub at the same time as two men who were fatally shot that night, according to a law enforcement source with knowledge of the investigation.
The video apparently does not show Hernandez interacting with Daniel Abreu, 29, and Safiro Furtado, 28, according to a law enforcement source. The development was first reported Wednesday by the Hartford Courant.
Boston police have said the men were inside a BMW sprayed with gunfire after they left the nightclub.
Law enforcement sources said they believe Hernandez rented a silver SUV with Rhode Island registration that was linked to the scene of the double homicide.
After Lloyd's murder, Bristol, Connecticut police discovered the vehicle by accident while searching the garage of Hernandez's uncle, a law enforcement source told CNN.
Boston police had been looking for the vehicle for almost a year, law enforcement sources added.
Hernandez has not been charged in the unsolved double shooting.
His attorneys have previously declined to comment to CNN when asked about the ongoing Boston investigation.
Defense: Jury will find him 'innocent'
A Bristol County, Massachusetts, grand jury last month indicted Hernandez on a first-degree murder and five weapons charges.
Prosecutors say Hernandez orchestrated the shooting of his friend Lloyd, who was dating the sister of Hernandez's fiancee.
Fee said he was pleased with the indictment because it gave his client "a path to trial," and that a jury will find Hernandez "innocent."
Police have not located the gun believed to have been used in the Lloyd killing.
But prosecutors say Hernandez returned a rental car with a bullet casing that allegedly matched bullets found at the scene.
Surveillance cameras showed the car believed to be carrying Hernandez and the others at the industrial park, according to authorities.
Hernandez has been sitting in a jail cell as his former team, known for its stellar offense, contends for another Super Bowl title. The Patriots open their regular season Sunday against the Buffalo Bills.
In his letter to the fan, as reported by TMZ, the fallen NFL star said the world makes things "out of false accusations" and that he will be exonerated.
"I know there is a reason I'm going thru this and I will figure it out through my relationship with the Lord," Hernandez wrote.
CNN's Laura Dolan, Lorenzo Ferrigno, Greg Botelho and Laura Ly and HLN's Amanda Sloane contributed to this report.