'Fifty Shades': Before Hunnam and Johnson, was there Gosling?
updated 5:40 PM EDT, Thu September 5, 2013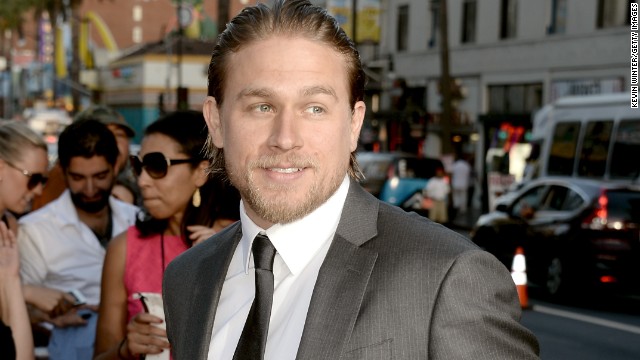 OK "Fifty Shades of Grey" fans, it looks like some of you have gotten your wish. Charlie Hunnam
will not be playing
Christian Grey in the big-screen adaptation of E.L. James' best-selling novel. You can once again start fantasizing about who might snag the role instead. Here are a few names that have come up.
Lots of people believed "White Collar's" Matt Bomer would have made a great Christian Grey. (The actor appears as a stripper in "Magic Mike," so we figured he'd be down for some on-screen BDSM.)
Garrett Hedlund steamed up the screen in "Tron: Legacy" and "Troy." He definitely has the looks for the role.
The devilish look of Ian Somerhalder has served him well on the TV series "The Vampire Diaries." He could bring that to the role.
Need we plead our case for Ryan Gosling?
With "The Hunger Games" under his belt, Wes Bentley could have taken on the role.
He's shown his range from "This Means War" to "People Like Us," so we know Chris Pine could have taken on Grey.
If new dad Chris Hemsworth isn't too busy wielding Thor's hammer to take part, he could have easily stepped into Grey's shoes.
Casting 'Fifty Shades of Grey'
Matt Bomer
Garrett Hedlund
Ian Somerhalder
Ryan Gosling
Wes Bentley
Chris Pine
Chris Hemsworth
STORY HIGHLIGHTS
Many actors were rumored to be in consideration for "Fifty Shades"
Ryan Gosling, Garrett Hedlund and Shailene Woodley were among them
The two starring roles ended up going to Dakota Johnson and Charlie Hunnam
Some fans of the books have criticized the choices
(CNN) -- Not everyone's pleased with Dakota Johnson and Charlie Hunnam in the starring roles in "Fifty Shades of Grey," but the bigger-name stars fans have been clamoring for reportedly weren't all that interested.
We already know Armie Hammer and Emma Watson were definitively not interested, with both nearly sneering at the thought. Even Aaron Taylor-Johnson, the husband of "Fifty Shades" director Sam Taylor-Johnson, diplomatically excused himself from any casting rumors.
Fans not happy with 'Fifty Shades' casting
"I'd love to work with Sam again, no question, without a doubt," the "Kick-Ass" actor said. "I think she's such an incredible director, and she's got such an incredible vision. And especially for something like this, (which) she can do -- no pun intended -- with her hands tied behind her back and blindfolded."
But for him, the role of the charismatic, handsome and domineering billionaire just didn't "fit the bill."
And according to The Hollywood Reporter, preferential choices Ryan Gosling and Garrett Hedlund also passed on the project.
Director Sam Taylor-Johnson chosen for 'Fifty Shades of Grey'
Fans have not rallied around the idea of Hunnam as Christian Grey and have offered another suggestion: Matt Bomer. (The "White Collar" actor has since said that while he appreciates the support, Hunnam's staying put.)
Some readers of E.L. James' best-selling S&M-themed trilogy haven't been thrilled with the idea of Johnson as Anastasia Steele, the naive college student who takes up with Grey. In their eyes, Alexis Bledel would be far better for the role, but THR notes that it was Shailene Woodley studio Universal had eyes for.
'Fifty Shades' gets a release date
While the actress is said to have been comfortable with the racy demands of the film, her ties to the adaptation of Veronica Roth's "Divergent" trilogy would get in the way.
'Fifty Shades' screenwriter's thinking NC-17
So with Johnson and Hunnam being the choices -- and "there is a lot that goes into casting that isn't just looks. Talent, availability, their desire to do it, chemistry with other actor, etc.," "Fifty Shades" producer Dana Brunetti tweeted -- the next best thing the "Fifty Shades" team can do is knock the adaptation, written by Kelly Marcel, out of the park.
"Handled correctly, 'Fifty Shades' could catapult Johnson and Hunnam to the A-list," The Hollywood Reporter predicts. "If it fails, it could end up like 'Showgirls,' whose star, Elizabeth Berkley, never recovered."