STORY HIGHLIGHTS
NEW: Weiner says hecklers should expect he'll go at them if they say "vile things"
New York mayoral candidate gets into a heated exchange in a Brooklyn bakery
A man calls out Weiner, who is Jewish, for being "married to an Arab"
Man calls Weiner "disgusting;" the ex-congressman calls man a "jackass"
(CNN) -- Beleaguered New York mayoral candidate Anthony Weiner got into a war of words Wednesday with a man who lashed out at him for being "married to an Arab," in addition to chastising the former congressman about his well-documented sexting scandal.
The incident began inside a bakery in Brooklyn's Borough Park neighborhood, where the man yelled out to Weiner, who had just bought cookies and an iced coffee, "You're a real scumbag."
Weiner offered a quick retort, then said to no one in particular, "Very nice, that's a charming guy right there." It's then that the man, later identified as Saul Kessler, responded: "Married to an Arab."
The comment is an apparent reference to Weiner's wife, Huma Abedin, who works for Hillary Clinton. Abedin's late father was an Islamic scholar from India and her mother, a sociologist, is from Pakistan. Weiner is Jewish, as were most of those inside the Brooklyn bakery.
Huma Abedin emerges, stands by her husband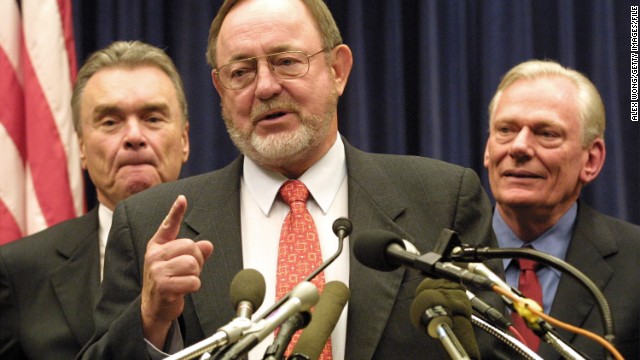 Earlier this week, U.S. Rep. Don Young of Alaska used an ethnic slur when referring to immigrant workers, telling a Ketchikan Public Radio station: "My father had a ranch. We used to have 50 to 60 wetbacks to pick tomatoes. ... It takes two people to pick the same tomatoes now. It's all done by machine." The slur "wetback" is a reference to those who illegally enter the United States by crossing the Rio Grande on the Mexican border. The 21-term Republican, who is currently facing an ethics probe related to campaign finances, isn't the first politician to stick his foot in his mouth. Here are a few others:
During his impeachment trial, President Bill Clinton denied lying to staff about his affair with intern Monica Lewinsky by arguing that "It depends on what the meaning of the word 'is' is." While his parsing words were ridiculed, he was acquitted by the Senate in February 1999.
In response to presidential candidate Jerry Brown's charge that then-Arkansas Gov. Bill Clinton was funneling state funds through his wife's law firm, Hillary Clinton replied: "I suppose I could have stayed home and baked cookies and had teas, but what I decided to do was to fulfill my profession, which I entered before my husband was in public life." The 1992 campaign trail quote not only pegged Hillary as a feminist but also led to a cookie recipe competition that has lasted through subsequent presidential elections.
During a 1995 interview with a group of radio broadcasters, former U.S. Rep. Dick Armey referred to homosexual Massachusetts Rep. Barney Frank as "Barney Fag." The Texas Republican later apologized, calling it a "slip of the tongue."
As George H.W. Bush accepted the Republican nomination for president in 1988, he famously said, "Read my lips, no new taxes." A little over a year into his presidency, Bush signed a congressional budget agreement that, indeed, raised income and other taxes.
Asked if sexting photos that surfaced on Twitter were of him, former U.S. Rep. Anthony Weiner, a New York Democrat, replied: "You know, I can't say with certitude." Weiner resigned his seat in Congress over the matter in 2011.
Speaking before the U.S. Chamber of Commerce in 1983, Interior Secretary James Watt referred to the diversity of his special advisory council by saying: "We have every mixture you can have. I have a black, a woman, two Jews and a cripple." He resigned soon after.
On live television, Vice President Joe Biden was picked up on a microphone congratulating President Barack Obama on the 2010 passage of health care reform, saying: "This is a big f---ing deal."
In 1984, Democratic presidential candidate Rev. Jesse Jackson made offensive remarks about Jews in a conversation with a reporter. References to them as "Hymie" and to New York as "Hymietown" later appeared in the Washington Post. Jackson apologized during a speech at a New Hampshire synagogue.
While Senate minority leader, Trent Lott praised Sen. Strom Thurmond at a retirement party for the South Carolina Republican in 2002. "When Strom Thurmond ran for president, we voted for him. We're proud of it. And if the rest of the country had followed our lead, we wouldn't have had all these problems over all these years, either," Lott said. Thurmond ran for president in 1948 as a segregationist. Lott, a Mississippi Republican, later said the his statement was intended to endorse Thurmond as a man, not his beliefs. Lott resigned his leadership post over the controversy and since left the Senate.
Addressing the National Association for the Advancement of Colored People (NAACP) during his 1992 presidential campaign, Perot made the mistake of referring to his mostly black audience as "you people." Perot later apologized, declaring that he hadn't intended to offend anyone.
Vice President Spiro Agnew made more than one racially insensitive gaffe during his time in the public eye. On separate occasions during the 1968 presidential campaign, Agnew referred to a Japanese reporter as a "fat Jap" and to Polish-Americans as "polacks."
Former Republican presidential candidate Herman Cain demeaned the country of Uzbekistan during an interview with the Christian Broadcasting Network in 2011. In reference to receiving "gotcha" questions from the media, Cain said: "I'm ready for the 'gotcha' questions and they're already starting to come. And when they ask me who is the president of Ubeki-beki-beki-beki-stan-stan, I'm going to say, 'you know, I don't know. Do you know?'"
Former U.S. Senate candidate Todd Akin of Missouri made provocative comments in regards to rape in 2012. While speaking to a St. Louis television station, the Republican congressman said, "If it's a legitimate rape, the female body has ways to try to shut that whole thing down." Akin's comments caused widespread controversy and led to several fellow Republican candidates to condemn his statement. He lost is bid for higher office.
While running for U.S. Senate in Indiana in 2012, Richard Mourdock made inflammatory statements on rape and conception. At a debate, the Republican state treasurer said: "I think even when life begins in that horrible situation of rape, that's something God intended to happen." He lost his race.
At a campaign rally in 2006, former U.S. Sen. George Allen made an insensitive racial remark to an Indian-American staffer from his opponent's campaign, referring to him as "Macaca." The Virginia Republican continued by implying the rally-goer was not native to the United States, saying that: "This fellow here, over here with the yellow shirt, macaca, or whatever his name is. He's with my opponent. He's following us around everywhere. And it's just great ... Let's give a welcome to macaca, here. Welcome to America and the real world of Virginia." The remark effectively cost Allen, the state's former governor, re-election.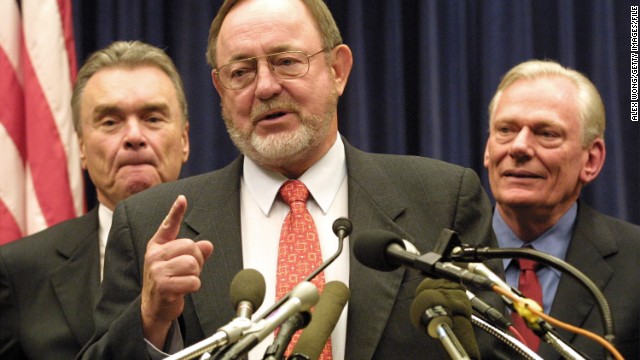 Politicians with their foot in their mouth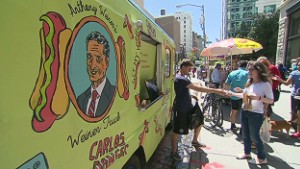 Anthony Weiner-themed food truck hits NY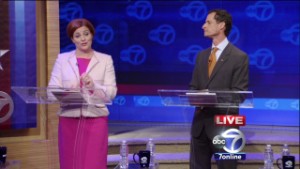 New York City mayoral debate gets ugly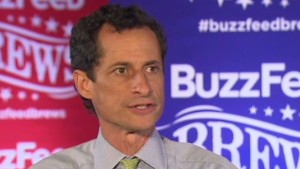 Weiner: 'What I've done has hurt' Abedin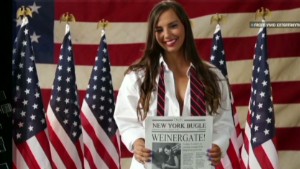 Weiner sexter: I'm proud of myself
The Democratic candidate responded with, "Very nice, in front of children... That is charming." Kessler didn't stop talking, even as Weiner was leaving the bakery, saying, "You are disgusting, disgusting."
"It takes one to know one, jackass," Weiner replied.
The two then went face-to-face, with Kessler accusing Weiner -- who resigned in disgrace after 12 years in Congress representing part of New York City after admitting to sending sexually suggestive images and carrying on inappropriate relationships with women over the Internet -- of doing "disgusting things, and you have the nerve to even walk around in public."
A visibly agitated Weiner responded,"And you're a perfect person? You're my judge? What rabbi taught you that?"
At one point, Kessler implored Weiner to "think about your wife, how could you take the person you're most closest to ... and betray her?"
The mayoral hopeful then accused Kessler of acting like he is superior, even though he doesn't "have the moral authority to judge me."
The back-and-forth went on for about a minute longer before Weiner left the bakery. He seemed to quickly brush off the confrontation, saying, "He has every right to (challenge me). It's America."
The Weiner campaign released a video of Wednesday's exchange, a version of which also was captured by blogger Jacob Kornbluh. Talking with reporters later in the day, Weiner described what happened as "just some enthusiastic exchange with a voter."
"Look, you're allowed to say stuff to me," said Weiner, who, according to a Quinnipiac University poll released Tuesday, trails three other Democratic candidates ahead of next week's primary. "But if you're going to say vile things about me and my family, you should expect that I'm going to go back at you.
"Hecklers don't get a chance to necessarily get the last word if they cross the line."
Reached by CNN later in the day, Kessler admitted calling out Weiner for being "married to an Arab."
"It's just a certain feeling I have as a Jew," said the 51-year-old real estate manager, explaining his remark. "And my attitude is that -- not all Arabs -- but, in general, ... they want to kill every Jew."
Kessler said of a Jewish person marrying into such a family: "It's like a betrayal."
Kessler also said Weiner has bothered him for some time. Kessler called him a "phony." But Kessler said he should have acted differently.
"(Given that I felt) a little bit of anger, I probably shouldn't have said it," Kessler said about the Arab comment. "I shouldn't have called him a scumbag."
"But it was in the heat of the moment."
Is Huma Abedin blaming herself?