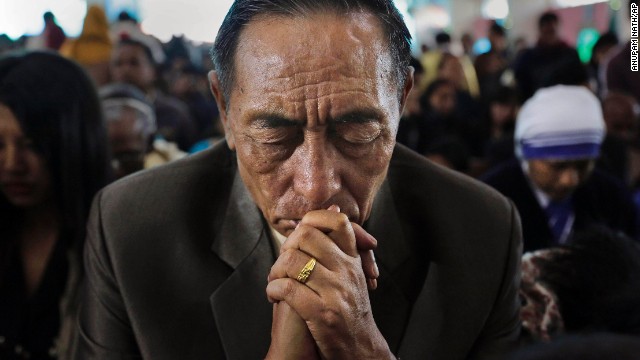 A man prays during Mass in Guwahati, India, on Christmas Day, December 25. Take a look at Christmas celebrations from around the world:
People launch fireworks during the traditional celebrations of Parrandas de Remedios in Villa Clara, San Juan de los Remedios, Cuba. Parrandas, the oldest celebration of Cuba, was declared a national heritage this year.
Jeanne Kubish poses for a portrait at Christmas dinner at Queen Miraculous Medal School in Jackson, Michigan.
Moses Gibson dances to choir songs after receiving his Christmas Day lunch at the Shepherds of Good Hope in Ottawa, Ontario.
People wearing the costumes of Ded Moroz (Grandfather Frost), and Snegurochka (Snow Maiden), parade in Minsk, Belarus.
Iraqi Christians attend a Christmas Mass in Basra, Iraq.
People line up to get meals as people in need and homeless gathered in an indoor stadium in Athens, Greece, for a Christmas meal provided by the Athens municipality.
A sandman takes the place of a snowman in South Padre Island, Texas.
A U.S. soldier takes part in the Christmas 5 kilometer run at the U.S. Transit Center of Manas, near Bishkek, the capital of Kyrgyzstan.
Women attend a Mass in Malaia, Romania.
Great Britain's Queen Elizabeth II receives gifts from children following a service at St. Mary Magdalene Church on the royal estate in Sandringham, England.
People enjoy Waikiki Beach on Christmas Day in Honolulu.
A giant balloon Superman participates in the Christmas parade in Acapulco, Mexico.
A child reaches for a gift distributed by a housing organization in Paris.
A participant in the Copa Nadal, or Christmas Cup, jumps into the waters of Port Vell in Barcelona, Spain.
Priests and nuns lead children in a dance at a Bangui, Central African Republic, monastery serving as a camp for those displaced in the African nation's conflict between Christian and Muslim militias.
A Christian worshipper reads the Bible during Mass in Peshawar, Pakistan.
A man wearing a Santa Claus costume hands a gift to a dancer during Christmas celebrations at Hati Kudus Yesus Church in Palasari Village, Jembrana, Bali, Indonesia.
Choir members pray during a morning Mass in Amman, Jordan.
Soldiers from the NATO-led International Security Assistance Force eat Christmas dinner at a base in Afghanistan's Ghazni province.
A child celebrates Christmas in Ambohibary, Madagascar.
People celebrate Christmas at a party in a Damascus, Syria, hotel.
A girl runs to join a Christmas party in Dhaka, Bangladesh.
A man in a Santa outfit gives out sweets to young patients at a hospital in Ahmedabad, India.
People search for vegetables as part of a popular ritual during Christmas celebrations in Klaten, Indonesia.
A man dressed as Santa Claus helps children open presents at Brighton Beach in Melbourne, Australia.
Pope Francis delivers his "Urbi et Orbi" message -- "to the city and to the world" -- from St. Peter's Basilica at the Vatican.
A man dressed as Santa Claus arrives at the Moscow Zoo in Moscow.
Catholic nuns perform a midnight Christmas Mass in Abu Ghosh, Israel, outside Jerusalem.
A Kenyan Christian Masai with his wife and child offer prayers in front of a small picture of Jesus at his home in the outskirts of Nairobi Kenya.
A woman lights a candle during a Christmas Day Mass in Sofia, Bulgaria.
A patron is helped out of Snake and Jake's Christmas Club Lounge early Christmas morning in New Orleans.
Miners dressed in traditional ceremonial clothing carry pit lights as they arrive for an early-morning Mass in Jöhstadt, Germany.
Church of the Nativity
, which Christians traditionally believe to be the site of the birthplace of Jesus Christ, in Bethlehem, West Bank.
Latin Patriarch of Jerusalem Fouad Twal leads midnight Christmas Mass at the
A street vendor sells Santa balloons in Hoi An, Vietnam.
The Duke and Duchess of Cambridge arrive with other members of the royal family for a service at St. Mary Magdalene Church on the royal estate in Sandringham, England.
A priest blesses a child during a morning Mass in the West Bank village of Burqin near Jenin.
Levi Marez runs alongside his son Kaden Fletcher, 6, left, as he learns to ride the bike he got for Christmas in Henderson, Kentucky.
Christians of the East Asian communities in Kuwait take a bridge leading to a complex of churches during Christmas celebrations in Kuwait City, Kuwait.
Children line up to receive Christmas gifts in Tacloban, Philippines, which was devastated by Typhoon Haiyan in November.
Swimmers prepare for the annual Christmas Day dip into the cool waters of the Serpentine in London's Hyde Park.
People pray during a Christmas Mass in Yangon, Myanmar.
Christmas around the world
Christmas around the world
Christmas around the world
Christmas around the world
Christmas around the world
Christmas around the world
Christmas around the world
Christmas around the world
Christmas around the world
Christmas around the world
Christmas around the world
Christmas around the world
Christmas around the world
Christmas around the world
Christmas around the world
Christmas around the world
Christmas around the world
Christmas around the world
Christmas around the world
Christmas around the world
Christmas around the world
Christmas around the world
Christmas around the world
Christmas around the world
Christmas around the world
Christmas around the world
Christmas around the world
Christmas around the world
Christmas around the world
Christmas around the world
Christmas around the world
Christmas around the world
Christmas around the world
Christmas around the world
Christmas around the world
Christmas around the world
Christmas around the world
Christmas around the world
Christmas around the world
Christmas around the world
Christmas around the world
Christmas around the world