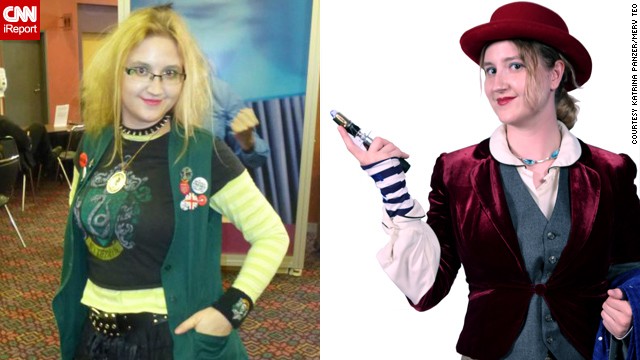 Every year, fans at Atlanta's
Dragon Con
take part in "cosplay" -- or costume play. A recent trend finds cosplayers putting their own twist on a character, such as
Katrina Panzer
's original creation of a female "Doctor Who." "I look beautiful and more than a little clever (in photos). The makeup I chose to go with the costume makes me look ageless in a way the Doctor should."
Alyssa Carson
is attending her third Dragon Con as "Castiella," a female version of popular "Supernatural" character Castiel. "What's special about cosplay to me is that not only is it fun, but it's also training for my career. I'm an actor and cosplaying gives me practice at staying in character, no matter what happens."
Lauren Bregman
offers a feminine take on Marvel's Thor. "I've always been a history and mythology nerd, so when history and mythology mash up with comic books and Chris Hemsworth -- I'm sold!"
Costume designer
Ronni Katz
is no exception. "I like Norse mythology and was drawn to the depth of character shown in the myths Loki was in. I was cosplaying the character long before he was popular. I brought five different Loki costumes to (Dragon Con), and four of them were based on the comic portrayal of the character."
Often in the cosplaying world, women will portray "Avengers" villain Loki, and
Shanon Connelly
, a 13-year Dragon Con veteran and military wife, as she moved from place to place. "This is a good hobby with a tangible end result that I can wear and display at conventions. I also like it when I have a costume that no one else has. Changing a character from a male to a female makes a costume even more unique and rare."
Cosplaying became a hobby for
Arielle Brents
, left, and her friend Caitlin Stewart portrayed female steampunk versions of "Supernatural's" Sam and Dean. "It was a lot of fun translating Sam and Dean into their female versions and then translating it even further into a steampunk version," Brents said. "Each costume used specific fabrics that reflect the personality of each character. They hunt demons and other supernatural creatures so that opened a whole range of steampunk weapons and accessories."
Lady Soliloque
of Concord, North Carolina, portrayed a female version of Mr. Clever, the Doctor's evil split personality on "Doctor Who," while her husband, "JJ,"
interpreted Webley. "The sci-fi universe is vast so don't limit yourself because of your gender, funds, weight or race and don't worry about what other people think. It's all about involvement and fun."
Ellen Leroy-Reed's
husband, Fred Reed, turned heads at Dragon Con with his take on a steampunk Bender from "Futurama." "As his vision took shape, he added Bender's signature stogie and beer," Leroy-Reed said. "But why stop there? Bender's front hatch opens to reveal a bar with mixers and shot glasses. The bar is decorated in Victorian style complete with velvet curtain and embellished bar."
Disney's purchase of Lucasfilm
,
Sabrina Maizland
of Fairfax, Virginia, and her friends decided to portray "Disney Jedi princesses" (from left to right, Maizland as Sleeping Beauty, Stefanie Hackenburg as Maleficent and Caren Chancey as Cinderella). "I have lots of friends who cosplay and we have a wonderful time throwing sewing parties and sharing tips on how to get your costume just right. It is fun to find creative and artistic people who share your interests," Maizland said.
Inspired by
Matthew Weitzel
considers Captain Nemo, the character from "20,000 Leagues Under the Sea," the originator of steampunk. "Many other steampunk outfits are based on people being on land or in airships but rarely do you see a nautical-themed interpretation."
The steampunk trend has been going strong at Dragon Con for several years, and
Mary Ann Harpe
of Evans, Georgia, chose "The Emperor's New Groove" as part of a steampunk Disney villains' group. "I had been an exchange student ... (in) Lima, Peru, in the '70s and I knew I could use some of the items I got in Peru with the costume. I kept Yzma's main colors of purple and black."
Eric Chester
of Memphis, Tennessee, put a Celtic twist on Batman. "'I have always loved the duality of Bruce Wayne/Batman. On one hand you have the rather flippant billionaire who seemingly only cares for himself; the other side shows a gruffer hardline individual who seeks out justice for those who cannot find it themselves."
Suzanne Najbrt's
combination of "Doctor Who's" TARDIS and DJ Deadmau5 led to the nickname "TARDI5" by "Talking Dead" host Chris Hardwick. "Cosplay allows me to escape from my mundane suburban mom role and into anything I want to be. For those few hours, I'm just a girl in a costume having fun. No cares. No worries. And I make people smile."
Dragon Con costumes with a twist
'Supernatural's' 'Castiella'
Lady Thor
Loki
Female seampunk Captain America
Female steampunk Sam and Dean
Ms. Clever and Webley
'Futurama's' steampunk Bender
'Disney Jedi princesses'
Steampunk Captain Nemo
'The Emperor's New Groove's' steampunk Yzma
Celtic Batman
'TARDI5'
STORY HIGHLIGHTS
"Cosplay" -- portraying a character -- grows in popularity at fan conventions
Dressing as a character of opposite sex is a trend in fan culture
It's more rare to see men than women participate in this crossplay
"I welcome all the change a female Doctor (Who) might bring," video editor says
(CNN) -- It's a full-blown identity crisis but in a good way.
For fans of pop culture, the art of "cosplay" -- portraying a character, usually at a fan convention -- continues to grow in popularity.
You're liable to run into a few constants (slave Leia, the Heath Ledger Joker, Marvel Comics' Deadpool) when wandering the halls of any convention such as Atlanta's Dragon Con, held last weekend, as well as works of stunning originality.
It's certainly not unusual to see someone cosplaying Castiel, Misha Collins' popular characters from TV's "Supernatural." What is out of the ordinary is to see a woman portraying the character.
Alyssa Carson took on "Castiella" at the convention, seeing it as an interesting challenge to translate a male into a female character.
"What I like about putting a twist on a character is that you can take your favorite character and add your own personal style or take on that character," she said.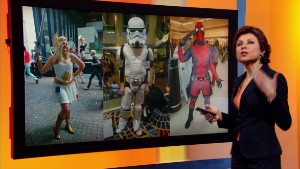 Cosplay twist at Dragon Con 2013
"My costume makes the statement that it's not just guys that can kick butt; girls can too! And we can do it in heels."
She rates Castiella as one of her favorite cosplays to date, including last year's Blaine Anderson costume based on Darren Criss' "Glee" character.
This trend is known as crossplay.
"Crossplay is usually the term used when someone dresses as a character who is the opposite sex from the wearer, when a woman dresses as a male character or a man dresses as a female character," said Ada Palmer, an assistant professor of history at Texas A&M University, who has studied the phenomenon.
Crossplay may have gotten its start among fans of Japanese anime or manga but has made its way into the larger fan culture, with popular examples being the "Avengers" villain Loki and the various incarnations of "Doctor Who."
St. Louis video editor Katrina Panzer got such a reaction from her version of David Tennant's Tenth Doctor in 2012 that she set up a Facebook page for "The Doctor Him?self," advertising her services to portray the Doctor at events.
She decided to make impersonating Tennant part of her repertoire at events around St. Louis after debuting her costume at last year's Dragon Con.
But it is much more rare to see men crossplaying as female characters at fan conventions.
"Men are often quagmired in tropes of 'maleness,' " said Theresa Winge, an assistant professor of apparel and textile design at Michigan State University and an expert on crossplay.
"While it is not uncommon for males to dress as women characters, most male cosplayers have male and nongendered characters that speak to their fandom."
Winge added, "Many female cosplayers find the act of dressing and embodying a male character empowering. Male characters often include opportunities to wear clothing not afforded to many female characters, not to mention the weapons."
She said it is just more practical in many cases for a woman to portray a man: "The intended proportions of a character are important to the overall appearance and depiction. Subsequently, females dressing as male characters are less likely to distort the proportions, if she can conceal her breasts, intended by the creators of the characters within comics or manga and cartoons or anime or video games. Moreover, males are less able to support certain body proportions, such as oversized breasts, with highly revealing clothing. This combination often proves to be too complicated and physically impossible for males."
When it does happen, it often is intended for a comedic purpose, such as a large man wearing a revealing slave Leia costume.
"The very first time I saw a cosplayer crossplaying was a very tall and robust man dressed as Princess Jasmine at a convention in Minnesota about 10 years ago," Winge said.
"He was quite a sight. As I approached him, I realized he was having fun with his portrayal of this beloved character. His intonation completely changed the meanings of lines of dialogue from 'Aladdin' and resulted in uproarious laughter from those of us who had gathered to watch his performance."
Palmer, the Texas A&M assistant professor, noted that some examples of cosplay might confuse the issue of how crossplay is defined.
"In general the gender of the character is what matters rather than the clothing, so a woman might, for example, crossplay as the character Ritsu from (the anime and manga series) 'Fruits Basket,' who, in the show, is a man who crossdresses as a woman, so the female cosplayer would be wearing women's clothing but nonetheless be crossplaying. A man dressed as Ritsu would be crossdressing but not crossplaying."
Winge said her research did not show there were many crossplayers who were transgendered or struggling with gender identity.
Most of the iReporters interviewed who planned to crossplay or put a gender-bending twist on a character (known often as Rule 63, which states that every character has an opposite sex counterpart) said they weren't out to make a statement per se.
Jillian Kuhlmann of Cincinnati said she believes that, "Every time a woman takes advantage of Rule 63 and doesn't wear a halter top, she's making a statement. The defining characteristic shouldn't just be that the female version of that character is showing more skin."
Panzer the crossplayer certainly had something to say with her choice of costume at this year's Dragon Con.
Fresh off the announcement that Peter Capaldi will play the 12th Doctor on "Doctor Who," she tried Rule 63 cosplay by portraying a female Doctor.
"I've gotten tired of hearing how the future Doctor can never be female because it would be uncomfortable or change the Doctor/companion dynamic," she said.
There has never been a female Doctor, although the show's writers have said it's a possibility.
"I welcome all the change a female Doctor might bring, both within the fan base and in the context of the show, " Panzer said. "The Doctor would be the Doctor no matter her gender, and I don't want to see a female Doctor reduced to a cheap joke. I want a true character with her own way of doing things and, as always, a distinctive sense of fashion."
When all is said and done, Winge said that cosplayers of all kinds are really out to pay tribute to a character, as accurately and lovingly as possible, and that certainly includes Panzer's various takes on "Doctor Who."
"The Doctor is a special sort of hero -- eccentric and intelligent and nowhere near perfect. His flaws are real flaws, including vanity, impatience and absent-mindedness, rather than the 'cool' flaws of your typical hero," Panzer said.
"I was drawn to him immediately but felt he'd be even more interesting if he regenerated into a woman."