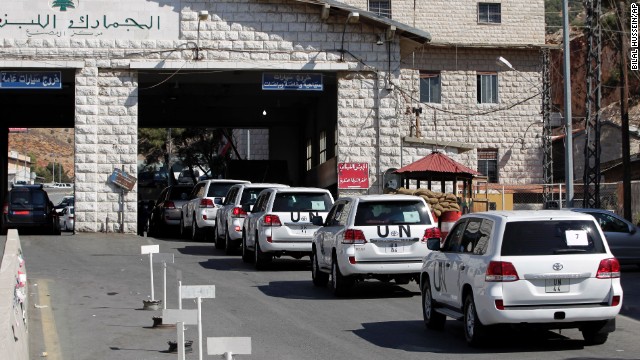 A convoy of inspectors from the
Organisation for the Prohibition of Chemical Weapons
prepares to cross into Syria at the Lebanese border crossing point of Masnaa on Tuesday, October 1. Inspectors from the Netherlands-based watchdog arrived in Syria to begin their complex mission of finding, dismantling and ultimately destroying Syria's chemical weapons arsenal.
The U.N. Security Council votes to approve a resolution that will require Syria to give up its chemical weapons during a meeting on Friday, September 27. The vote came after assertions by the United States and other Western nations that the Syrian government used chemical weapons in an August 21 attack outside Damascus that U.S. officials estimate killed 1,400 people.
U.S. Secretary of State John Kerry said the world community was imposing a binding obligation on the government of Syrian President Bashar al-Assad to get rid of its chemical weapons stockpile.
A man mourns over the bodies of those killed in a suspected chemical weapon attack in a suburb of Damascus, Syria, on Wednesday, August 21. Syrian rebels said poisonous gas rained down from rockets, but authorities have denied the allegations that they used chemical weapons and accused the opposition of staging the attacks. U.S. officials, however, said there were "strong indications" that there was a chemical weapons attack by the government.
People attend to the victims of the attack on August 21 in Damascus. British intelligence said at least 350 people died, while rebel leaders have put the death toll at more than 1,300.
Constricted pupils was listed as a symptom in victims of the alleged attack on August 21.
Victims of the attack are laid in the back of a truck in the Hamoria area of Damascus on August 21.
A young survivor takes shelter in a mosque in the Duma neighborhood of Damascus on August 21.
Victims are buried in a suburb of Damascus on August 21.
People search for the dead to collect samples to check for chemical weapon use in the Zamalka area of Syria on Thursday, August 22.
A group of young Salafists chants and waves black flags during a protest against the Egyptian and Syria regimes in the southern Gaza Strip on August 22.
A young woman holds a Syrian revolution flag and a candle during a protest of President Bashar al-Assad in front of the U.N. headquarters in Gaza City on Friday, August 23. U.N. Secretary-General Ban Ki-moon intends to conduct a "thorough, impartial and prompt investigation" into the alleged chemical weapons attack in Syria.
Pigeons' bodies litter the ground in the Damascus suburbs of Arbeen on Saturday, August 24.
Syrian soldiers are deployed in the Jobar neighborhood of Damascus on August 24.
Syrian President Bashar al-Assad speaks with the Russian newspaper Izvestia in Damascus, Syria, on Monday, August 26. He told the newspaper that Western accusations that the Syrian government used chemical weapons are an insult to common sense.
Representatives of Arab countries discuss Syria at the Arab League headquarters in Cairo, Egypt, on Tuesday, August 27. President al-Assad vowed to defend his country against any outside attack. "The threats of launching an aggression against Syria will increase its commitments," and "Syria will defend itself against any aggression," he said, according to Syrian state TV.
Suspected chemical attack in Syria
Suspected chemical attack in Syria
Suspected chemical attack in Syria
Suspected chemical attack in Syria
Suspected chemical attack in Syria
Suspected chemical attack in Syria
Suspected chemical attack in Syria
Suspected chemical attack in Syria
Suspected chemical attack in Syria
Suspected chemical attack in Syria
Suspected chemical attack in Syria
Suspected chemical attack in Syria
Suspected chemical attack in Syria
Suspected chemical attack in Syria
Suspected chemical attack in Syria
Suspected chemical attack in Syria
Suspected chemical attack in Syria
Should the West intervene in Syria? Tell us what you think.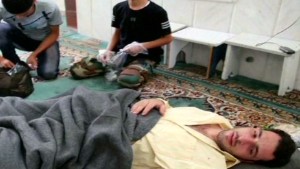 What are the 'signatures of sarin'?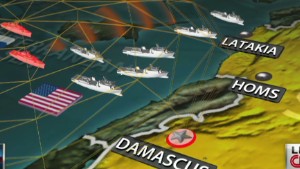 Russia watching Syria's back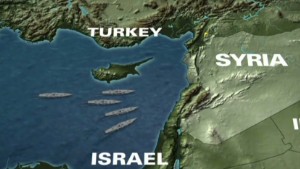 Pentagon: Syria can't hide key targets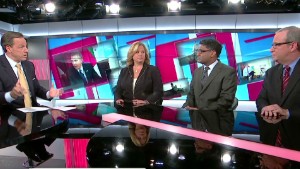 Will GOP opposition galvanize Dems on Syria?
(CNN) -- The world is waiting to see whether the United States will strike against the Syrian regime -- and whether anyone will join in.
U.S. President Barack Obama said there's no doubt Syria used chemical weapons on its own civilians and he wants to launch attacks, but he first wants to get Congress' approval after lawmakers come back from recess September 9.
Meanwhile, a flurry of other developments has emerged. Here are the latest developments for Monday:
LATEST
-- Secretary of State John Kerry, Defense Secretary Chuck Hagel and Gen. Martin Dempsey, chairman of the Joint Chiefs of Staff, are scheduled to appear before the Senate Foreign Relations Committee on Tuesday. A senior State Department official said Kerry will argue that failure to act "unravels the deterrent impact of the international norm against chemical weapons use."
-- U.S. Sens. John McCain and Lindsey Graham, both Republicans, met Monday with President Barack Obama on Syria. Afterward, McCain told reporters that he is more supportive of a limited military strike on Syria than he had been before the meeting, partly because the administration signaled increased support for the Syrian opposition.
-- McCain is a longtime advocate of U.S. intervention in Syria, and he criticized the Obama administration for delaying action to seek the approval of Congress. But he said failure to authorize military action would be "catastrophic."
-- Kerry told House Democrats in a phone call Monday that Turkey, Saudi Arabia and the United Arab Emirates have offered military assets for any action planned for Syria, two sources on the call told CNN's Dana Bash.
-- Rep. Janice Hahn, D-California, told CNN's "Around the World" that she remains concerned about the duration and scope of any military action and that the administration still faces many questions from Congress. Hahn said she has been briefed by administration officials twice in the past two days.
U.S. EFFORTS
-- The Obama administration will conduct classified briefings regarding Syria for Congress almost every day this week, CNN's Dana Bash has learned.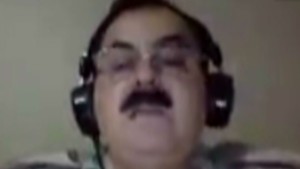 Leader of the Free Syrian Army speaks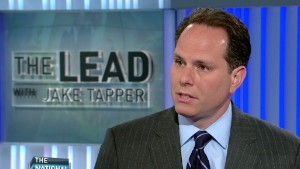 Analysis: Obama not afraid to use force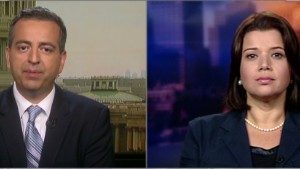 McCain: Good strategy may be effective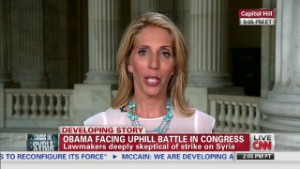 On Syria, Obama faces uphill battle
Kerry also said more countries will move toward supporting such action. The sources said 127 Democratic lawmakers were on the 70-minute call with Kerry, National Security Adviser Susan Rice, Defense Secretary Chuck Hagel and Chairman of the Joint Chiefs of Staff Martin Dempsey.
-- Kerry will testify before congressional committees Wednesday, congressional sources said. He will testify to the House Foreign Affairs Committee, while he will join Director of National Intelligence James Clapper in a classified briefing for the Senate Foreign Relations Committee on Wednesday morning.
-- Sens. Harry Reid and Robert Menendez, two top Democrats, are working to narrow the scope of President Obama's proposed authorization to use force in Syria, a Democratic leadership source said Monday. There have been concerns that the original draft doesn't have an expiration date and doesn't explicitly prohibit forces on the ground.
-- Even if Obama gets Congress' approval to strike Syrian targets, he might still violate international law. Under the 1973 War Powers Resolution, a president can initiate an attack as long as he notifies Congress within 48 hours. But that's a U.S. law. The United Nations' charter generally doesn't allow countries to attack other nations unless in self-defense or with approval from the U.N. Security Council -- neither of which is the case in Syria.
-- Congressional approval wouldn't solve the problem with international law, a senior administration official said, but it would enhance the legitimacy of military action.
-- Several U.S. Navy ships, led by the aircraft carrier USS Nimitz, are now in the Red Sea, a U.S. official said Monday. A second official said the Nimitz is not expected to participate in combat operations over Syria, but the ship is there for a greater U.S. military presence in the region.
NATO
-- NATO Secretary General Anders Fogh Rasmussen said he thinks a "strong response to the use of chemical weapons is needed." But, he told reporters in Brussels on Monday, he doesn't "see a long-term sustainable military solution" to the Syrian conflict and stressed the need for a "political process."
-- Rasmussen said he's "convinced that the Syrian regime is responsible" for a chemical attack last month. He said "many facts" point to that conclusion.
-- Asked about alleged chemical weapons use in Syria, Rasmussen said there needs to be a firm international reaction to avoid future chemical attacks. "It would send a very dangerous signal to dictators all over the world if we stand ... by and don't react," he said. "The question is how to react and when to react."
-- NATO is playing its part in the crisis in Syria through the deployment of Patriot missiles in Turkey for protection of that country's population, Rasmussen told reporters Monday. But if Turkey, a NATO member, is attacked, allies would have to gather and discuss how to respond. "We are prepared to defend Turkey effectively," he said.
SYRIA REACTION
-- The Middle East "is a powder keg" that will explode if Syria is attacked, Syrian President Bashar al-Assad told French newspaper Le Figaro in an interview published in part Monday.
-- The pro-regime Syrian Electronic Army appears to have hacked the U.S. Marines recruitment website, marines.com, and posted a letter urging Marines not to attack Syria.
The full text reads:
"Message to the United States Marine corps:
Dear US Marines,
This is a message written by your brothers in the Syrian Army, who have been fighting Al Qaeda for the last 3 years.
We understand your patriotism and love for your country so please understand our love for ours.
Obama is a traitor who wants to put your lives in danger to rescue Al Qaeda insurgents.
Marines, please take a look at what your comrades think about Obama's alliance with Al Qaeda against Syria.
Your officer in charge probably has no qualms about sending you to die against soldiers just like you, fighting a vile common enemy. The Syrian army should be your ally not your enemy.
Refuse your orders and concentrate on the real reason every soldier joins their military, to defend their homeland.
You're more than welcome to fight alongside our army rather than against it.
Your brothers, the Syrian army soldiers. A message delivered by the SEA "
-- The Syrian regime has asked the U.N. chief to step in. "The Syrian government calls on the U.N. Secretary General to shoulder his responsibilities for preventing any aggression on Syria," the state-run Syrian Arab News Agency reported Monday.
-- On the ground, at least 118 people were killed across Syria on Sunday, including 13 children, the opposition group Local Coordination Committees of Syria said. The United Nations has said more than 100,000 people have been killed since the Syrian crisis started two years ago.
INTERNATIONAL REACTION
-- The Chinese foreign affairs spokesman said China has noted the U.S. claim of chemical weapons evidence and said the United States has briefed China about the situation. But Beijing believes "any action taken by the international community should abide by the purposes and principles of the U.N. charter," foreign affairs spokesman Hong Lei said Monday.
-- Russia says it doesn't buy U.S. claims that the Syrian regime used chemical weapons. "There are no facts, there's only talk about what we know for certain," Russian Foreign Minister Sergey Lavrov said, according to the state-run RIA Novosti news agency. "When we ask for more detailed evidence, they say, 'You know, it's all secret, so we can't show you.' That means that there are no such facts."
-- Russia plans to send a delegation of lawmakers to the United States to meet with members of Congress over Syria, Russian state-run news outlet RIA Novosti reported Monday, citing a top parliament member.
CNN's Joe Sterling, Mohammed Jamjoom, Saad Abedine, Mohammed Tawfeeq, Yousuf Basil, Josh Levs, Holly Yan, Dana Bash, Tom Dunlavey, Reza Sayah and Catherine E. Shoichet contributed to this report.