STORY HIGHLIGHTS
Analysts say there are no good options for the U.S. in Syria
The U.S. has laid out evidence that Syria has used chemical weapons
Obama vowed to act if Syria crossed that 'red line'
Syria's civil war began in 2011
Editor's note: Should the West intervene in Syria? Tell us what you think.
Washington (CNN) -- As more than one pundit has noted, President Barack Obama now has three choices in Syria: Bad, worse, and horrible. At least the evidence is steadily stacking up to suggest that is the case.
Last year, Obama made it clear that the United States would take action if Syria crossed "a red line" by using chemical weapons in its civil war. And there's evidence that it has.
What's not clear is what kind of action the United States will or should take.
Some of the players in that troubled country's civil war are more unsavory than others, but there appears to be no clear or reliable "good side" behind which the president might deploy U.S. military might at this moment.
Indeed, military, political, and diplomatic analysts widely agree that every potentially positive move on the table is freighted with negative side effects.
"I think there are no good options in Syria," says retired Army Gen. James "Spider" Marks, a CNN contributor. "There is an array of bad options and you have to take the least bad option that is out there."
So let's break down those options, including some that have already come and gone in this tortured march toward a possible military engagement:
Option 1: Ground troops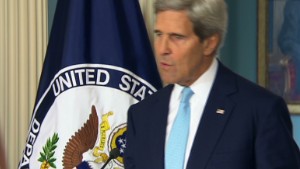 Kerry: We know Syria used chemicals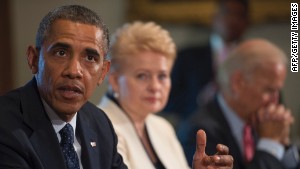 Red line, red ink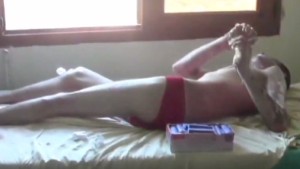 New chemical attack in Syria?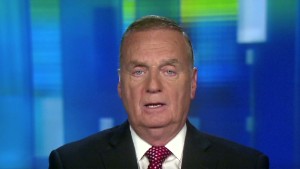 'America's place to show leadership'
The White House called this a non-starter from the get go. You don't have to be a political scientist to know that American voters are exhausted by more than a decade of war in Iraq and Afghanistan, and would show little or no tolerance for more boots on the ground in the Middle East.
Furl the flag, lieutenant; no one is going anywhere tonight.
What do Syria's neighbors think?
Option 2: Establishing a no-fly zone
Yes, it might work, but the administration has shown little taste for that, either. Maintaining such a presence over the months it might take to have an impact would be hideously expensive, and would involve endangering U.S. pilots with highly uncertain results in a battle that many Americans find confusing at best, baffling at worst.
Option 3: Arming the rebels
This is a monkey trap in which the United States has been snared before.
Some brave rebel group proclaiming its love of freedom and democracy arises to oppose a distant tyrant. America rewards the rhetoric with training, missiles and munitions. The coup is accomplished and suddenly, to paraphrase Woody Allen, the oppressed start looking a lot like the oppressors and they no longer return your phone calls.
In Syria it is even more complicated.
As the civil war has droned on against President Bashar al-Assad, interlopers affiliated with terrorist groups have become big-leaguers.
"Al Qaeda's affiliate in Syria, Jabhat al-Nusra, is generally acknowledged to be the most effective force fighting," says CNN National Security Analyst Peter Bergen who adds, "Al-Nusra's military prowess and close ties to al Qaeda make it a potentially serious threat to U.S. interests in the region."
Bergen: Syria is a problem from hell for the U.S.
Syria watchers roundly agree that no other rebel group is currently positioned to take control of the country. In other words, if the United States pushes too hard or too fast to overthrow al-Assad (even though in the long run, American officials do want him gone) the U.S. risks helping terror groups take power.
And you know what they say about the devil you know...
Option 4: Securing United Nations' support
Not going to happen without some other major developments in Syria. Russia and China have left no doubt that they will oppose any effort at the U.N. to approve a strike, and other countries have hardly shown much appetite for the subject.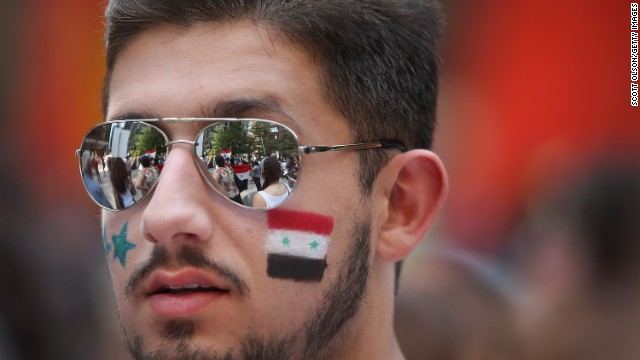 A protester demonstrates against potential U.S. intervention in Syria on Saturday, September 7, in Chicago. President Barack Obama has sought congressional approval to attack Syria in response to allegations that the Syrian regime had used chemical weapons on their own people.
People carry signs to protest U.S. intervention in Syria on September 7 in Chicago.
Indian students hold photographs during a protest against military intervention in Syria on Wednesday, September 4, in Hyderabad.
Demonstrators protest against military involvement in Syria outside the Houses of Parliament in London on Thursday, August 29. British Prime Minister David Cameron failed to secure Parliament's approval for military intervention in Syria. Western powers have debated the use of military force against Syria's government in response to a chemical weapons attack outside Damascus.
A Syrian-American supporter of Syrian President Bashar al-Assad participates in an anti-war rally in New York's Times Square on August 29.
Demonstrators, including former CIA analyst Ray McGovern, second from left, gather on the north side of the White House to protest possible U.S. military action against Syria on August 29.
A supporter of the Syrian regime demonstrates August 29 in Paris against possible Western military involvement in Syria.
Protesters rally in front of the U.S. Embassy in Athens, Greece, on August 29 against potential NATO military action and Greek involvement in Syria.
Palestinians, waving the Syrian and Palestinian national flags, demonstrate against possible Western military intervention in Syria in the West Bank city of Nablus on August 29.
A Ukrainian shouts anti-NATO slogans during a protest in support of the Syrian regime in Sevastopol, Ukraine, on August 29.
A protester stands outside Downing Street in London on Wednesday, August 28, to campaign against Western military intervention in Syria.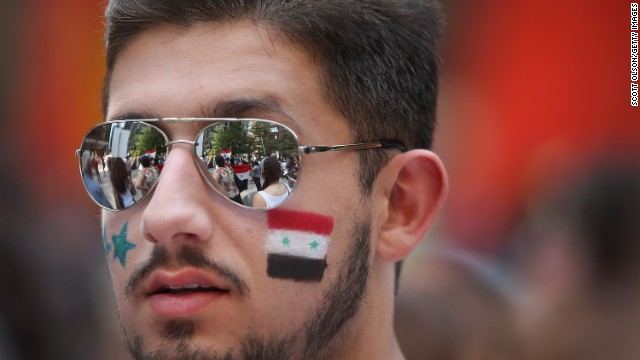 Protests against military action in Syria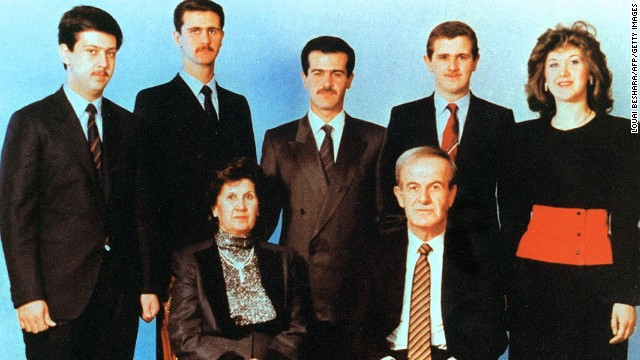 An undated photo shows current Syrian President Bashar al-Assad, second from left, posing with his family. Al-Assad's parents, then-President Hafez Assad and his wife, Anisa, in front, and his siblings in the second row; Maher, Bassel, Majd and Bushra.
Al-Assad is seen in an 1997 photograph during the time his father, President Hafez Assad, reshuffled the top of the Syrian military. The move was seen as an effort to clear the way for al-Assad to rise to power.
Al-Assad waves to supporters as he marches behind the coffin during his father's funeral in Damascus on June 13, 2000.
A shopkeeper cleans a portrait of al-Assad in Damascus on June 20, 2000, as the ruling Baath Party prepared to wind up its historic congress by consecrating al-Assad as its secretary-general and choosing a new leadership body.
Syria's 250-member parliament approves by acclamation al-Assad's candidacy to succeed his late father as the country's president on June 27, 2000, in Damascus.
Al-Assad prepares to deliver a speech to parliament on July 17, 2000. It would be his first speech to parliament after taking the oath of office to become Syria's new president.
Jordanian King Abdullah ll and al-Assad inspect the honor guard on October 18, 2000, in Amman, Jordan.
Al-Assad arrives at the airport in Sharm el-Sheikh, Egypt, on February 28, 2003.
Al-Assad and his wife, Asma, pose during their visit to the Acropolis in downtown Athens on December 15, 2003.
Al-Assad visits Moscow's State Institute for Foreign Relations in Moscow on January 25, 2005, where he was awarded with a honorary doctorate.
Asma al-Assad plants a jasmine bush with her husband in old Damascus on April 27, 2007.
Al-Assad addresses the ruling Baath Party's 10th congress in Damascus on June 6, 2005.
A Syrian woman walks past a large portrait of President al-Assad in downtown Damascus on December 13, 2005.
Al-Assad and Iran's Mahmoud Ahmadinejad review the honor guard at Damascus airport on January 19, 2006.
From left: Arab League Secretary-General Amr Moussa, Iraqi President Jalal Talabani and al-Assad talk at the Arab Summit in Riyadh, Saudi Arabia, on March 28, 2007.
Two unidentified supporters of al-Assad join him on the balcony as he celebrates the referendum results in Damascus on May 29, 2007. Al-Assad won a second seven-year mandate after netting 97% of the vote in a referendum boycotted by the opposition.
Al-Assad visits a Saba car production factory on December 13, 2007.
Bashar and Asma al-Assad listen to Syrian artist Elias al-Zayat during a visit to an exhibition at the national museum in Damascus on February 23, 2008.
Moammar Gadhafi and al-Assad clasp hands at the opening session of the Arab Summit in Damascus on March 29, 2008.
Syrian Foreign Minister Walid Muallem, right, and his Lebanese counterpart, Fawzi Salloukh, shake hands under a portrait of al-Assad in Damascus on October 15, 2008, after signing an agreement to restore diplomatic relations.
Asma al-Assad, left, appears with her husband and Austrian President Heinz Fischer and his wife, Margit, during a welcoming ceremonies on April 27, 2009, durring a two-day state visit to Vienna.
Al-Assad is seen at the Al-Shaab Palace in Damascus on June 24, 2009
Al-Assad shakes hands with U.S. Under Secretary for Political Affairs William Burns in Damascus on February 17, 2010. Burns met the Syrian leader a day after Washington named its first ambassador to Damascus in five years.
Al-Assad delivers a speech at Elysee Palace in Paris on December 9, 2010, after sharing a working lunch with his French counterpart, Nicolas Sarkozy, during a two-day official visit to France.
Syrian demonstrators carry a giant portrait of al-Assad in Damascus on November 28, 2011. Protesters waved Syrian flags and chanted nationalist songs in a demonstration against the Arab League's decision to impose crippling sanctions on the Assad regime.
A member of the Free Syrian Army holds a burning portrait of al-Assad near the flashpoint city Homs on January 25, 2012.
Syrians listen to a televised speech by al-Assad in Damascus on June 3, 2012. Al-Assad said that his government faces a foreign plot to destroy Syria and blamed "monsters" for the Houla massacre in a rare televised speech delivered in parliament.
Al-Assad speaks with the Russian newspaper Izvestia in Damascus on August 26, 2013. He told the newspaper that Western accusations that the Syrian government used chemical weapons are an insult to common sense.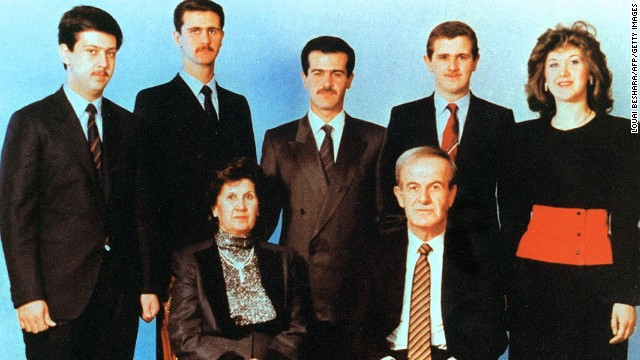 Photos: Bashar Al-Assad's political career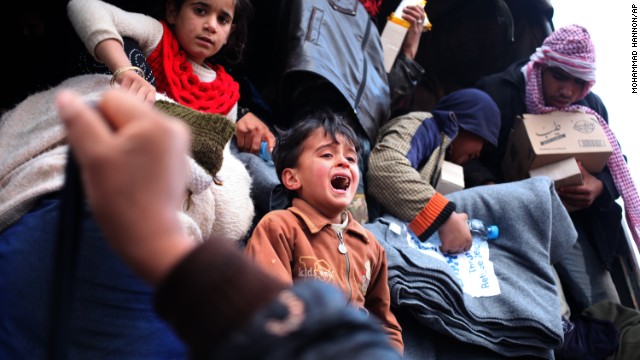 A Syrian boy searches for his mother while other refugees board a Jordanian military vehicle after crossing into Jordan's Ruweished camp on Thursday, December 5. The number of Syrians who have fled their war-ravaged country is more than 2 million, according to the United Nations.
Newly arrived Syrian refugees carry their belongings and children after crossing into Jordan's Ruweished camp on December 5.
Syrian refugees wait in line to receive winter aid kits at Zaatari refugee camp in Mafraq, Jordan, on Tuesday, December 3.
Refugees watch a new trailer being placed in the Zaatari camp as part of the winter preparations in Mafraq, Jordan, on December 3.
A Syrian child looks out from his tent at a refugee camp in the border town of Arsal, Lebanon, on Friday, November 29.
A girl crosses a puddle during the first snowfall of the season in a refugee camp set in Harmanli, Bulgaria, on Wednesday, November 27. Bulgaria has taken in more than 10,000 refugees.
Young Syrian refugees play at the recently opened Vrazhdebna shelter in Sofia, Bulgaria, on Friday, November 22.
Syrian refugees warm themselves near open fires at a refugee camp in Harmanli on Thursday, November 21.
Syrian refugees go about their daily lives in an Istanbul park on Sunday, November 3. The Turkish government reported that the number of Syrian refugees in Turkey has exceeded 600,000. More than 400,000 of them are living outside refugee camps.
A Syrian refugee uses a rope to climb a tree at the Vrazhdebna shelter Tuesday, October 29.
Syrian refugees are turned back after being refused entry into northern Iraq on Wednesday, October 23.
Refugees wait to get medical attention at the Vrazhdebna shelter on Saturday, October 19. The shelter is a former school.
A Syrian refugee begs with her children Friday, October 18, on a street in Beirut, Lebanon.
Kurdish women grieve during a visit to a cemetery in Derik, Syria, on Tuesday, October 15.
Young Syrian refugees from Aleppo sit with their mother on the steps of a Beirut bank on Wednesday, September 18.
Two Syrian refugees sit on a Beirut street September 18.
Young Syrian refugees sit with their father as he prepares coffee to sell on a street in Beirut on September 18.
A Syrian refugee boy practices taekwondo at Zaatari refugee camp, near Mafraq, Jordan, on Tuesday, September 17.
A young Syrian girl washes a pan at the Atme refugee camp along the Turkish border on September 17.
Syrian refugee children watch Korean and Syrian taekwondo instructors during training at the Zaatari refugee camp in Jordan on September 17.
A Syrian woman carries her baby across the border into Turkey at the Cilvegozu border gate in Reyhanli, Hatay, Turkey, on Thursday, September 12.
A Syrian girl stands with her mother in a makeshift tent as they wait to enter an official refugee camp at the Oncupinar border gate in Kilis, Turkey, on September 12.
A Syrian girl eats a tomato at a temporary refugee camp in the eastern Lebanese town of al-Faour in the Bekaa valley on Wednesday, September 11.
A Syrian refugee girl drinks water from a hose near a temporary refugee camp in an eastern Lebanese town on Wednesday, September 11.
Lower Saxony's Commissioner for Migration and Participation Doris Schroeder-Koempf, along with German Interior Minister Hans-Peter Friedrich, center, greet the first of many Syrian refugees that have been granted temporary asylum in Germany on September 11.
A refugee boy sits on the ground at a temporary refugee camp in the eastern Lebanese town of Al-Faour, Bekaa, on September 11.
Syrian refugee children run near their tents at a temporary refugee camp near the Lebanese border with Syria on September 11.
Mustafa Abu Bekir, who was wounded while fighting with the Free Syrian Army, smiles as he meets relatives after crossing the Cilvegozu gate border in Turkey's Hatay province on Monday, September 9.
A Syrian refugee family of 26 people shares one room in the Eminonu district in Istanbul, Turkey, on September 9. The family fled Syria seven months ago.
Two Syrian refugee children sit outside a house where they currently live in Istanbul on September 9.
A refugee money-changer exchanges currency at the main market at the Zaatari refugee camp near the Jordanian city of Mafraq on Sunday, September 8.
A woman from an Alawite neighborhood in Syria holds her son on September 8 at the Pir Sultan Abdal foundation in Istanbul, which belongs to the Turkish Alawite community. Around 2000 Syrian Alawite refugees came to Istanbul in recent months to escape violence in North Syria.
A Syrian refugee displays second-hand shoes for sale at the main market at the Zaatari Refugee Camp close to the Jordanian city of Mafraq, near the border with Syria, on September 8.
Syrian refugees arrive at the Pir Sultan Abdal foundation in Istanbul on September 8.
Syrian refugee workers fix cart wheels at their shop at the Zaatari Refugee Camp on September 8. Jordan has 515,000 registered Syrian refugees.
A Syrian boy sits beside his family's belongings on Friday, September 6, as they wait for a vehicle to pick them up after entering Turkey from the Turkish border gate of Cilvegozu.
Syrian refugees who failed to find shelters in a refugee camp eat and rest by the side of a road a few meters away from the Turkish-Syrian border on Thursday, September 5.
Syrian refugees arrive at the Turkish border gate of Cilvegozu on Thursday, September 5.
Syrian refugees gather in the village of Salkin after crossing the Syrian-Turkish border on September 5.
A young Syrian refugee boy sells canned tuna and other food items in the Zaatari Refugee Camp on September 4.
Children run past tents at a Syrian refugee camp in Yayladagi, Turkey, on September 3.
A child pulls a suitcase as Syrian refugees arrive at the Cilvegozu crossing gate of Reyhanli in Turkey's Hatay province on Saturday, August 31.
A family arrives from Syria at the Zaatari refugee camp in Jordan on Friday, August 30.
A Syrian girl stands behind a fence at Bulgaria's shelter near Lyubimets on August 28. More than 3,100 immigrants -- half of them Syrians -- have crossed into Bulgaria from neighboring Turkey this year, doubling their numbers compared with 2012 and and causing Bulgaria's few temporary accommodation facilities to overflow.
A wounded Syrian child is treated at the Israeli Ziv hospital on Wednesday, August 28, in the northern town of Safed, Israel. About 140 wounded Syrians, who have been fighting across the border from Israel, have been treated in Israeli hospitals since the beginning of the Syrian Civil war.
A Syrian-Kurdish man carries a mattress at sunset at the Quru Gusik refugee camp, east of Arbil, the capital of the autonomous Kurdish region of northern Iraq, on Tuesday, August 27. More than 50,000 Syrian refugees have crossed into Iraq's Kurdish region in less than two weeks as authorities rush to house them in more permanent camps.
Syrian refugees listen to safety instructions at the Quru Gusik refugee camp on Saturday, August 24.
Syrian refugees at the Zaatari refugee camp on Thursday, July 18, near the Jordanian city of Mafraq, near the Jordanian-Syrian border.
The expanse of the Zaatari refugee camp in Jordan as seen from an aerial view on July 18. The camp was opened on July 28, 2012, and is home to more than 130,000 refugees.
Syrian refugee children walk in the Bab al-Salam refugee camp in Syria's northern city of Azaz on Monday, July 15.
A boy walks with jugs of water on June 27 in a neighborhood in Beirut, Lebanon, with a high concentration of Syrian refugees. Since January, the number of Syrian refugees in Lebanon has more than tripled.
Syrian refugees stand with their belongings on June 20, World Refugee Day, at Zaatari refugee camp in Jordan.
A Syrian woman and child look out of a refugee camp window on June 20 in Alman, Lebanon, after fleeing their hometown in Idlib province, Syria.
A child, whose family fled violence in Syria, stands at the Arsal refugee camp on June 14 in Lebanon's Bekaa Valley.
A woman uses a fence at the Domiz refugee camp near Kohuk, Iraq, to dry laundry on May 29.
A boy carries a jug for water at the Maliber al-Salam refugee camp on April 28. The camp, located near the Turkish boarder, houses internally displaced Syrian families.
A makeshift refugee camp is seen near Syria's border with Turkey.
Row after row of temporary shelters fill the Maiber al-Salam refugee camp in Syria's Aleppo province, near the Turkish border on April 17.
Refugees fleeing the conflict in Syria arrive February 18 at the Jordanian border.
A Syrian girl stands at the entrance of a makeshift home near ruins in the ancient city of Serjilla in northwestern Syria on February 11. About half of Syria's refugees are children.
More than 400,000 people have fled Syria this year to countries including Lebanon, Jordan, Turkey, Iraq and Egypt. The Zaatari refugee camp is in Jordan, near the Syrian border.
A refugee collects apples and some bread February 10 at the Azaz refugee camp along the Syrian-Turkish border. Turkey has spent more than $600 million setting up 17 refugee camps, with more under construction.
Clothes dry at the Qah refugee camp near the Turkish border on January 31. Many Syrians are forced to flee with few or no belongings.
A man shows off his pet birds as new Syrian refugees arrive at the International Organization for Migration at the Zaatari refugee camp on January 30.
A refugee child gets a haircut at a makeshift barbershop at the Azaz refugee camp on February 19.
Syrian children gather around women washing in the Zaatari refugee camp on January 31.
A refugee visits a clinic with his child at the Azaz refugee camp on February 10.
Syrians put up tents at the Zaatari refugee camp on January 30.
The U.N. High Commissioner for Refugees supplied tents in Al-Marj, in the eastern Lebanese Bekaa Valley. Some families have endured frigid weather in tent camps or struggle to pay for shelter.
A Syrian girl looks through the window of a bus where she has lived with her family for the past eight months at a refugee camp in Bab al-Salam on the Syria-Turkey border on February 28.
A Syrian jumps across the border between the Syrian town of Ras al-Ain and Ceylanpinar in Turkey's Sanliurfa province on November 10, 2012.
A Syrian refugee waits November 27, 2012, at a hairdresser's shop, where refugees can also receive training, inside the Oncupinar camp in Kilis, southern Turkey.
A Syrian boy attends school in the Turkish town of Kilis on December 17, 2012.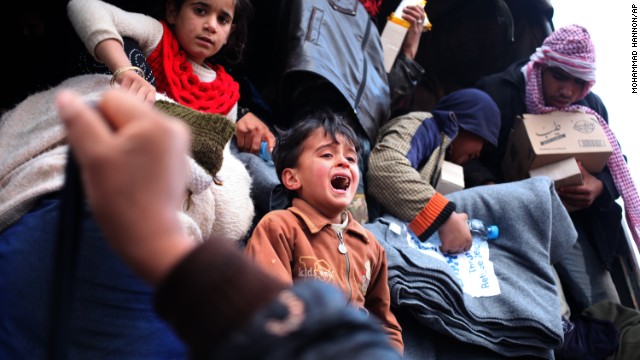 Photos: Syria's refugee crisis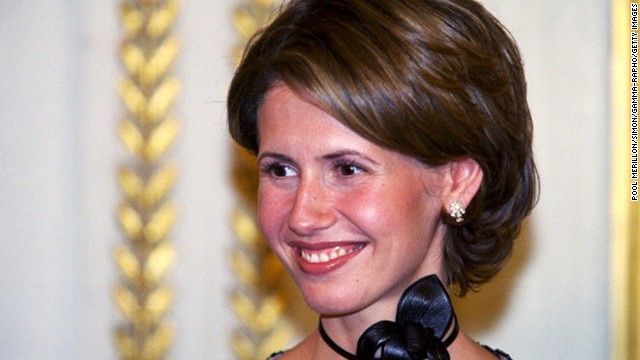 First lady of Syria Asma al-Assad attends an official dinner at Elysee Palace in Paris, on Jun 25, 2001. She grew up in London and has been married to Syrian President Bashar al-Assad for 13 years. She worked for JP Morgan as an investment banker before marrying Bashar in 2000, six months after he became president.
Syrian President Bashar al-Assad, right, and wife Amsa al-Assad, second from left, speak with the Spanish Queen Sofia and King Juan Carlos as they inaugurate the show "El Esplendor de los Omeyas Cordobeses," on May 3, 2001, in Cordoba, Spain.
The first lady arrives at No. 10 Downing Street in London to urge a peaceful solution to the Iraqi crisis, on December 16, 2002.
Asma al-Assad visits her former school, Queens College in central London, on December 17, 2002.
The first couple meets with Queen Elizabeth at Buckingham Palace in London, on December 17, 2002.
Bashar al-Assad and Asma al-Assad pose for photographers during their visit to Acropolis archaeological site in Athens, Greece, on December 15, 2003.
Al-Assad attends the first national childhood conference on February 8, 2004, in Aleppo, Syria. The first lady opened the conference with a speech on the status of children and called on parents to listen to their offspring and help them develop their full potential.
The first lady walks in downtown Beirut, Lebanon, on March 8, 2004.
Duchess Camilla speaks with Asma al-Assad in Damascus, Syria, on March 22, 2004.
The first lady attends an Arab women and war conference on March 8, 2004, in Beirut, Lebanon.
Al-Assad gets an honorary doctorate from Roberto Antonelli, the president of Rome's La Sapienza University, on October 20, 2004, in the Syrian city of Ebla.
Asma al-Assad and husband tour the Old City in Damascus with Turkish Prime Minister Recep Tayyip Erdogan and his wife Amina on December 22, 2004.
During a visit to Moscow's New Names Foundation, Asma al-Assad was awarded with an honorary doctorate on January 25, 2005.
The Syrian first lady waves under a portrait of her husband, right, and his late father, former President Hafez al-Assad, during the opening ceremony of the Syrian Special Olympics in Damascus, Syria, on May 15, 2006.
The Syrian first couple plant a jasmine bush in old Damascus on April 27, 2007.
In a ride for peace, Asma al-Assad, right, leads a pack of female bicyclists in the Ras Shamra area of Latakia in Syria on April 8, 2007.
Al-Assad smiles as she leaves the Istanbul Modern Museum in Turkey, on October 18, 2007. The day before her husband told reporters that the capital of Syria, Damascus, would back a possible Turkish incursion into northern Iraq to crack down "against terrorist activities" there. "We support the decisions the Turkish government has put on its agenda against terrorism and terrorist activities."
On the first day of the Eid al-Adha, Asma al-Assad visits a resident at a home for the elderly in Damascus, on December 19, 2007.
The Syrian first couple celebrate Orthodox Easter with orphans at the Mar Taqla convent in the village of Ma'loula, Syria, on April 27, 2008.
Asma al-Assad, left, chats with French Culture Minister Christine Albanel and Syrian artist Mustafa Ali on July 12, 2008, in Paris.
The first lady attends the opening of the Syrian abstract art exhibition in Damascus on July 21, 2008.
Al-Assad stands in the hull of a replica of a Phoenician ship being build on the Syrian island of Arwad, on July 19, 2008. The ship is handmade and is being constructed using the first materials utilized by Phoenicians who lived in the region. The ship was launched in August 2008, and carried historians and geographers from all over the world following the ancient trade route which started in Arwad. The ship then sailed across to Africa ending its trip in 2009 in Britain where she was put on display at a museum.
The first lady visits the Omayyad Mosque in Damascus, on October, 21, 2008.
Al-Assad plants trees with children during a tree planting campaign in Yafour, Syria, on December 5, 2009. Over 3,000 trees, including pine, cypress, linden and wild pear, were planted.
The first couple arrive in the capital of Tunis, Tunisia, on July 12, 2010.
During an athletics gathering in Damascus, al-Assad watches as a young person paints on September 5, 2010.
Syrian's first couple, left, and Bulgarian President Georgi Parvanov review an honor guard on November 9, 2010, during an official welcoming ceremony in Sofia, Bulgaria. It is the first visit to Bulgaria by a Syrian leader in 24 years.
Asma al-Assad, right, and husband Bashar sit at the Coupole restaurant in Paris on December 10, 2010.
The couple depart a Claude Monet exhibition on December 11, 2010, in Paris.
The first lady listens to a speech by her husband, during a rare public appearance in Damascus on January 11, 2012. Al-Assad vowed to defeat a "conspiracy" against Syria, a day after he blamed foreign interests for stoking months of deadly violence.
Asma al-Assad talks with families of the country's armed and security forces who were killed during the civil war in the capital. Her husband, Bashar al-Assad, set up a committee that will be in charge of taking care of all legal measures regarding families of Syrian troops killed in the fighting against rebels. According to a Syrian Presidency Facebook post on July 11, 2013.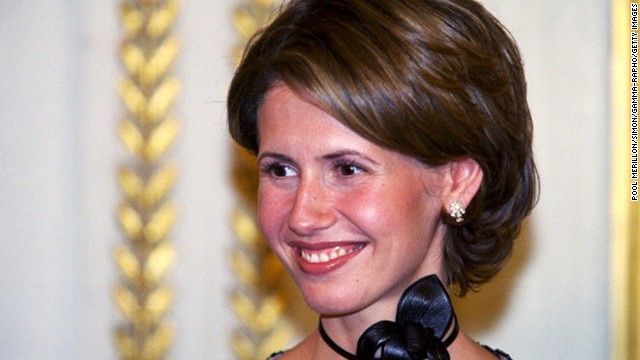 Syria's first lady
Why Russia, China, and Iran are standing by Syria
President Obama calls it an "incapacity" on the part of the U.N., but there is no sign that the name-calling will change anything.
Does the public care about U.N. support?
Option 5: Assembling a coalition without the U.N.
A week ago, newscasts were buzzing with speculation about a nascent coalition, perhaps born of NATO allies -- a daring group of nations ready to stand with the United States as it punished al-Assad.
Secretary of State John Kerry is ballyhooing support from the Arab League, Turkey, and France, saying "We are not alone in our will to do something."
One by one, however, names have slipped off of the list from this support group. And with the British Parliament now having rejected the idea of Britain's military getting involved, Obama is looking more and more like the lone commander charging the hill while his allies hunker down in the trenches.
Option 6: Firing missiles from warships in the Mediterranean
Yes, it is pretty much down to that now, and even that option is complicated.
Make no mistake: Cruise missiles are magnificent, virtually unstoppable weapons capable of pinpoint, devastating strikes. However, all the days of wrangling have given the Syrians an immense amount of time to hide their own weapons, secure their airplanes, and disperse critical command and control assets.
Should the Tomahawks start flying, they may well find themselves crashing down into an inordinate number of empty buildings, according to Gen. Marks -- or worse, into places packed with civilians.
What's more, Syria's allies such as Iran could respond to what would undoubtedly be called an act of war by stepping up aid to al-Assad, and he could emerge with a stronger military as a result.
At home the situation is not much better.
The White House has blitzed the airwaves and the Internet with official statements. Defense Secretary Chuck Hagel has declared the military ready to go. Secretary Kerry has described the lurid pictures of chemical attack victims, saying "All of them show and report victims with breathing difficulties, people twitching with spasms, coughing, rapid heartbeats, foaming at the mouth, unconsciousness, and death..."
President Obama himself sat down with PBS to explain the broader, regional implications of allowing Syria to use chemical weapons with impunity.
"This is a volatile country in a very volatile region. We've got allies bordering Syria. Turkey is a NATO ally, Jordan a close friend that we work with a lot. Israel is very close by. We've got bases throughout the region. We cannot see a breach of the nonproliferation norm that allows, potentially, chemical weapons to fall into the hands of all kinds of folks."
But none of it seems to have mattered much.
The president faces stiff opposition in Congress. Democrats, like Rep. Dutch Ruppersberger of Maryland, are saying that America "cannot be the lone sheriff of the whole world. The United States must be careful in how it proceeds and must act together with a coalition of countries."
Republicans, like Sen. Jim Inhofe of Oklahoma, seem disturbed by the administration's lack of clarity on the mission and timetable. "The administration informed us that they have a 'broad range of options' for Syria," he says, "but failed to layout a single option."
As for the public, an NBC poll has found only half of Americans support any kind of military action against Syria, and 80% say it should happen only with congressional approval.
So we're back to where we started: The choices are dreadful and would be for any president, Democratic or Republican; the outcomes are wildly uncertain; and the consequences -- no matter which direction he turns -- are likely to be grave.
Against this backdrop of unspeakable acts and unfathomable causes and effects, perhaps it is small wonder that Obama keeps saying, "I have not made a final decision."
Although in the very act of doing that, he is committing to one choice not mentioned so far: Waiting.
Waiting to see if some new evidence, some new ally, some new intelligence clears the smoke over Syria and makes plain a way forward.