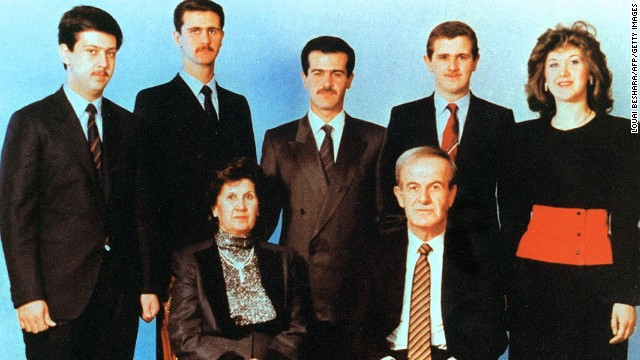 An undated photo shows current Syrian President Bashar al-Assad, second from left, posing with his family. Al-Assad's parents, then-President Hafez Assad and his wife, Anisa, in front, and his siblings in the second row; Maher, Bassel, Majd and Bushra.
Al-Assad is seen in an 1997 photograph during the time his father, President Hafez Assad, reshuffled the top of the Syrian military. The move was seen as an effort to clear the way for al-Assad to rise to power.
Al-Assad waves to supporters as he marches behind the coffin during his father's funeral in Damascus on June 13, 2000.
A shopkeeper cleans a portrait of al-Assad in Damascus on June 20, 2000, as the ruling Baath Party prepared to wind up its historic congress by consecrating al-Assad as its secretary-general and choosing a new leadership body.
Syria's 250-member parliament approves by acclamation al-Assad's candidacy to succeed his late father as the country's president on June 27, 2000, in Damascus.
Al-Assad prepares to deliver a speech to parliament on July 17, 2000. It would be his first speech to parliament after taking the oath of office to become Syria's new president.
Jordanian King Abdullah ll and al-Assad inspect the honor guard on October 18, 2000, in Amman, Jordan.
Al-Assad arrives at the airport in Sharm el-Sheikh, Egypt, on February 28, 2003.
Al-Assad and his wife, Asma, pose during their visit to the Acropolis in downtown Athens on December 15, 2003.
Al-Assad visits Moscow's State Institute for Foreign Relations in Moscow on January 25, 2005, where he was awarded with a honorary doctorate.
Asma al-Assad plants a jasmine bush with her husband in old Damascus on April 27, 2007.
Al-Assad addresses the ruling Baath Party's 10th congress in Damascus on June 6, 2005.
A Syrian woman walks past a large portrait of President al-Assad in downtown Damascus on December 13, 2005.
Al-Assad and Iran's Mahmoud Ahmadinejad review the honor guard at Damascus airport on January 19, 2006.
From left: Arab League Secretary-General Amr Moussa, Iraqi President Jalal Talabani and al-Assad talk at the Arab Summit in Riyadh, Saudi Arabia, on March 28, 2007.
Two unidentified supporters of al-Assad join him on the balcony as he celebrates the referendum results in Damascus on May 29, 2007. Al-Assad won a second seven-year mandate after netting 97% of the vote in a referendum boycotted by the opposition.
Al-Assad visits a Saba car production factory on December 13, 2007.
Bashar and Asma al-Assad listen to Syrian artist Elias al-Zayat during a visit to an exhibition at the national museum in Damascus on February 23, 2008.
Moammar Gadhafi and al-Assad clasp hands at the opening session of the Arab Summit in Damascus on March 29, 2008.
Syrian Foreign Minister Walid Muallem, right, and his Lebanese counterpart, Fawzi Salloukh, shake hands under a portrait of al-Assad in Damascus on October 15, 2008, after signing an agreement to restore diplomatic relations.
Asma al-Assad, left, appears with her husband and Austrian President Heinz Fischer and his wife, Margit, during a welcoming ceremonies on April 27, 2009, durring a two-day state visit to Vienna.
Al-Assad is seen at the Al-Shaab Palace in Damascus on June 24, 2009
Al-Assad shakes hands with U.S. Under Secretary for Political Affairs William Burns in Damascus on February 17, 2010. Burns met the Syrian leader a day after Washington named its first ambassador to Damascus in five years.
Al-Assad delivers a speech at Elysee Palace in Paris on December 9, 2010, after sharing a working lunch with his French counterpart, Nicolas Sarkozy, during a two-day official visit to France.
Syrian demonstrators carry a giant portrait of al-Assad in Damascus on November 28, 2011. Protesters waved Syrian flags and chanted nationalist songs in a demonstration against the Arab League's decision to impose crippling sanctions on the Assad regime.
A member of the Free Syrian Army holds a burning portrait of al-Assad near the flashpoint city Homs on January 25, 2012.
Syrians listen to a televised speech by al-Assad in Damascus on June 3, 2012. Al-Assad said that his government faces a foreign plot to destroy Syria and blamed "monsters" for the Houla massacre in a rare televised speech delivered in parliament.
Al-Assad speaks with the Russian newspaper Izvestia in Damascus on August 26, 2013. He told the newspaper that Western accusations that the Syrian government used chemical weapons are an insult to common sense.
Bashar Al-Assad's political career
Bashar al-Assad's political career
Bashar al-Assad's political career
Bashar al-Assad's political career
Bashar al-Assad's political career
Bashar al-Assad's political career
Bashar al-Assad's political career
Bashar al-Assad's political career
Bashar al-Assad's political career
Bashar al-Assad's political career
Al-Assad's political career
Bashar al-Assad's political career
Bashar al-Assad's political career
Bashar al-Assad's political career
Bashar al-Assad's political career
Bashar al-Assad's political career
Bashar al-Assad's political career
Bashar al-Assad's political career
Bashar al-Assad's political career
Bashar al-Assad's political career
Bashar al-Assad's political career
Bashar al-Assad's political career
Bashar al-Assad's political career
Al-Assad's political career
Bashar al-Assad's political career
Bashar al-Assad's political career
Bashar al-Assad's political career
Bashar al-Assad's political career