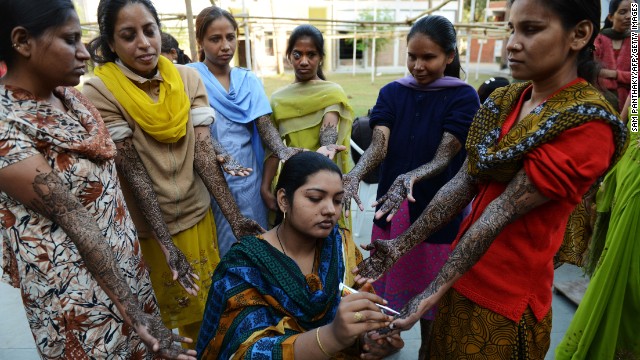 Farzana Shaikh applies henna to visually impaired brides at the Andh Kanya Prakash Gruh institute as part of a ritual ahead of their marriages in Ahmedabad, India.
A bride rides to church in the western Macedonian village of Galicnik.
Belorussian brides take part in an annual Bride Parade in central Minsk.
Rows of newly wedded brides and grooms mingle at the Unification Church's mass wedding at its headquarters in Gapyeong, South Korea, on February 17, 2013. About 3,500 couples matched by the church tied the knot.
An Indian Muslim bride during a mass wedding ceremony at the ancient Sarkhej Roja in Ahmedabad.
Mikael Ruttkay Hylin
shared this striking photos from his trip to Mbour, Senegal, where he witnessed a traditional Muslim Senegalese wedding.
iReporter
Pakistani brides attend a mass marriage ceremony in Karachi. Some 110 couples participated in the ceremony organized by a local charity welfare trust.
Brides line up with their grooms during a group Valentine's Day wedding at the National Croquet Center on February 14, 2013, in West Palm Beach, Florida. The group wedding is put on by the Palm Beach Country Clerk & Comptroller's office, and approximately 40 couples tied the knot.
Couples prepare for marriage during a mass wedding ceremony on December 12, 2012, in Yogyakarta, Indonesia. The day saw a surge in marriage around the globe to mark 12/12/12.
A Jewish bride is surrounded by relatives during her wedding to the great-grandson of the rabbi of the Tzanz Ultra-Orthodox Hasidic community in Netanya.
In Jerusalem, Hannah Batya Penet dances with her relative during her wedding to Rabbi Shalom Rokach, the grandson of the Belz rabbi.
A Japanese bride and her groom sail through a canal for their wedding procession after their wedding ceremony at Katori city in Chiba prefecture.
A bride checks her messages while getting ready for a group picture after a mass wedding outside a Chinese temple in Kuala Lumpur on December 12, 2012.
Musali Mohammed al-Mujamaie, a 92-year-old Iraqi farmer, sits next to Muna Mukhlif al-Juburi, his new 22-year-old wife, the new wives of his grandsons and one of his grandsons during celebrations after their group wedding in his home village of Gubban, Iraq.
A crowd cheers as a Lebanese bride and groom pose for pictures at the site of a car bomb just days before in Beirut, Lebanon.
Syrian soldiers celebrate with their their brides during a group wedding in Latakia province.
A dozen brides wait to be married during a ceremony for a radio station contest at the Little Chapel of the Flowers on December 12, 2012, in Las Vegas.
Lini Sasanto waits to fill out marriage papers at a busy City Clerk's office on December 12, 2012, in New York.
A bride walks holding her wedding dress at the Gandan monastery on October 18, 2012, a special day on the lunar calendar for wedding ceremonies, in Ulaanbaatar, Mongolia.
Luz Carmen Gonzalez marries Jesus Chacon in the last Maya wedding before the end of the Maya Long Count Calendar -- Baktun 13 -- and the beginning of a new era on December 17, 2012, in Merida, Mexico.
Brides around the world
Brides around the world
Brides around the world
Brides around the world
Brides around the world
Brides around the world
Brides around the world
Brides around the world
Brides around the world
Brides around the world
Brides around the world
Brides around the world
Brides around the world
Brides around the world
Brides around the world
Brides around the world
Brides around the world
Brides around the world
Brides around the world
Brides around the world