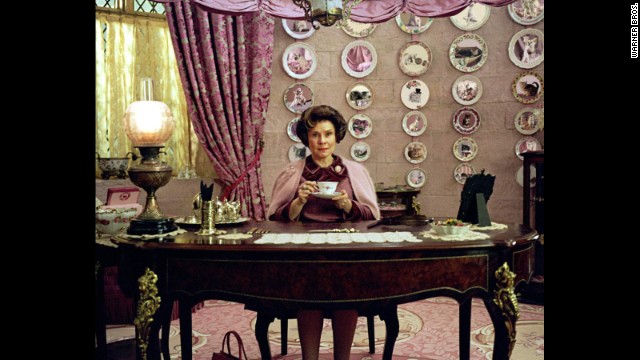 J.K. Rowling's "Harry Potter" had to defeat some seriously disturbed villains, one of whom was sadistic Hogwarts instructor Dolores Umbridge. The idea of what went down in her office still gives us chills. How would you rank her against some of our other favorite movie villains, including the masterful He Who Shall Not Be Named? Take a look at our top bad guys (and girls), in no particular order.
If we were in the wizard world right now, we wouldn't even mention the villain that landed actor Ralph Fiennes on this list. Fiennes' Lord Voldemort is pictured here in the final installment of the "Harry Potter" franchise.
Joe Pesci's Tommy DeVito in Martin Scorsese's 1990 classic "Goodfellas" wasn't there to amuse, but he did that anyway. The short-tempered mobster also won over the Academy, which gave Pesci an Oscar for best supporting actor.
"Star Wars'" Darth Vader, played by David Prowse and voiced by James Earl Jones, is one of the most notable cinematic villains of all time.
Francis Ford Coppola's 1979 "Apocalypse Now" is a shining example of film making, period. But Colonel Kurtz's (Marlon Brando) dark heart was particularly riveting.
Louise Fletcher won the best actress Oscar for her role as Nurse Ratched in 1975's "One Flew Over the Cuckoo's Nest."
Javier Bardem's Anton Chigurh, from the 2007 film "No Country For Old Men," is one of the best villains as far as we're concerned. Directed and written by Ethan and Joel Coen, the cat-and-mouse thriller also stars Tommy Lee Jones and Josh Brolin.
Anthony Hopkins was terrifying as Hannibal Lecter in both 1991's "The Silence of the Lambs" and Ridley Scott's 2001 movie named after the villain. Bryan Fuller has since brought the story of the serial killer back to life with NBC's "Hannibal," starring Mads Mikkelsen.
Before Robert De Niro terrified us as Max Cady in Martin Scorsese's 1991 remake of "Cape Fear," Robert Mitchum played the role in 1962.
As the song goes, "If she doesn't scare you, no evil thing will." Whether she's animated or not, "101 Dalmatians' " Cruella De Vil is one of the most devilish villains of all time. Betty Lou Gerson voiced the puppy-hater in the 1961 adaptation, while Glenn Close played the role in the 1996 live-action version.
With the ability to manipulate metal, Ian McKellen's "X-Men" mutant Magneto is one of the most powerful villains of all time.
"Star Trek's" Khan Noonien Singh was played by Ricardo Montalban in a 1967 episode of the original series as well as 1982's "Star Trek II: The Wrath of Khan."
Margaret Hamilton played Wicked Witch of the West/Miss Gulch in 1939's "The Wizard of Oz." In the end, her evil laugh, broomstick and flying monkeys were no match for a pail of water.
learning the character's identity
in the months leading up to its release.
Benedict Cumberbatch's "Star Trek Into Darkness" villain is so fearsome, the movie built much of its hype around
Heath Ledger's Joker is one of the most disturbing villains on this list. His role in 2008's "The Dark Knight" earned him an Academy Award for best supporting actor.
The makeup alone could give you chills. Bette Davis' work as the dangerously delusional "Baby" Jane Hudson in 1962's "What Ever Happened to Baby Jane?" set a new standard for sibling rivalry, as Joan Crawford played her tortured sister, Blanche.
Bruce Willis' John McClane has outlasted plenty of bad guys throughout the "Die Hard" franchise, but the original baddie is still the best. Alan Rickman's portrayal of German terrorist leader Hans Gruber in 1988's "Die Hard" is classic.
Have fans ever been so eager to kneel before a foe as they are for "Superman" and "Superman II's" General Zod? The role, at the time filled by Terence Stamp in the late '70s/early '80s, will be reprised by Michael Shannon in June's Superman movie, "Man of Steel."
Regina George's "Mean Girls" tactics are the stuff of legend, even though the Tina Fey-penned comedy is just nine years old.
Anthony Perkins' Norman Bates is the ultimate proof that looks can be deceiving. The innocent-seeming Norman gave viewers a shock in 1960's "Psycho" when the true nature of his relationship with his mother was revealed.
Faye Dunaway's interpretation of Joan Crawford in 1981's "Mommie Dearest" was deliciously unnerving. The movie was based on a memoir of the same name by Crawford's adopted daughter, Christina, and it put us off wire hangers to this day.
Kevin Spacey's role in 1995's "Se7en" inspires such a love-hate relationship for us. We hate that watching the movie starring his sadistic John Doe can still make us leave the lights on at night, but we love how well Spacey nailed the role.
Kathy Bates did a marvelous job bringing Stephen King's obsessed and psychotic book lover, Annie Wilkes, to life in 1990's "Misery."
Michael Douglas was so good in his role as the cold-blooded stockbroker Gordon Gekko in 1987's "Wall Street," it was easy to forget his "Greed is Good" mantra isn't something we're supposed to embrace.
It's a wonder that extramarital affairs haven't been drastically reduced since 1987's "Fatal Attraction," in which Glenn Close plays a one-night-stand turned horror-show named Alex Forrest. She teaches Michael Douglas' unfaithful Dan Gallagher (and one poor, helpless bunny) a lesson on infidelity that we haven't forgotten.
The other 2001 Oscar nominees "ain't have s**t" on Denzel Washington's Alonzo Harris. The actor's role in "Training Day" allowed him to play a cutthroat and egomaniacal character, earning the star a best actor Oscar.
Stanley Kubrick's adaptation of Anthony Burgess' "A Clockwork Orange" in 1971 brought us the "ultraviolent" Alex, as played by Malcolm McDowell. Although Alex is unquestionably brutal in the film, the character's style is almost more memorable than his actions.
The story goes that Dennis Hopper was dead set on playing the profane and sociopathic Frank Booth in 1986's "Blue Velvet" because, as he reportedly told writer/director David Lynch, he was Frank.
Disney movies have a plethora of fantastically drawn (literally and figuratively) villains, but Scar in 1994's "The Lion King" is a standout. Voiced by Jeremy Irons, Scar makes for a satisfying evil (and pretty entertaining) uncle.
Christian Slater was the twisted boyfriend every high school girl wanted by her side when 1988's "Heathers" was released. As J.D., the beau of Winona Ryder's Veronica, he helps her take down a clique of nasty girls in gruesome ways.
Our favorite movie villains
Lord Voldemort, 'Harry Potter'
Tommy DeVito, 'Goodfellas'
Darth Vader, 'Star Wars'
Colonel Kurtz, 'Apocalypse Now'
Nurse Ratched, 'One Flew Over the Cuckoo's Nest'
Anton Chigurh, 'No Country for Old Men'
Hannibal Lecter, 'Silence of the Lambs,' 'Hannibal'
Max Cady, 'Cape Fear'
Cruella De Vil, '101 Dalmatians'
Magneto, 'X-Men'
Khan, 'Star Trek'
Wicked Witch of the West, 'Wizard of Oz'
Khan, 'Star Trek Into Darkness'
The Joker, 'The Dark Knight'
'Baby' Jane, 'What Ever Happened to Baby Jane?'
Hans Gruber, 'Die Hard'
General Zod, 'Superman'
Regina George, 'Mean Girls'
Norman Bates, 'Psycho'
Joan Crawford, 'Mommie Dearest'
John Doe, 'Se7en'
Annie Wilkes, 'Misery'
Gordon Gekko, 'Wall Street'
Alex Forrest, 'Fatal Attraction'
Alonzo Harris, 'Training Day'
Alex, 'A Clockwork Orange'
Frank Booth, 'Blue Velvet'
Patrick Bateman, 'American Psycho'
Scar, 'The Lion King'
J.D., 'Heathers'