Australian college baseball player Christopher Lane laid to rest after Oklahoma shooting
updated 6:35 AM EDT, Wed August 28, 2013
STORY HIGHLIGHTS
Lane was killed by a single shot to the back, according to autopsy
The 22-year-old was buried in his hometown of Melbourne on Wednesday
Lane was studying in Oklahoma on a baseball scholarship when he was allegedly shot at random
One of the 3 teens arrested allegedly told police they had shot Lane out of boredom
(CNN) -- The Australian victim of an alleged "thrill killing" in the United States was laid to rest in his hometown Wednesday, as an autopsy report revealed he was killed by a single shot to the back.
Hundreds of mourners packed Melbourne's St Therese's Church Wednesday for the funeral of Christopher Lane, who was studying in the United States on a baseball scholarship when he was allegedly gunned down at random on August 16.
The autopsy report, released Tuesday, showed Lane, a student at Oklahoma's East Central University, was killed by a single bullet that hit his back, penetrated both lungs, his aorta and pulmonary artery, and fractured two ribs.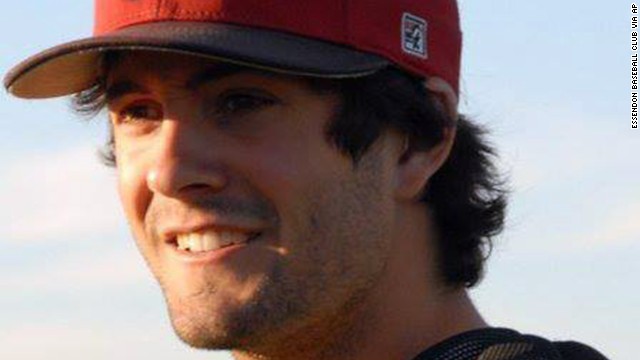 Christopher Lane, from Australia, was gunned down in Duncan, Oklahoma, while he was out jogging last week. Police say he was killed by three teens who said they had nothing better to do. Police have now charged the three teens in Lane's death.
Flowers and a baseball lay on the Essendon Baseball Club's home plate as a tribute to Lane in Melbourne, Australia, on Wednesday, August 21.
Sherrie Shannon places flowers at a memorial in Duncan, Oklahoma, on August 21 at the scene where Lane was found dead.
The parents of Christopher Lane, Peter and Donna, speak to the media in Melbourne on Monday, August 19.
Michael Jones, 17, faces two charges: use of a vehicle and discharge of a weapon and accessory after the fact to murder in the first degree.
James Edwards Jr., 15, has been charged as an adult with felony murder in the first degree.
Chancey Luna, 16, has been charged as an adult with felony murder in the first degree.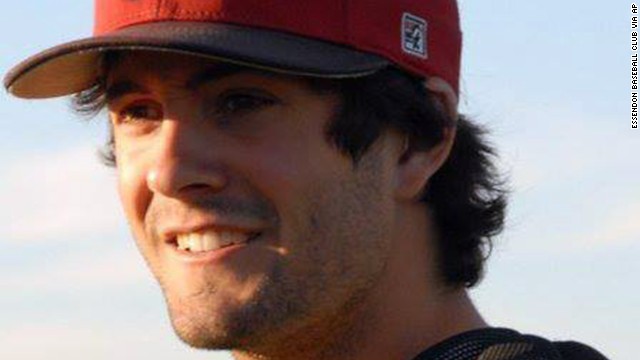 Charges filed in death of Australian student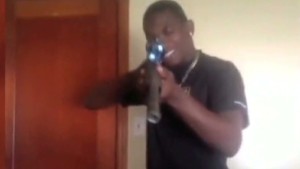 Suspect's sister: He is 'not vicious'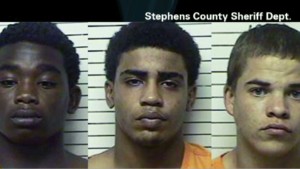 Was Oklahoma's killing a gang initiation?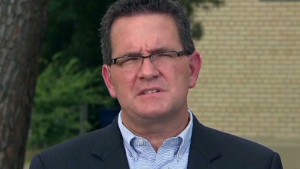 D.A.: I don't believe race was a factor
One of the three teens arrested over the 22-year-old's death allegedly told police in Duncan, Oklahoma, that they had decided to kill someone because they were bored.
Opinion: Negligent parents, lawbreaking kids
Two of the teens -- James Edwards Jr., 15, and Chancey Luna, 16 -- have been charged as adults with first-degree murder over the shooting, while another, 17-year-old Michael Jones, is accused of being an accessory and driving a vehicle during the discharge of a weapon.
The senselessness of the killing caused outrage in Australia and the U.S., with former Australian deputy Prime Minister Tim Fischer calling for a boycott on travel to the U.S. in response, and President Barack Obama expressing his condolences to Lane's family.
Opinion: Let's have the conversation about race
The case also prompted speculation the killing may have been racially-motivated, as one of the alleged shooters, who is black, had allegedly made online comments about disliking white people. District Attorney Jason Hicks said while the post appeared racial in character, there was insufficient evidence to pursue hate crime charges in the case.
Opinion: When racial cliches drive murder stories
Lane's American girlfriend, Sarah Harper, was among the mourners at the funeral, having accompanied his body home to Australia on Saturday. She had attended a tribute game Sunday with Lane's family and friends at Melbourne's Essendon Baseball Club, where Lane had been a member.