Miley Cyrus twerks, stuns VMAs crowd
updated 2:54 PM EDT, Mon August 26, 2013
STORY HIGHLIGHTS
Miley Cyrus performed "We Can't Stop" at the MTV VMAs
The 20-year-old star also performed "Blurred Lines" with Robin Thicke
Her dance moves left some viewers stunned
New York (CNN) -- Lady Gaga has taken the MTV Video Music Awards stage covered in (fake) blood; wearing a dress made of meat and as her male alter-ego, Jo Calderone.
But at the 2013 MTV VMAs, Miley Cyrus stole Gaga's outrageous performance crown.
While Gaga came equipped with multiple costume- and wig-changes on her side, Cyrus took over the stage with gigantic, dancing bears and more twerking than viewers at home probably knew what to do with.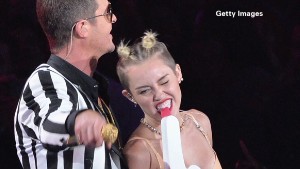 Everyone's pointing fingers at Miley!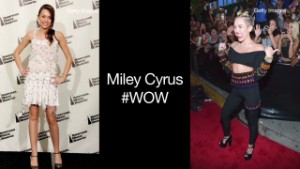 O-M-Miley: From teen queen to too grown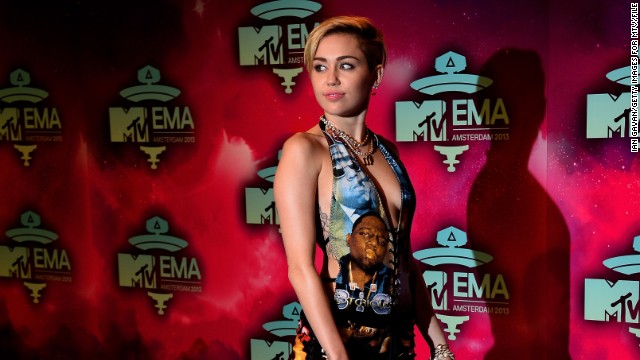 Miley Cyrus became a household name for families when her Disney Channel television show, "Hannah Montana," premiered in 2006. From there, Cyrus quickly rose to pop star fame and has been changing her appearance ever since.
The future pop star with her father, Billy Ray Cyrus, in October 1994 in Memphis, Tennessee.
The father and daughter team make a New York appearance for the Disney Channel in February 2006.
Cyrus performs during the Radio Disney Totally 10 Birthday Concert in July 2006 in Anaheim, California.
Cyrus chats with VJ Susie Castillo during an appearance on MTV's Total Request Live in February 2007 at MTV Studios in New York City.
Cyrus starred with Emily Osmand in an episode of "Hannah Montana" in June 2007.
Cyrus appears at the 2007 American Music Awards in Los Angeles.
The actress arrives at the Teen Vogue Young Hollywood Party at Vibiana in September 2007 in Los Angeles.
Cyrus arrives at a film premiere in Hollywood in January 2008.
Cyrus performs for ABC's "Good Morning America" at New York's Bryant Park in July 2008.
Cyrus appears at the Nickelodeon Kids' Choice Awards in Westwood, California, in 2009.
Cyrus performs during her "Wonder World" tour at Nassau Veterans Memorial Coliseum in November 2009 in Uniondale, New York.
Cyrus and her mother, Tish Cyrus, at the 52nd Annual Grammy Awards in January 2010 in Los Angeles.
Cyrus impersonates singer Justin Bieber in a Saturday Night Live skit with Vanessa Bayer in March 2011.
Cyrus performs at a music festival in June 2010 in Arganda del Rey, Spain.
Cyrus and Liam Hemsworth arrive at the 2012 People's Choice Awards at the Nokia Theatre L.A. Live in January 2012 in Los Angeles.
The singer arrives at the 2012 Billboard Music Awards in Las Vegas in May 2012.
Cyrus poses on the red carpet for the MTV Video Music Awards in Los Angeles in September 2012.
The grown-up Cyrus performs during the "VH1 Divas" concert in Los Angeles in December 2012.
Cyrus attends the Costume Institute Gala for the "PUNK: Chaos to Couture" exhibition at the Metropolitan Museum of Art on May 6 in New York City.
Cyrus winks during an interview at a radio station in Bad Vilbel near Frankfurt, Germany, on July 22.
Cyrus shows off her moves with Robin Thicke during the 2013 MTV Video Music Awards in Brooklyn, New York, on Sunday, August 25.
Cyrus is seen leaving her London hotel on September 11.
Cyrus performs onstage during the iHeart Radio Music Festival Village on September 21 in Las Vegas.
Taran Killam and Cyrus pose in a promo for her upcoming "Saturday Night Live" episode on October 5.
Bobby Moynihan, left to right, Vanessa Bayer and Cyrus perform a skit on "Saturday Night Live" on October 5, in which they mock Cyrus' VMA performance.
Cyrus smokes a marijuana joint onstage during the MTV Europe Music Awards in Amsterdam, Netherlands, on November 10.
Cyrus performs on the European competition show "The X Factor" in London on November 17.
Cyrus opens her Bangerz Tour on February 14, 2014 in Vancouver, Canada. The stage features a giant image of Cyrus' face with her signature exposed tongue serving as a slide.
Cyrus performs with false teeth during her Bangerz Tour at Rogers Arena on February 14, 2014 in Vancouver, Canada.
Cyrus rides an oversized hotdog during the Bangerz Tour opening concert in Vancouver, Canada.
Miley performs a racy number atop a car during her Bangerz Tour at Honda Center on February 20, 2014 in Anaheim, California.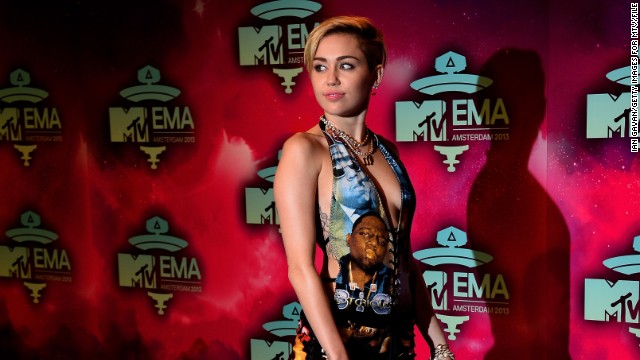 Photos: Evolution of Miley Cyrus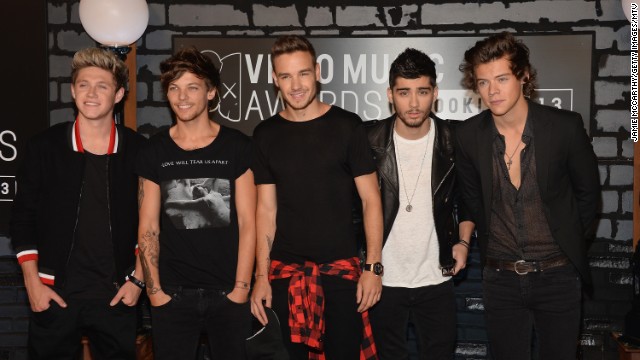 Members of One Direction arrive at the 2013 MTV Video Music Awards at the Barclays Center in Brooklyn, New York, on Sunday, August 25. Take a look at other stars working the red carpet:
Sammi "Sweetheart" Giancola and Ronnie Magro
Tionne "T-Boz" Watkins and Rozonda "Chilli" Thomas of TLC
Jenni "Jwoww" Farley and Roger Mathews
Willow Smith and Jaden Smith
Tricia Davis and Macklemore
Robin Thicke and Paula Patton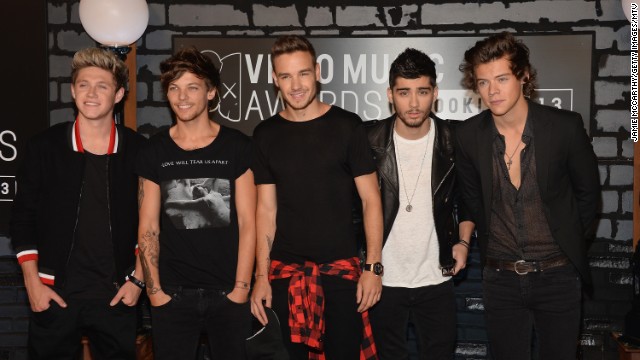 2013 VMAs: Stars rock the red carpet
The 20-year-old pop star stepped out onto the stage a ball of energy, wearing a fuzzy gray leotard, as her hit single, "We Can't Stop," played. An animated and uninhibited performer, Cyrus' dance moves were a clear departure from her "Hannah Montana" days. (Meaning, they involved a crotch grab or two.)
6 memorable moments from the VMAs
When she reached the end of her song, the singer stripped down to a flesh-toned latex bra and matching underwear and began to perform "Blurred Lines" alongside Robin Thicke.
With Cyrus acting as Thicke's back-up singer and personal dancer, featured guest stars 2 Chainz and Kendrick Lamar went largely unnoticed.
"Miley better get a ... pregnancy test after all of that grinding," joked comedian Kevin Hart during the show.
Miley Cyrus upholds MTV VMAs tradition
Those watching on Twitter weren't quite sure how to respond. By far the most common reaction was shock, which Twitter users demonstrated with a photo of Will Smith's family seated in the VMAs audience apparently during Lady Gaga's performance. (The image, which can be seen here, ignited a debate all its own.)
"(J)ust watched that Miley Cyrus / teddy bear performance and I think I'm now legally required to put myself on some kind of registry," tweeted Time magazine's TV critic, James Poniewozik.
"i am still trying to recover from the miley cyrus performance," posted another viewer.
Derek Blasberg was more enthused, tweeting that he was "obsessed with @MileyCyrus's performance at the VMA's. It was like a karaoke party at the Playboy mansion. In the 90's. In platform sneakers."
Billboard's Editorial Director, Bill Werde, thinks Cyrus' show was right on target with the direction she's taking her brand -- she is, after all, no longer the teen Disney star she once was.
"Guys, Miley Cyrus is an all-star hot mess for a hot mess pop moment," Werde tweeted. "She doesn't care what u think & that's her brand. & she just delivered."
The complete list of VMA winners