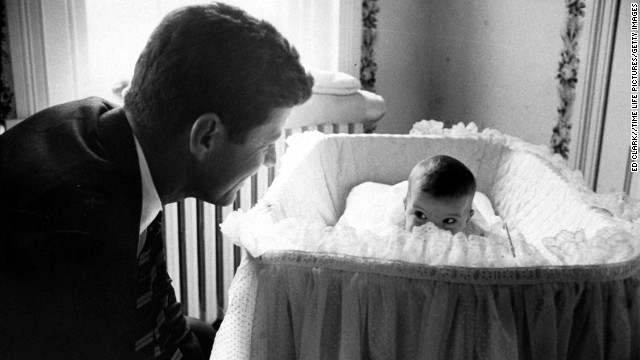 Sen. John F. Kennedy plays peekaboo with his 1-year-old daughter, Caroline, in 1958. He became president of the United States in 1961.
Sen. Kennedy takes a break from work to talk with Caroline at their Washington home in 1960.
Caroline runs around during a family vacation in Palm Beach, Florida, in 1961.
Caroline kisses her newborn brother, John Kennedy Jr., in 1961.
Caroline and her brother dance to their father's claps in the Oval Office in 1962.
During her father's funeral in 1963, Caroline stands next to her mother as her brother salutes her father's coffin.
Caroline, alongside her mother and uncle Robert Kennedy, greet Queen Elizabeth II in London in 1965.
Caroline breaks a bottle of champagne on the bow of the USS John F. Kennedy during the aircraft carrier's christening in 1967.
Caroline kneels beside her mother and brother at her father's grave in 1968.
Caroline, 13, sleds down a hill in New York's Central Park in 1971.
Kennedy attends her graduation ceremony at Harvard University in 1980.
Kennedy sits between her brother and mother in 1977.
Kennedy and Edwin Schlossberg wave after their wedding ceremony in 1986.
Kennedy spends time with her brother, left, and New York Mayor Rudy Giuliani in 1994.
Kennedy and her brother watch as their mother's casket is carried away from a New York City church in 1994.
famous photograph
of Kennedy's brother peeking through the desk.
President Barack Obama examines his Oval Office desk while visiting with Kennedy in 2009. Obama was recalling the
Kennedy is sworn in as U.S. ambassador to Japan by Secretary of State John Kerry, right, on November 12 in Washington. To her right is her husband and her son, John.
Caroline Kennedy: Princess of Camelot
Caroline Kennedy: Princess of Camelot
Caroline Kennedy: Princess of Camelot
Caroline Kennedy: Princess of Camelot
Caroline Kennedy: Princess of Camelot
Caroline Kennedy: Princess of Camelot
Caroline Kennedy: Princess of Camelot
Caroline Kennedy: Princess of Camelot
Caroline Kennedy: Princess of Camelot
Caroline Kennedy: Princess of Camelot
Caroline Kennedy: Princess of Camelot
Caroline Kennedy: Princess of Camelot
Caroline Kennedy: Princess of Camelot
Caroline Kennedy: Princess of Camelot
Caroline Kennedy: Princess of Camelot
Caroline Kennedy: Princess of Camelot
Caroline Kennedy: Princess of Camelot
Caroline Kennedy: Princess of Camelot