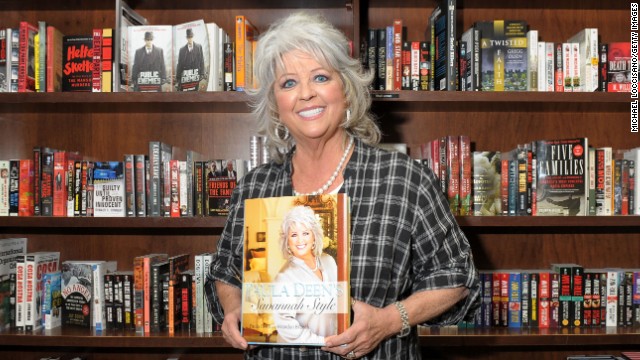 In the wake of the recent deposition in which Paula Deen admitted to using racially charged language, many sponsors and partners have re-evaluated their relationship with the embattled chef. Deen's 15th cookbook, "Paula Deen's New Testament: 250 Favorite Recipes, All Lightened Up," was set to release in October 2013. The book shot to the top of Amazon's pre-order list, but has now been
canceled by Ballantine Books
.
released a statement
saying in part: "I have had the pleasure of being allowed into so many homes across the country and meeting people who have shared with me the most touching and personal stories. ...This would not have been possible without the Food Network. Thank you again. Love and best dishes to all of ya'll."
Food Network was the first partner to drop Deen, announcing that after 11 years, it would not renew her contract when it expired at the end of the month. Deen had three shows on the network and
Smithfield Foods terminated its relationship with the TV chef
, saying: "Smithfield condemns the use of offensive and discriminatory language and behavior of any kind. ... Smithfield is determined to be an ethical food industry leader and it is important that our values and those of our spokespeople are properly aligned." Deen became a spokeswoman for Smithfield, the country's largest producer of pork products, in 2006.
came under fire from fans
when it was revealed that Deen had known of her own diabetes diagnosis while still promoting fatty, sugary recipes on air and in print. The company announced that it is suspending its relationship with Deen.
Deen was a paid spokeswoman for Novo Nordisk, the company that makes the diabetes drug Victoza. The relationship
Paula Deen's Kitchen
line of products, including cookware, bakeware and cookbooks. A spokesperson for the brand said: "Paula won't be appearing on any upcoming broadcasts, and we will phase out her product assortment on our online sales channels over the next few months."
QVC features the
Caesar's Entertainment Corporation, which operated four Paula Deen-branded restaurants at its casinos, announced that it is severing ties with the chef. Deen still maintains a flagship restaurant, The Lady & Sons, as well as Uncle Bubba's Oyster House (named for her brother Earl "Bubba" Hiers), both in Savannah, Georgia.
World's largest retailer Walmart cut ties with Deen, saying, "While we appreciate Paula's sincere apologies for statements she made in her past ... we have mutually decided that it is in the best interests of both parties to part ways at this time."
Sears Holding Corp., the parent company of both Sears and Kmart, said in a statement: "After careful consideration of all available information, we have made the decision to phase out all products tied to the brand. We will continue to evaluate the situation." Both stores carried cookware under the Deen brand.
stop carrying Paula Deen-branded
kitchen and cookware items and phase out existing inventory.
Home Depot and Target have both announced that they will
In 2008, B. Lloyd's nut company announced a multiyear partnership with Deen. The celebrity chef develops and promotes recipes for the brand.
Gobo Seafood sells Paula Deen Southern Dishes -- like Savannah crab cakes, seafood dip, seafood stews, crab stuffed seafood, fried shrimp, and catfish -- at grocery stores nationwide. The relationship began in 2009 and recipes are adapted from Deen's popular dishes at The Lady & Sons restaurant.
Y'all Come Inn
" on Tybee Island, near Savannah, Georgia. Perks include "VIP Guaranteed reservations" at Uncle Bubba's Oyster House and The Lady & Sons restaurant and a personalized Paula Deen cookbook.
Fans can enjoy a Paula Deen-themed vacation at the chef's beach house, the "
Fans can sail to the Caribbean on Celebrity Cruises' Reflection for a week-long jaunt with the embattled chef. Demand for Paula Deen Cruises has been so high, a second one has been added for 2014, according to Alice Travel, which hosts the venture.
Kaleen Rugs licensed a collection of Paula Deen Comfort Rugs, which debuted in 2008. The line has since been discontinued.
At the end of 2012, Serta discontinued its line of Paula Deen Home-branded mattresses.
For two seasons, Kraft Foods' "Real Women of Philadelphia" campaign employed Deen as the celebrity host of a contest for home cooks who shared cooking videos featuring the brand's signature cream cheese. Kraft has not worked with Deen since early 2012.
Paula Deen's empire
Paula Deen's empire
Paula Deen's empire
Paula Deen's empire
Paula Deen's empire
Paula Deen's empire
Paula Deen's empire
Paula Deen's empire
Paula Deen's empire
Paula Deen's empire
Paula Deen's empire
Paula Deen's empire
Paula Deen's empire
Paula Deen's empire
Paula Deen's empire
Paula Deen's empire
Paula Deen's empire
STORY HIGHLIGHTS
Federal lawsuit appears to be over
It's unclear whether dismissal meant a settlement
A former employee had sued Paula Deen
(CNN) -- Celebrity chef Paula Deen, who lost endorsements and a national cooking show after she admitted using a racial slur in the past, on Friday welcomed the resolution of a lawsuit by a former employee who leveled accusations of racism and sexual harassment.
The federal lawsuit will be dismissed by agreement, according to a court filing. It was not immediately clear whether there was a settlement, but a description on a federal court website labeled the filing as a "settlement agreement."
A federal judge in Georgia had not signed off on the agreement, according to the filing.
The proceedings will be dismissed "with prejudice," meaning the lawsuit cannot be filed again. The parties agreed the dismissal would be "without any award of costs or fees to any party," according to the posting.
Earlier this month, U.S. District Judge William T. Moore Jr. in Savannah dismissed a portion of the lawsuit that contended former employee Lisa Jackson was a victim of racial discrimination.
Deen released a statement Friday, said she believes "in kindness and fairness for everyone."
"While this has been a difficult time for both my family and myself, I am pleased that the judge dismissed the race claims and I am looking forward to getting this behind me, now that the remaining claims have been resolved."
Deen's career and public reputation went into a tailspin earlier this summer after her deposition in the lawsuit, in which she admitted using the "N word" in the past, was released.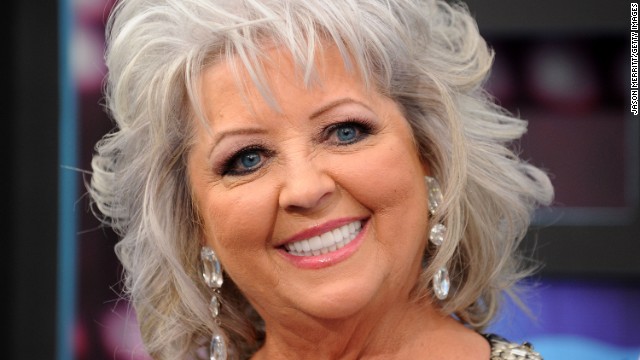 Southern TV personality and chef Paula Deen is the author of 14 cookbooks, runs a bi-monthly magazine and is the owner of Savannah restaurant The Lady and Sons. Here she attends the 2010 CMT Music Awards at Bridgestone Arena in Nashville.
Dean and son Bobby host Moet Hennessy's The Q at Delano in Miami Beach on February 21.
Deen and Steve Doocy host the "Fox & Friends Christmas Special" in 2012 in New York.
Deen on stage with a costumed Kevin Bacon at Comedy Central's "Night of Too Many Stars: America Comes Together for Autism Programs" in 2012 in New York.
Deen leads the 122nd Annual Tournament of Roses Parade as grand marshal with her husband, Michael Groover, in Pasadena, California, in 2011.
Deen promotes her new design book "Paula Deen's Savannah Style" at Barnes & Noble Union Square in 2010 in New York.
Deen presents during the 34th Annual Daytime Creative Arts & Entertainment Emmy Awards held in Hollywood, California, in 2007.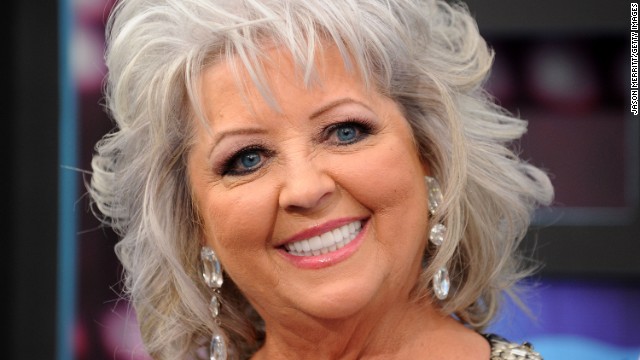 Photos: Southern TV chef Paula Deen
Jackson alleged that Deen and her brother, Bubba Hiers, committed numerous acts of violence, discrimination and racism that resulted in the end of her five years of employment at The Lady and Sons, and Uncle Bubba's Oyster House -- two Savannah, Georgia, restaurants run by Deen and her family.
But Jackson could not claim to be a victim of racial discrimination targeting African-American workers because she is white, Moore ruled in early August.
Other aspects of the lawsuit, including sexual harassment and abusive treatment, were still pending until Friday's agreed order of dismissal.
CNN was unable to immediately reach lawyers for Jackson.
Savannah is where Deen built her business and brand into what many consider the folksy face of Southern cooking.
In the media firestorm that followed news of the deposition, Deen lost lucrative endorsements and her Food Network cooking show, while the publication of her eagerly anticipated cookbook was canceled.
In her statement, Deen thanked Jackson for five years of service at Uncle Bubba's.
"Moving forward my team and I are working to review the workplace environment issues that were raised in this matter and to retool all of my businesses operations," Deen said. "I look forward to getting back to doing what I love."
Jackson's complaint alleged that a "racially biased attitude prevailed throughout and pervaded defendants' restaurant operations," and that African-American staff could use the restaurant's rear entrance only.
But the judge ruled there was no evidence racially offensive comments allegedly made by Hiers were directed toward Jackson or made with the intent to harass her.
The complaint said the company was a "boy's club" with men in management positions, "and women are not invited to take on substantial decision-making roles."
Jackson contended that Hiers subjected her to sexual harassment on "an almost daily basis."
In June, Deen's sons staunchly defended their mother, saying allegations of racism were false "character assassination."
"Neither one of our parents ever taught us to be bigoted toward any other person for any reason," Bobby Deen told CNN's "New Day" in an exclusive interview with Chris Cuomo.
"Our mother is one of the most compassionate, good-hearted, empathetic people that you'd ever meet," he added. "These accusations are very hurtful to her, and it's very sad."
A deposition confession
At a May deposition in the Jackson lawsuit, Deen admitted having used the "N word" long ago.
Jackson lawyer: "Miss Deen, have you told racial jokes?"
Deen: "No, not racial."
Jackson lawyer: "Have you ever used the 'N word' yourself?"
Deen: "Yes, of course."
Deen testified that she probably used the racial slur when talking to her husband about "when a black man burst into the bank that I was working at and put a gun to my head."
"I didn't feel real favorable towards him," she said, referring to the robber.
Jackson lawyer: "Have you used it since then?"
Deen: "I'm sure I have, but it's been a very long time."
Deen said she couldn't remember other contexts in which she used the slur, but "maybe in repeating something that was said to me."
"But that's just not a word that we use as time has gone on," she said. "Things have changed since the '60s in the South. And my children and my brother object to that word being used in any cruel or mean behavior."
Deen apologized for her language in two videos produced in June.
"I want to learn and grow from this," she said in one video. "Inappropriate and hurtful language is totally, totally unacceptable. I've made plenty of mistakes along the way but I beg you, my children, my team, my fans, my partners -- I beg for your forgiveness."
Coverage of Paula Deen on Eatocracy
CNN's Cristy Lenz, Alan Duke and InSession's Jessica Thill contributed to this report.