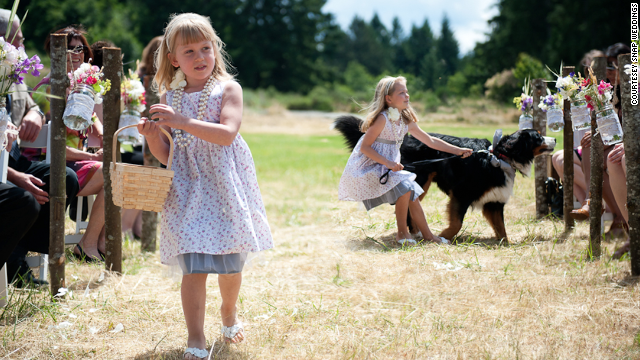 Flower girls are often a conduit for including pets in wedding ceremonies.
Pets can be a part of wedding invitations, even engagement photos.
KIKUIKE
" help declare the happy couple's love for their pets.
Cake toppers, like these Welsh Corgis from"
Pets are increasingly viewed as important family members: Some couples could not imaging having the most important day of their lives without their pet.
Louise Harris, 32, organized Britain's most expensive dog wedding. Louise invited 80 guests to the lavish ceremony to watch her dog Lola tie the knot with Mugly in 2005.
Pets can be a droll inclusion in wedding photos.
This bride poses in a pink wedding dress holding on to her pet corgi.
Wedding planners know that children or pets in the wedding ceremony can often steal the whole show.
Muffin (a Shih Tzu) & Timmy (a Bichon Frise) pose for their wedding photo at a Harrods Store In London.
Most owners -- despite how much they love their pets -- will cop to their dog being too rambunctious to be part of the wedding ceremony.
Flowers, bejeweled collars and bow ties are common ways to dress a pet involved in a wedding ceremony.
Pets are often the first creature a couple raises together, and stand as an emblem of the couple.
When pets are part of the wedding plans
When pets are part of the wedding plans
When pets are part of the wedding plans
When pets are part of the wedding plans
When pets are part of the wedding plans
When pets are part of the wedding plans
When pets are part of the wedding plans
When pets are part of the wedding plans
When pets are part of the wedding plans
When pets are part of the wedding plans
When pets are part of the wedding plans
When pets are part of the wedding plans
STORY HIGHLIGHTS
For many people, pets are family and leaving them home isn't an option
There are many roles a pet can play in a wedding -- even as part of the party
Animals need to be tended to during a ceremony
(CNN) -- Some people can't imagine taking the most important commitment in their life -- their wedding vows -- without their pet close at hand.
Mindy Weiss, a celebrity wedding planner who sent Adam Sandler's dog down the aisle as a ring bearer when she directed his wedding, said clients have told her that their pet is like their child.
"Most times it is the first time the couple has shared a living thing," Weiss said, "so they say leaving their pet out is like leaving their child at home."
Others, like the clients of Fullerton, California, wedding planner Carolyn Chen, actually met because of their pets. Her clients decided to include their pets in the wedding because they first met at a dog park.
Don't miss out on the conversation we're having at CNN Living.
Follow us on Twitter
and
Facebook
for the latest stories and tell us what's influencing your life.
Los Angeles-based wedding and event planner Lisa Gorjestani said pets have been a part of the weddings she's directed for at least the last dozen years. "At first it started off as kind of a joke," she said, "Like, 'Oh wouldn't it be funny to have our dog at the wedding?' " But these days, her clients are far more serious about it.
As they say in show business, never work with children or pets, because they'll steal the show. Wedding planners get to work mostly with dogs, but they make sure their clients think the pups can handle the crowds and noises that come with a big ceremony.
When pets are part of the matrimonial ceremony, there's an awful lot of wrangling behind the scenes. They must be fed and get plenty of water. They need to be walked and chaperoned and transported from place to place if necessary. Gorjestani swears by peanut butter to keep wedding dogs in line, and they almost always earn their treats, she said.
There are plenty of ways to incorporate your pets into the big day: The cake toppers can be in the shape of the breed of your pet, as can the cakes themselves. Cookies that look like your pet can be part of the wedding favors. Ring-bearers or flower girls can walk the pet down the aisle.
Pets can even be part of the wedding party, decked out in blinged collars and coordinating leashes. In wedding industry jargon, said Chen, they're even called "ring puppers" or "flower puppers."
"One bride carried their Yorkshire Terrier as her bridal bouquet!" said Weiss.
Pets are often an important part of wedding photos, and in many cases they were there for the couple's engagement photos as well.
While cute puppy antics always elicit an awww from guests and the special couple alike, are the dogs enjoying the wedding, too?
"I'm not sure," said Weiss. "Some get sick because the guests feed them hors d'oeuvres!"
But Chen has seen some truly magical moments. "One of my couple's dogs completely stopped in awe of the beauty of the bride," she said. "He was playing around, and as soon as he saw her, it's as if she took his breath away. It was amazing!"
Follow the author on Twitter @anngeeksout and keep up with CNN Living on Facebook
Have you or a loved one included a pet in a wedding? Share the fuzzy details in the comments below.