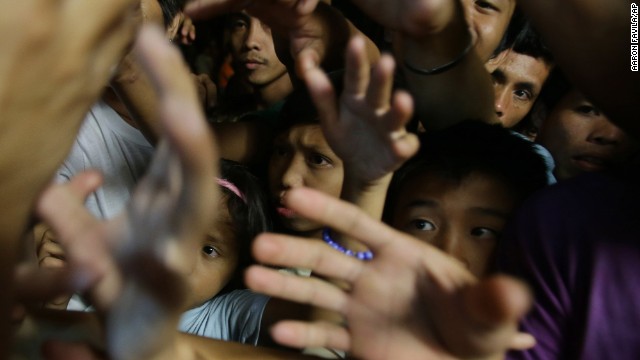 Filipinos displaced by flooding reach for relief goods in Las Pinas on Wednesday, August 21. Tens of thousands of Filipinos have been forced from their homes and at least seven have died due to heavy rains and flooding.
Boys looks out from their house after days of torrential rains along a waterway in Las Pinas on August 21.
People bail water from their house in Noveleta on August 21.
A man washes his face beside a flooded street in Kawit on August 21.
People cross a flooded street to evacuate to higher ground in Marikina City on Tuesday, August 20.
A man and a little girl evacuate to higher ground in Marikina City on August 20.
Filipinos take shelter in an elementary school that has been turned into an evacuation center in Marikina City on August 20.
Men watch flooding from their homes in Manila on August 20.
People wade through a flooded street in Makati on August 20.
Members of the Philippine army paddle a boat with residents as they enforce an evacuation in Marikina City on August 20.
Flood victims take shelter in a church in Manila on August 20.
People walk along a flooded highway as heavy rains hit Manila on August 20.
A man guides his bike through flood waters that submerged parts of the financial district of Makati on August 20.
A man falls as he tries to fix the roof of his flooded home in Binakayan on August 19.
Floods hit Philippines
Floods hit Philippines
Floods hit Philippines
Floods hit Philippines
Floods hit Philippines
Floods hit Philippines
Floods hit Philippines
Floods hit Philippines
Floods hit Philippines
Floods hit Philippines
Floods hit Philippines
Floods hit Philippines
Floods hit Philippines
Floods hit Philippines
STORY HIGHLIGHTS
NEW: "It was raining nonstop," a resident of one badly hit province says
Floods drive more than 280,000 people from their homes
Eight people have been killed and four others are missing
60% of Metro Manila was reported to be under water Tuesday
Are you affected by the flooding? Send us your images and video but please stay safe.
(CNN) -- Heavy rain continued to lash the northern Philippines on Wednesday, a day after flooding put more than half of the Manila region under water.
The relentless monsoon rains, intensified by a tropical storm at sea, have so far led to eight deaths.
More than 280,000 people have fled from their homes, authorities said.
The muddy flood waters have swamped roads and buildings, bringing life in many areas to a standstill.
La Mesa Reservoir, in a densely populated area of the Manila region, is overflowing, the national disaster agency reported, prompting the evacuation of thousands of residents from surrounding neighborhoods.
The water at several other dams in the region is near critical levels, it said.
More than 500 areas across 78 municipalities and cities on the main island of Luzon have been reported as flooded, the disaster agency said Wednesday. A state of calamity has been declared in three provinces, three cities and eight municipalities, it said.
Widespread disruption
Brought about by days of fierce rain, floods have disrupted air and land transportation, and caused the closure of schools, businesses and nonemergency government offices.
At one point Tuesday, as much as 60% of the Manila metropolitan region was flooded, the United Nations Office for the Coordination of Humanitarian Affairs said in a report. The region, known as Metro Manila, has about 12 million residents.
The waters later subsided, leaving about 20% of Metro Manila under water, the U.N. office said.
iReport: Flooding clogs streets of Manila
'It was raining nonstop'
Lorie Pascua, said she and her family had been trapped since Monday in their house in Cavite, one of the hardest hit provinces near Manila.
"The water in our village surrounding our house was over six feet high for three days." she said. "It was raining nonstop."
Pascua, 75, said the family's house wasn't flooded but the waters around it prevented them from leaving.
Residents living along a creek in the family's area of the city of Bacoor had to be relocated to dry ground, she said.
"It floods here all the time but this is the worst so far," Pascua said.
Lighter rain
The rainfall across the northern Philippines appeared to be less intense Wednesday compared with previous days.
Trami, the tropical storm that exacerbated the monsoon rains over Luzon in recent days, has moved farther away from the Philippines in the past 24 hours. The storm is forecast to brush past northern Taiwan on Wednesday and make landfall in the Chinese province of Fujian on Thursday.
But Pagasa, the Philippine national weather agency, still issued a "Yellow Rainfall Advisory" on Wednesday that forecast "moderate to heavy rains" for Metro Manila and nearby provinces.
Flooding remains a risk in low-lying areas, according to the agency.
Pascua said it was still raining in Bacoor on Wednesday, but not continuously. The water levels have subsided to knee-level, she said, but the family is still unable to venture out to get supplies.
Pascua said her family members had been surviving on the food left in their fridge until they received some rations Wednesday.
An annual disaster
The national disaster agency reported that eight people have died as a result of the rain and floods in Luzon, mostly by drowning. Four more people are missing and 41 have been injured, it said.
About 281,000 people have had to leave their homes and seek shelter with friends and relatives or in evacuation centers, the council said. Images showed displaced people using the pews in a church in Quezon City, part of Metro Manila, as makeshift beds.
The pouring rain and rising water are grimly familiar to Manila residents as August is generally the area's wettest month.
Severe flooding in the region a year ago, also caused by monsoon rains, killed scores of people.
Oil spill from sunken ferry in Philippines hurts coastline, fishermen
CNN's Kathy Quiano contributed to this report.