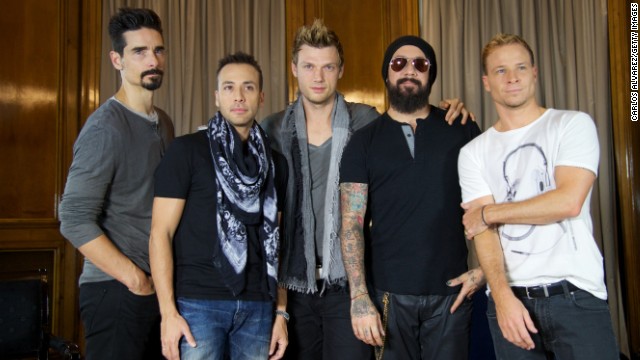 A documentary about the the Backstreet Boys hits theaters January 30,
Variety reports.
In 1996, the group released their debut album, "Backstreet's Back." Five more albums followed. After parting with the group years ago, Kevin Richardson, left, recently rejoined Howie Dorough, Nick Carter., A.J. McLean and Brian Littrell.
*NSYNC members Lance Bass, Chris Kirkpatrick, Justin Timberlake, JC Chasez and Joey Fatone struck gold in the United States with "I Want You Back" in 1998. Before they broke up in 2002, the group established a mega fan base with songs like "No Strings Attached" and "Bye, Bye, Bye." Although they're not together anymore, *NSYNC is as popular as ever; you should've heard the shrieking their reunion at the 2013 MTV Video Music Awards caused.
Danny Wood, Donnie Wahlberg, Jordan Knight, Joey McIntyre and Jonathan Knight of New Kids on the Block perform live in 2008. The group, which rose to superstardom in the late '80s and early '90s, reunited for 2008's "The Block" and 2011's "NKOTBSB" with the Backstreet Boys. The Kids released their box set "10" in 2013.
Ralph Tresvant, Michael Bivins, Ronnie DeVoe, Ricky Bell, Bobby Brown and Johnny Gill of New Edition perform an homage to Michael Jackson during the 2009 BET Awards. The R&B group's albums include 1983's "Candy Girl" and 1988's "Heart Break," among others.
98 Degrees perform in 1999, made up of brothers Nick and Drew Lachey, Justin Jeffre and Jeff Timmons. The group released three albums, in addition to one Christmas album, between 1997 and 2000. Their latest album, "2.0," arrived in 2013.
Isaac, Taylor and Zac Hanson of Hanson perform in 2001. The brothers became superstars with their 1997 album "Middle of Nowhere" thanks to a little earworm called "MMMBop."
The Wanted released their self-titled debut album in 2010, and by 2012 their song "Glad You Came" was inescapable. Jay McGuiness, Nathan Sykes, Max George, Siva Kaneswaran and Tom Parker, here after receiving a 2013 People's Choice award, are repped by Justin Bieber's manager Scooter Braun, so they know a thing or two about heartthrobbing. The group has appeared on TV in the E! reality show "The Wanted Life," and their album "Word of Mouth" was released in September 2013.
Menudo performs in 2008. Originally formed in the '70s, they helped launch Ricky Martin's career. The boy band has had many members over the years.
November 2011
, Alex Solowitz, Evan Farmer, Noah Bastian and Kevin Farley said they were looking to reunite the band.
The made-for-TV boy band 2gether debuted on MTV in 2000. Shown here at the 2000 MTV Movie Awards, the guys attracted attention with songs like "U + Me = Us (Calculus)" and "Say It (Don't Spray It)." "2ge+her: The Series" followed the original TV movie, but ended in 2001 when member Michael Cuccione died of cancer. In
The Boys released three albums between 1988 and 1992. "Dial My Heart" was the debut single from brothers Khiry, Hakim, Tajh and Bilal Abdulsamad.
Erik-Michael Estrada, Jacob Underwood, Trevor Penick, Dan Miller and Ashley Parker Angel of the group O-Town perform in 2002. The group, which came to be thanks to the first season of MTV's "Making the Band," is perhaps best known for the single "Liquid Dreams" in 2000.
Lyte Funky Ones, also known as LFO, released their first album in 1999. Made up of Rich Cronin, Devin Lima and Brad Fischetti, the boy band referenced New Kids on the Block and gave a shout out to girls who wear Abercrombie & Fitch on their single "Summer Girls."
Davy Jones, Peter Tork, Mickey Dolenz and Michael Nesmith of The Monkees, the band created for the 1960s TV series of the same name, won the hearts of fans with hits like "I'm a Believer," "Pleasant Valley Sunday" and "Daydream Believer."
OMG, boy bands
OMG, boy bands
*NSYNC
New Kids on the Block
New Edition
98 Degrees
Hanson
The Wanted
Menudo
2gether
The Boys
O-Town
LFO
The Monkees