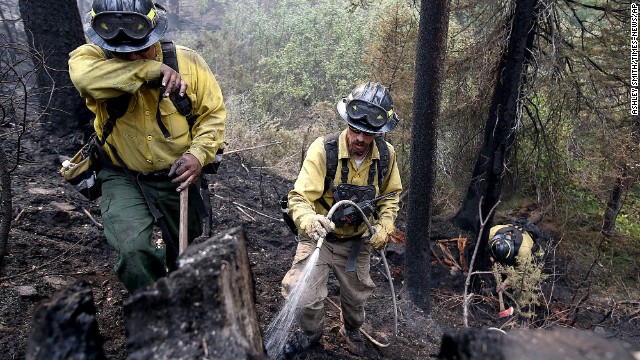 Firefighters with private contract company Great Basin Fire douse part of the 104,457-acre Beaver Creek Fire in the Baker Creek area of Ketchum, Idaho, on Monday, August 19. The fire has forced the evacuation of several neighborhoods.
Charlie Pomeroy, left, Stacey Ward, Rusty Hollinger and Suzy Hayes watch a sky crane fill up on fire retardant on August 19.
Firefighter Gerard House talks to reporters in the Baker Creek area of Ketchum, Idaho, on August 19.
A helicopter drops fire retardant to protect homes outside Ketchum, Idaho, from the Beaver Creek Fire on Sunday, August 18.
A firefighting team walks along a fire line near homes on Croy Road and the Rotorun ski hill west of Hailey, Idaho, on Saturday, August 17. A wildfire raging across the central mountains of Idaho forced the evacuation of 200 homes in the tourist town of Hailey as firefighters lost ground against a blaze threatening the nearby international ski destination of Sun Valley.
A tanker helicopter drops water as a firefighter works to douse a hot spot at Beaver Creek on August 17.
Firefighters continue to battle the fire in the Wood River Valley as it drops down a canyon hillside west of Hailey on August 17.
Firefighters clear an area burned by the Beaver Creek Fire on August 17. Approximately 1,200 firefighters are working the blaze, with the help of helicopters, bulldozers and conventional engines.
A helicopter makes a drop while battling the Beaver Creek Fire on August 17.
Fire creeps down the western canyon wall above the Wood River in Hailey, Idaho, on August 17.
A helicopter battles the flames near Hailey on Friday, August 16. The Beaver Creek Fire was ignited by lightning on August 7.
A fire "whirl" can be seen as erratic wind conditions stir the flames of the fire on August 16.
Kevin Bullock, of Bellevue, Idaho, talks on a cell phone as smoke from the wildfire envelops a neighborhood.
John Koth climbs to the roof of a neighbor's house near Hailey to photograph the blaze on August 16.
Members of the Idaho City Hotshots work on burn-out operations around Pine, where the Elk Complex fire was burning on August 14.
Idaho wildfires
Idaho wildfires
Idaho wildfires
Idaho wildfires
Photos: Idaho wildfires
Photos: Idaho wildfires
Idaho wildfires
Idaho wildfires
Photos: Idaho wildfires
Photos: Idaho wildfires
Idaho wildfires
Idaho wildfires
Idaho wildfires
Idaho wildfires
Idaho wildfires
STORY HIGHLIGHTS
NEW: Official: Firefighters are "making good progress" battling Beaver Creek blaze
NEW: So far, the fire has scorched 106,000 and cost $11.6 million, officials say
NEW: Officials now say they are "cautiously optimistic" about containing the blaze
(CNN) -- Firefighters battling a massive blaze in Idaho made headway on Tuesday, a top official said.
The Beaver Creek fire has devoured 106,000 acres in Idaho's Sun Valley, but authorities could have the fire up to 20% contained by Tuesday night, incident commander Beth Lund told reporters.
"They're making good progress today," she said, noting that authorities are "cautiously optimistic" about the wildfire, which has threatened thousands of homes and forced residents to evacuate.
"Right now our primary goal is to get people back in their homes within the next day or two," Lund said.
Thunderstorms forecast for Wednesday are a mixed blessing, she said. Lightning could further fuel fires, but more cloud cover and increased relative humidity would help firefighters, she said.
Lightning ignited the wildfire more than two weeks ago. Nearly 1,800 people are battling the blaze. So far, it's cost $11.6 million, officials said.
In a mountainous area nearby, another wildfire was also raging Tuesday. The Little Queens Fire has scorched an estimated 8,000 acres, with no containment.
As that blaze threatened the tiny town of Atlanta, Idaho, two dozen or so residents ignored a mandatory evacuation on Monday to take a stand against the fiery fury of nature.
"About 70% of the residents have stayed behind to help," said Gene Haught, Atlanta's fire chief.
By Tuesday, the evacuation order had been downgraded, barring the public from the town but allowing the town's 35 permanent residents to stay.
Wildfire chars Idaho, rains flood southern Mississippi
"What we are doing mainly is looking at areas that might be a problem and cleaning those up. As equipment arrives, we are going to help deploy it to do some structure protection," Haught said Monday.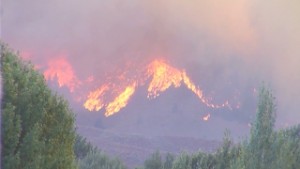 Beaver Creek fire threatens Idaho homes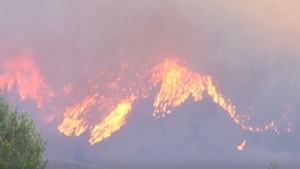 Weather helping defeat Idaho fires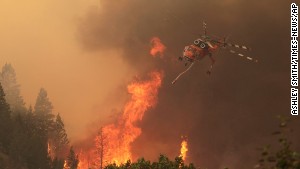 Idaho fire scorches 100,000 acres
Residents have also used their own earth-moving equipment to cut a fire line around the town.
On Tuesday, two firefighting crews and three engines joined them.
Atlanta, Idaho, is a historic mountain town located about 135 miles northeast of Boise. The community, which includes many second homes, is surrounded by the Boise National Forest. It was founded during the Civil War as a mining community -- a trade that attracted Haught and his wife Julie, originally from West Virginia.
"It's beautiful," said Julie Haught, "I'll never forget the first time I came here. I thought we had mountains in West Virginia, until I came here."
For Julie Haught, Atlanta is "a different world," full of history, charm and a close-knit community.
"You got to be here, visit and see why. It is very historic. A lot of these old buildings from back in the day are still here," she said, not wanting to think about the damage the fire would cause to the buildings in the little town she calls home.
But like its much larger namesake in the South, the Idaho town of Atlanta has risen from the ashes before.
According to Gene Haught, "The town has been wiped down by fire a couple of times in the 1800s and early in the 1900s."
His wife prays it won't come to that.
"I would miss all the beauty of what we got left. We are hoping and praying the fire doesn't come to this town," she said, "I have seen the destruction to other parts of the town. It will be really heartbreaking if it ends up looking like other burned down areas in the forest."
CNN's Dave Alsup and Elwyn Lopez contributed to this report.