STORY HIGHLIGHTS
Experts say they doubt claim published in UK media about soldiers being involved
Story of accidental death isn't enough, author Mark Saunders says; "They want more"
Claim alleges British military was involved in the death
The palace has declined to comment; police say only they are assessing the information
London (CNN) -- Princess Diana, murdered? By the British military?
Pshaw, say royal analysts in reaction to news over the weekend of a newly revealed allegation that elite British soldiers were in on Diana's 1997 death in a Paris car crash.
"I'm in my 40s now, and as long as I've been alive, every four or five years there's been another documentary, another book about the assassination of John Kennedy," royal analyst Mark Saunders told CNN. "And to some extent, Diana is rapidly becoming the new Kennedy. It's just continuous. It doesn't stop."
Wildly popular in life and death, Diana died on August 31, 1997, after the car she was riding in slammed into a pillar in a Paris overpass. Her boyfriend, Dodi Fayed, and their driver, Henri Paul, also died.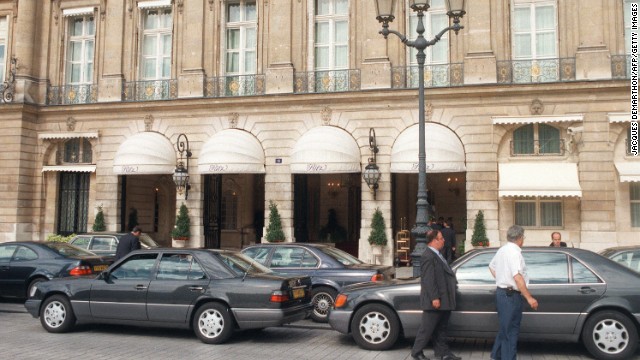 Limousines parked in front of the Ritz on August 31, 1997 -- shortly before Princess Diana and Dodi al-Fayed left the Paris hotel. The pair died in a high-speed crash after leaving the hotel.
Princess Diana and Dodi al-Fayed can be seen in the back of their car after leaving the Ritz. The photo was made available in 2007 from evidence presented at an inquest into the cause of crash.
Another photo made available from the inquest evidence shows the wreckage of the car in the Pont de l'Alma tunnel.
Another angle of the scene of the crash can be seen in this photo released from the inquest evidence.
The wreckage of the car Princess Diana and Dodi al-Fayed were riding in when they crashed.
The wreckage of the car is prepared to be moved after the crash.
The wreckage is lifted onto a waiting truck.
A French police expert can be seen in the background working on the wreckage in the tunnel where they crashed.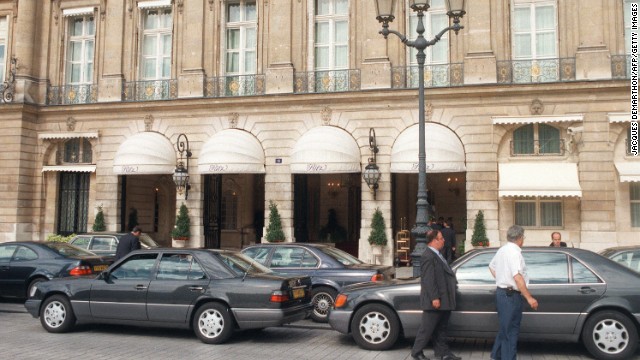 The scene of the crash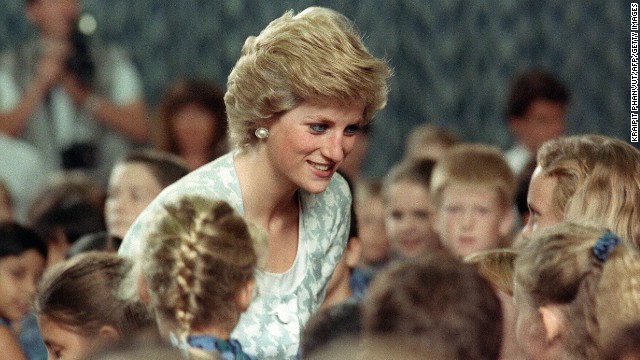 Diana, Princess of Wales listens to children during a visit to the British international school in Jakarta, Indonesia, on November 6, 1989.
The future princess, Lady Diana Spencer on her first birthday at Park House, Sandringham, on July 1, 1962.
Diana is seen during a summer holiday in Itchenor, West Sussex, in 1971.
Diana, at age 14, is "kissed" by her pony, Scuffle, in 1974.
Before marrrying Prince Charles, Diana worked as a nanny. Here she is seen with two of her charges in 1980, the year before she married.
Lady Diana and Prince Charles in 1980.
Prince Charles and Diana arrive at Goldsmith Hall in London for a charity recital in March 1981.
Lady Diana attends the Royal Ascot horse race on June 18, 1981.
Diana and Charles were wed on July 29, 1981. The princess, clad in an Emanuel wedding dress, leaves St. Paul's Cathedral with her husband.
Diana and Charles leave St. Mary's Hospital after the birth of their first son, Prince William, on July 22, 1982, in London.
Prince Harry shows a bit of his personality, which doesn't appear to please his mother, on June 11, 1988, on the balcony of Buckingham Palace.
Diana sits on Banana Beach during a trip to the West Indies on Januray 4, 1993.
Diana and Harry are accompanied by family friend Catherine Soames and her son Harry during a pre-Easter skiing trip in Lech, Austria, on March 24, 1994.
Diana is seen at the American Red Cross headquarters in Washington on June 17, 1997. Diana was passionately involved in the British Red Cross Landmine Campaign.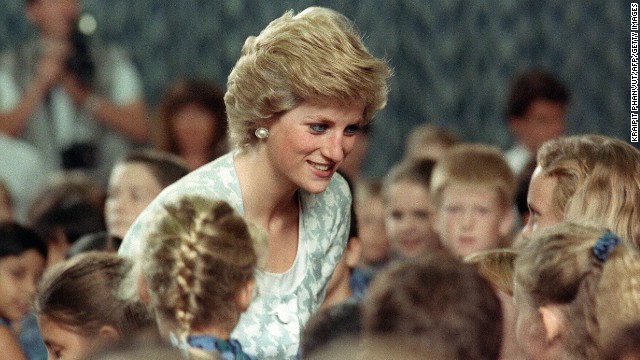 Photos: Life of Princess Diana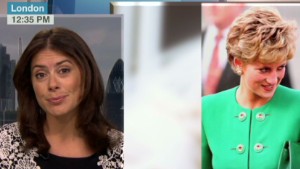 Author: Diana still interesting story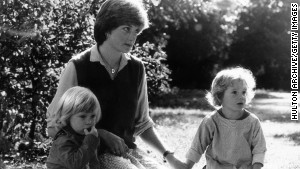 Police: Diana death probe not re-opened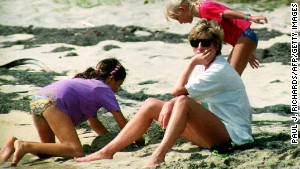 Author: Conspiracy 'not feasible'
Investigators concluded that Paul was drunk and speeding when the accident occurred, and despite at least three inquiries -- including a lengthy London police inquiry that poured cold water on all forms of conspiracy theories in Diana's death -- whispers of collusion and cover-up have persisted.
The latest claim, published by Press Association, the Sunday People newspaper and other British media outlets, alleges that members of Britain's elite Special Air Service commando unit were involved in assassinating Diana.
The claim appears to have been sent first to military authorities and then to London police by the parents-in-law of a British special forces sniper after his marriage had fallen apart, according to an article on the website of the Sunday People newspaper. It did not offer a source for its reporting, but the paper indicated that the parents were questioning the integrity of the soldier, who had testified in another soldier's court-martial.
Sunday People said it had seen a seven-page handwritten letter by the in-laws alleging that the soldier, whom the newspaper did not name, had boasted to his wife that the commando unit was behind the deaths.
Neither the Sunday People piece nor an earlier version carried by Press Association offered details of the claimed involvement by soldiers in the deaths.
London police said Saturday that its investigators were assessing the "relevance and credibility" of the information, but stressed tersely that their review did not amount to a "re-investigation."
A spokesman for Lord Stevens, the former Scotland Yard chief who led the department's inquiry, said that "if anything new has come to light it should passed to its rightful place at the Met (Metropolitan Police), who will no doubt look into the matter appropriately."
Palace officials declined to comment to CNN over the weekend, and the UK Ministry of Defence told CNN only that "this is for Metropolitan Police to investigate."
The Mirror newspaper quoted Dai Davies, a former head of royal protection, as saying he was "mystified how any new information can possibly allege anything other than this was a tragic accident."
Saunders, author of "Diana and the Paparazzi" and other books on the princess, likewise said he doesn't expect anything from the new revelations.
"That was one of the most intensive investigations ever carried out in this country," Saunders said of the London police inquiry into Diana's death. "And no matter how you looked at it, no matter what angle you looked at the conspiracy theories from, you just came up against a brick wall."
"It's just not feasible that they would have carried out such an act," he said of the palace and the military.
"People don't want to believe that someone as loved as Princess Diana can just die in a road accident," he said. "It just isn't enough. They want more."
Katie Nicholl, royal editor for the Mail on Sunday newspaper, told CNN's Kate Bolduan on Monday that it's worth taking a look at the timing of the allegations -- just weeks before the anniversary of Diana's death. They also come about a month before the UK premiere of a new movie, "Diana," about the princess's life.
"It does prove, if nothing else, that 16 years on, Diana is still an irresistible news story," Nicholl said. "She's still selling papers, Kate, 16 years after her death."
Rare photo of teenage Diana sold for $18, 369
Michael Pearson reported and wrote from Atlanta, and Eric McLaughlin reported from London. CNN's Fionnuala Sweeney and Bharati Naik also contributed to this report.