STORY HIGHLIGHTS
NEW: Beaver Creek Fire is 9% contained, up from 6% earlier Saturday
Mandatory evacuations ordered for 2,200 homes, fire officials say
"Take your essential belongings and pets and go now," says sheriff's office
The towns of Hailey and Ketchum are among those affected
(CNN) -- The message Saturday from fire officials to hundreds of people in the path of a wildfire burning in Idaho's Wood River Valley: Pack up your essential belongings, your pets and go.
Resident Robert Cole didn't need any further encouraging to get out of the way of the blaze, dubbed the Beaver Creek Fire, that swelled significantly -- and dangerously -- over the course of the day.
"I've seen enough disaster in my life... But never any fire that threatened my home," Cole said, looking toward a glowing ridge.
Photos: 'Wall of fire' threatens homes
Somewhere in that area, he knew firefighters were working to save homes
"I hope like hell they are safe," Cole said.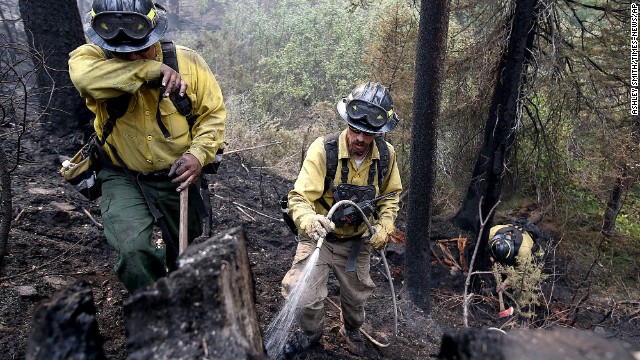 Firefighters with private contract company Great Basin Fire douse part of the 104,457-acre Beaver Creek Fire in the Baker Creek area of Ketchum, Idaho, on Monday, August 19. The fire has forced the evacuation of several neighborhoods.
Charlie Pomeroy, left, Stacey Ward, Rusty Hollinger and Suzy Hayes watch a sky crane fill up on fire retardant on August 19.
Firefighter Gerard House talks to reporters in the Baker Creek area of Ketchum, Idaho, on August 19.
A helicopter drops fire retardant to protect homes outside Ketchum, Idaho, from the Beaver Creek Fire on Sunday, August 18.
A firefighting team walks along a fire line near homes on Croy Road and the Rotorun ski hill west of Hailey, Idaho, on Saturday, August 17. A wildfire raging across the central mountains of Idaho forced the evacuation of 200 homes in the tourist town of Hailey as firefighters lost ground against a blaze threatening the nearby international ski destination of Sun Valley.
A tanker helicopter drops water as a firefighter works to douse a hot spot at Beaver Creek on August 17.
Firefighters continue to battle the fire in the Wood River Valley as it drops down a canyon hillside west of Hailey on August 17.
Firefighters clear an area burned by the Beaver Creek Fire on August 17. Approximately 1,200 firefighters are working the blaze, with the help of helicopters, bulldozers and conventional engines.
A helicopter makes a drop while battling the Beaver Creek Fire on August 17.
Fire creeps down the western canyon wall above the Wood River in Hailey, Idaho, on August 17.
A helicopter battles the flames near Hailey on Friday, August 16. The Beaver Creek Fire was ignited by lightning on August 7.
A fire "whirl" can be seen as erratic wind conditions stir the flames of the fire on August 16.
Kevin Bullock, of Bellevue, Idaho, talks on a cell phone as smoke from the wildfire envelops a neighborhood.
John Koth climbs to the roof of a neighbor's house near Hailey to photograph the blaze on August 16.
Members of the Idaho City Hotshots work on burn-out operations around Pine, where the Elk Complex fire was burning on August 14.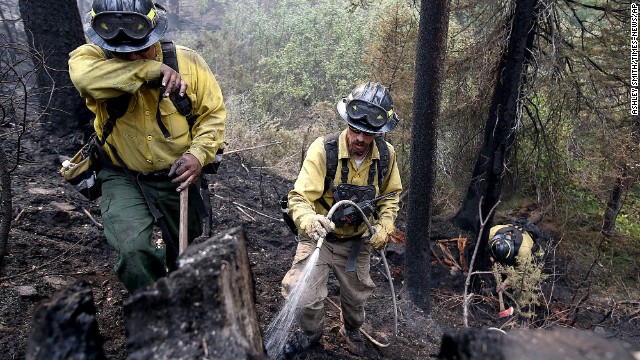 Photos: Idaho wildfires
The fire grew from 64,000 acres on Friday to nearly 93,000 on Saturday, pushed in large part by strong winds, low humidity and dry brush, according to the U.S. multi-agency fire response website InciWeb.
Firefighters have been unable to corral the blaze that was ignited by a lightning strike on August 7 northwest of the town of Hailey. It was just 9% contained by Saturday evening -- up slightly from the 6% containment it had been for most of the day -- said Meghan Stump of the fire information office.
Mandatory evacuation orders grew from 1,600 homes to more than 2,200 homes by late Saturday afternoon.
Those areas include parts of the towns of Hailey and Ketchum, as well as Greenhorn Gulch, Deer Creek, Golden Eagle and Timber Gulch.
"Out in Deer Creek and Green Horn, we got our butts kicked," the Blaine County Fire Chief Bart Lassman told 500 residents gathered Saturday afternoon at a community meeting in Hailey, according to CNN affiliate KTVB.
Hot shot teams and fire engine crews were awakened at 2:30 a.m. local time to battle the fire making a run at homes, Tracy Weaver, a fire public information officer, told KTVB.
"Firefighters are making a valiant stand," she said.
The fire has destroyed at least one home and damaged several others, according to InciWeb. It also destroyed a bridge that had connected the Idaho communities of Ketchum and Fairfield, according to Stump.
As of Saturday evening, there were no reports of injuries stemming from the blaze, she said.
Still, the danger is real, which is why the Blaine County Sheriff's Office said Saturday afternoon there was a "high probability" of even more evacuations to come in West Ketchum. Residents of the cities of Ketchum and Sun Valley -- home to a well-known ski resort -- are under a pre-evacuation notice.
"Begin preparations now so that you can leave immediately should conditions deteriorate," the sheriff's office warned.
More than 1,000 personnel are involved in fighting the fire, which was sparked by lightning on August 7. Authorities said Highway 75 was intermittently closed due to fire, smoke and firefighting operations.
The Idaho National Guard also has been called in to help,
Gov. Butch Otter has issued a disaster declaration and ordered the Idaho National Guard to provide support for firefighting efforts.
The governor warned people to obey the evacuation orders.
"Those folks' job is to fight fire, not rescue people, and evacuate them after they were told to do it, and refused to do it," Otter told KTVB. "I understand you want to protect your property. But, I will guarantee you that nobody is going to go out of their way to get you out of your house, if it isn't necessary."
CNN's Chelsea J. Carter, Greg Botelho, Janet DiGiacomo, Travis Sattiewhite, John Branch and AnneClaire Stapleton contributed to this report.