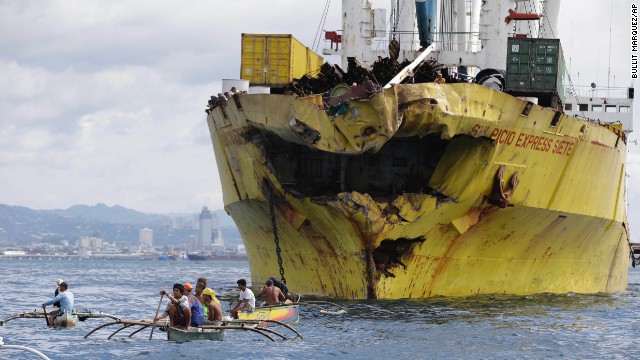 Volunteers search for victims near the damaged cargo ship Sulpicio Express Siete on Saturday, August 17, a day after it collided with a passenger ferry in Talisay, in the Cebu province of the Philippines. The ferry, which sank, is thought to have been carrying about 700 passengers.
Philippine Navy personnel lift a victim from one of the floating life rafts during rescue operations on August 17. The two ships collided around 9 p.m. Friday.
A survivor on a stretcher is taken to a hospital in Cebu City on August 17.
A medic carries 3-month-old Trisia Mae Kumaro as her mother steps out of an ambulance at the hospital on August 17.
The ferry, MV St. Thomas Aquina, was coming from Butuan City when it collided with the cargo ship in the Mactan Channel about 2 miles northwest of Cebu City, the capital of Cebu province.
A young survivor is helped into the hospital on August 17.
An ambulance carrying more survivors arrives at the hospital on August 17.
A survivor in a wheelchair is assisted as he arrives at the hospital on August 17.
Crew members from the cargo ship inspect the damage to their ship on August 17.
A cargo vessel is docked at sea after colliding with and sinking a ferry on Friday, August 16.
Ferry collides with cargo ship in Philippines
Ferry collides with cargo ship in Philippines
Ferry collides with cargo ship in Philippines
Ferry collides with cargo ship in Philippines
Ferry collides with cargo ship in Philippines
Ferry collides with cargo ship in Philippines
Ferry collides with cargo ship in Philippines
Ferry collides with cargo ship in Philippines
Ferry collides with cargo ship in Philippines
Ferry collides with cargo ship in Philippines