(CNN) -- Here is some background information on Alex Rodriguez, the third baseman for the New York Yankees who was suspended for the entire 2014 season after an investigation into the use of performance-enhancing drugs.
Personal: Birth date: July 27, 1975
Birth place: New York, New York
Birth name: Alexander Emmanuel Rodriguez
Father: Victor Rodriguez, shoe salesman and baseball player
Mother: Lourdes (Navarro) Rodriguez, automotive plant worker
Marriage: Cynthia (Scurtis) Rodriguez (November 2, 2002 - 2008, divorced)
Children: Ella, April 21, 2008; Natasha, November 18, 2004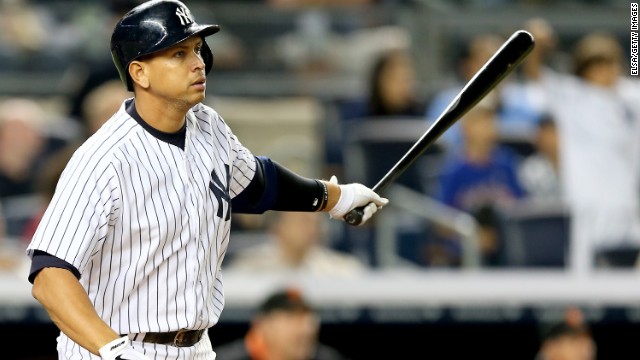 Alex Rodriguez is suspended for the 2014 regular and postseason over accusations of taking performance-enhancing drugs and having ties to the now-shuttered Biogenesis clinic in South Florida.
Barry Bonds is baseball's all-time home run leader, but some commentators say there should be an asterisk by his record. Though he's said he never knowingly used steroids, two San Francisco reporters wrote a book alleging he used performance-enhancing drugs. In 2007, he was indicted on charges of perjury and obstructing justice for allegedly lying to a grand jury investigating steroids and convicted of obstruction of justice. Here are some of Major League Baseball's biggest scandals:
Known as Rocket for his aggressive pitching style, Roger Clemens played pro ball for more than two decades, racking up seven Cy Young Awards. He left Major League Baseball under a cloud of steroid allegations, despite a court finding him not guilty of perjury in 2012 when he told Congress he never used the drugs.
After his former Texas Rangers teammate Jose Canseco accused him of using steroids, Rafael Palmeiro appeared before Congress in 2005 to deny the allegations. Later that year, he was suspended from baseball for testing positive for steroids. He maintains to this day he has never knowingly taken performance enhancers.
An Olympian and renowned long-ball hitter, Mark McGwire spent his entire career with the Oakland A's and St. Louis Cardinals, breaking the single-season home run record in 1998. In 2010, he admitted using steroids over the course of a decade but told Bob Costas in an interview he took them only for health reasons.
John Rocker's pitching career with the Atlanta Braves only lasted a few seasons because of his offensive comments about homosexuals, New Yorkers, Asian women and a black teammate in a Sports Illustrated article. Rocker faced large backlash and ultimately was cut by the Braves in 2001 and played for three other teams before calling it quits in 2003.
Cincinnati Reds owner Marge Schott faced lawsuits, fines from the MLB and suspensions during her career for her offhand comments and actions. Schott told ESPN in 1996 that "Hitler was good in the beginning, but he went too far." That comment drew a $25,000 fine and one-year suspension.
Former New York Yankees owner George Steinbrenner, center, was banned for life in 1990 for hiring a man to investigate Yankees outfielder Dave Winfield's background for any dirt. The ban was later reduced to a two-year suspension.
Cincinnati Reds switch-hitter Pete Rose was caught gambling on baseball games during the 1987 season. Fingerprints from betting slips and a handwriting expert's testimony ultimately led to Rose being banned from baseball.
Darryl Strawberry, right, was suspended multiple times throughout his career for cocaine possession and soliciting prostitutes. Strawberry released a book in which he claims that several players with the 1980s Mets committed the same offenses.
Pitcher Ferguson Jenkins was the first baseball player to be suspended for a drug-related offense. Ferguson was arrested in Toronto in 1980 for cocaine possession and promptly banned for life. However, the ban was lifted only a month later and he returned to the pitchers mound for the Chicago Cubs in 1982.
Gambler Arnold Rothstein was the financial backer accused of being behind the fixed 1919 World Series. Eight Chicago White Sox players were allegedly bribed to throw the game with money provided by Rothstein. He denied all allegations before a grand jury and was later exonerated of any wrongdoing. All eight players involved in the fix were banned for life.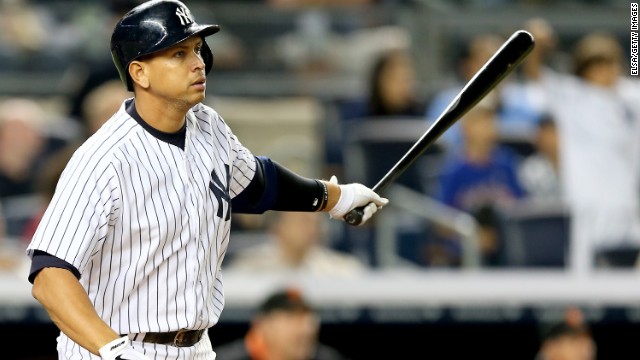 Photos: Baseball's biggest scandals
Other Facts: The Rodriguez family moved from New York to the Dominican Republic, then moved to Miami when he was in the fourth grade.
His father left when Alex was nine, and Alex's mother raised her three children as a single parent.
Co-wrote two children's books, "Hit a Grand Slam" and "Out of the Ballpark."
Has been romantically linked to celebrities such as Kate Hudson, Cameron Diaz, and Madonna.
Baseball Records and Achievements: Rodriguez ranks fifth all-time highest in home runs, and has hit the most of any active player.
He has gotten more than 2,500 hits in 19 seasons in the majors.
All-time grand slam home run leader.
Three-time American League MVP: 2003, 2005, and 2007.
Has been elected to the All Star Game 14 times.
Ten-time Silver Slugger Award winner.
Two-time Gold Glove Award winner.
Timeline: Early 1990s - Attends Westminster Christian School in Miami.
June 1993 - MLB first overall draft pick, chosen by the Seattle Mariners to play shortstop.
July 8, 1994 - Major league debut at shortstop with the Mariners. At the time, he is the youngest player to be brought up to the majors since 1984.
1996 - Is invited to the All-Star Game for the first time.
August 12, 1998 - Makes his 100th major league home run.
September 19, 1998 - Becomes the third player ever to join the "40-40 Club," hitting 40 home runs and stealing 40 bases in one season. He ends the season that year with 42 home runs and 46 stolen bases.
1999 - Has surgery on his left knee.
December 2000 - Signs the largest contract ever in professional sports at that time, a ten-year, $252 million dollar contract with the Texas Rangers.
August 4, 2007 - Becomes the youngest player to hit 500 home runs.
November 2007 - Signs the largest contract ever in American sports at $275 million over 10 years with the Yankees to play third base.
December 2007 - During an interview with Katie Couric on "60 Minutes," Rodriguez denies taking performance-enhancing drugs and says he is not tempted to use them.
February 9, 2009 - Rodriguez admits to using performance-enhancing drugs from 2001 to 2003 while playing for the Texas Rangers.
March 9, 2009 - Has surgery on his right hip. He rejoins the Yankees about a month into the season, on May 8th.
November 4, 2009 - The New York Yankees defeat the Philadelphia Phillies to win the World Series, 4 games to 2.
August 4, 2010 - Becomes the youngest player to hit 600 home runs. Only eight players have ever reached this milestone.
July 2011 - Undergoes surgery on his right knee.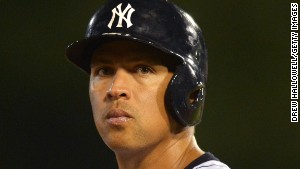 Was A-Rod allowed to use testosterone?
January 16, 2013 - Has arthroscopic surgery on his left hip.
January 31, 2013 - The Miami New Times publishes a story alleging more than a dozen professional baseball players, including Rodriguez, and other athletes were named in records kept over several years by the now-closed Biogenesis anti-aging clinic in Miami.
August 5, 2013 - Major League Baseball announces that it is suspending Rodriguez for 211 regular season games through the 2014 season amid allegations involving the use of performance-enhancing drugs. Twelve other players are also suspended for 50 games each.
August 7, 2013 - The MLB Players Association files a grievance on his behalf, appealing the suspension. Rodriguez is allowed to play while the suspension is appealed. He has been in the Yankees' lineup since returning from injury on August 5.
September 30, 2013 - Rodriguez's arbitration hearing to appeal his suspension begins.
October 3, 2013 - Files a lawsuit in New York Supreme Court against MLB and Commissioner Bud Selig, alleging they "engaged in tortious and egregious conduct with one and only one goal ... to destroy the reputation and career of Alex Rodriguez."
October 4, 2013 - Files a medical malpractice lawsuit against Yankees team physician Dr. Christopher Ahmad and New York Presbyterian Hospital.
October 7, 2013 - MLB files a motion to move Rodriguez's lawsuit from state court to federal court, in hopes of dismissing the suit.
November 20, 2013 - Rodriguez walks out of an arbitration hearing into his record-setting 211-game suspension after learning MLB Commissioner Bud Selig would not testify, saying later that he's done with what he called a "farce" and an "abusive process."
January 11, 2014 - Rodriguez officially loses his appeal and his 211-game suspension is reduced to 162 games, arbitrator Fredric Horowitz rules. He will miss the 2014 MLB season.
February 7, 2014 - Rodriguez drops his lawsuit against Major League Baseball and the Major League Baseball Players Association. The lawsuit had been seeking a dismissal of a 162-game suspension.