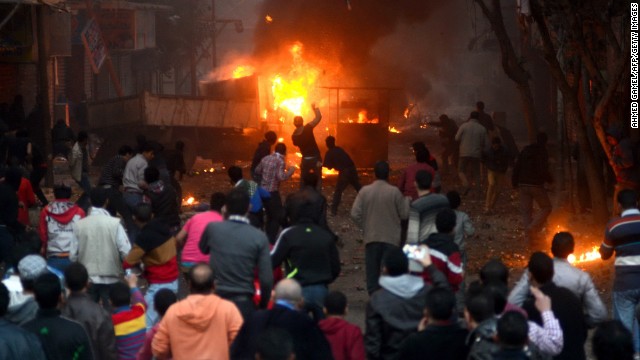 Protesters and Egyptian riot police clash in Cairo on January 17, as the country awaits the results of a constitutional referendum. On January 18, the electoral commission announced the constitution had overwhelmingly been approved.
An Egyptian youth holds up his national flag outside a polling station in Cairo on January 14, day one of a two-day vote on a new constitution.
On December 25, 2013, The Egyptian interim government declared the Mohammed Morsy-led Muslim Brotherhood a terrorist organization. The action was taken in response to a police station bombing in Mansoura, which the government has stated was the responsibility of the Brotherhood, despite denials from the group itself.
Cairo University's students backing ousted Islamist president Mohamed Morsy flash the four-finger sign during a demonstration against July's military "coup " in Tahrir square on December 1, 2013. The four-finger sign has become associated with a government crackdown on pro-Morsy supporters in Cairo's Rabaa al-Adawiya square on August 14.
Egyptian women members of the Muslim Brotherhood hold roses as they stand in the defendants' cage dressed in prison issue white during their trial in at the court in the Egyptian Mediterranean city of Alexandria on December 7, 2013.
Egyptian protesters use flare lights at Talaat Harb Square in downtown Cairo on November 26, 2013 during a clash with police after the security forces dispersed protesters from a demonstration organized by human rights group "No Military Trials for Civilians" in the first unauthorized protest staged in the capital since the adoption of a law that regulates demonstrations.
A soldier sets up barbed wire in anticipation of protesters outside the constitutional court in Cairo on Sunday, August 18, 2013. During the previous week about 900 people -- security forces as well as citizens -- had been killed. Deaths occurred when the military used force to clear supporters of ousted president Mohamed Morsy from two sit-in sites in Cairo, and violence raged after Morsy supporters staged demonstrations.
Friends and relatives of Ammar Badie, 38, killed during clashes in Ramses Square, carry his coffin during his funeral in Al-Hamed mosque in Cairo on August 18, 2013. Ammar Badie was the son of the Muslim Brotherhood's spiritual leader, Mohammed Badie.
Wreckage and debris litter the area around the Al-Fateh mosque in Cairo, where hundreds of Islamist protesters had barricaded themselves on Saturday, August 17, 2013. Thousands defied an emergency order by taking to the streets the day before to mark a "Friday of anger" in support of ousted president Mohamed Morsy.
Policemen stand guard inside a room of Al-Fateh mosque as supporters of ousted president Mohamed Morsy exchange gunfire with security forces inside the mosque in Cairo on Saturday, August 17, 2013.
Members of the Muslim Brotherhood and Mohamed Morsy supporters flee shooting near Ramses Square in Cairo on August 16, 2013.
Egyptian soldiers take positions alongside armored vehicles as they guard the entrance to Tahrir Square in Cairo on Friday, August 16, 2013.
A man on checks out a list of names of those killed in the crackdown on, on August 15, 2013.
A man walks inside the burned-out Rabaa Al-Adawiya mosque in Cairo on August 15, 2013.
Mohamed Morsy masks are displayed for sale at the base for supporters of the ousted president on July 12, 2013 in Cairo, Egypt. The country has been in a state of political paralysis following the ousting of former president and Muslim Brotherhood leader Morsy by the military.
Two veiled Egyptian women, supporters of Mohamed Morsy, sit in front of police standing behind barbed wire fencing that blocks the access to the headquarters of the Republican Guard in Cairo on July 8, 2013.
A woman tries to stop a military bulldozer from hurting a wounded youth during clashes on August 14, 2013, in eastern Cairo.
Supporters of ousted president Mohamed Morsy run as Egyptian security forces fire toward them on August 14, 2013.
The national identity cards of protesters allegedly killed during a clear-out operation by Egyptian security forces on pro-Morsy demonstrators are exchanged at the Rabaa al-Adawiya Medical Center on August 14, 2013.
Egyptian security forces detain protesters in Cairo's Nasr City district on August 14, 2013.
Photos: Egypt protests
Photos: Egypt protests
Photos: Egypt protests
Photos: Egypt protests
Photos: Egypt protests
Photos: Egypt protests
Egypt protests
Egypt protests
Egypt protests
Egypt protests
Egypt protests
Egypt protests
Egypt protests
Egypt protests
Photos: Egypt protests
Photos: Egypt protests
Egypt protests
Egypt protests
Egypt protests
Egypt protests
STORY HIGHLIGHTS
France, Russia prepare plans to fly citizens out
Germany and Hong Kong advise against all travel
U.S. tells citizens to leave; UK says Red Sea resorts are safe
What compensation can be claimed?
(CNN) -- Russia and France are preparing contingency plans to evacuate their citizens from Egypt, as violent clashes between the military government and Islamists in the country continue.
In the latest violence, suspected militants killed at least 25 Egyptian soldiers with rocket-propelled grenades in the Sinai Peninsula.
Russia's Federal Aviation Agency has ordered airlines to prepare plans to airlift Russian tourists from Egypt, the Moscow Times reported. Russia's largest airline, Aeroflot, said it was ready to begin evacuating passengers from the country as soon as it was instructed to do so.
Late last week France also announced that it had a plan to evacuate its citizens under review.
Travel advice hardens
Russia was among other governments that had already hardened their travel advice on Egypt following the killing last week of more than 500 people in Cairo and other cities in protests against the military overthrow of the government of Mohamed Morsi.
Having advised its citizens against traveling to Egypt, on Thursday Russia barred tour operators from selling vacations to the country.
Germany extended its advice against travel to the country to include the Red Sea beach resorts around Hurghada and Sharm El-Sheikh -- areas that have been largely immune from the unrest of recent months and that foreign governments have tended to advise were safe.
Last week the government of Hong Kong also raised its travel warning, to "black," advising against all travel.
On Wednesday night, following the day of violence in Egypt in which hundreds of people died as security forces cleared pro-Morsi sit-ins, vacationers in Hurghada had letters posted through their hotel bedroom doors telling them to stay within the hotel grounds and that all excursions had been canceled, the TravelMole website reported.
U.S. and British travel advisories on Egypt remain basically unchanged. The U.S. State Department continues to urge its citizens to leave Egypt, if they can. Any remaining in the country should monitor local media for updates on the unrest, it says.
The British Foreign and Commonwealth Office continues to advise against travel to Egypt, except the Red Sea resorts. The FCO has for some time advised against travel to the lawless Sinai Peninsula, where the recent grenade attack on Egyptian soldiers took place, except for the resort areas.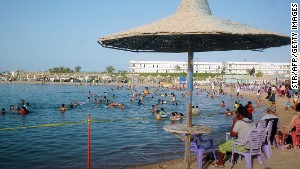 Tourists in Hurghada were advised this week to stay in their hotels.
Compensation
Government travel advisories are important not only for travelers' safety but because they affect what compensation they can claim.
Following the German government's announcement, the tour operator TUI Germany said it was cancelling all trips to Egypt until September 15 and that travelers already in its resorts could stay for the remainder of their holiday or leave early.
In Britain, a travel journalist specializing in the Middle East, Matthew Teller, told the Guardian: "What the FCO does or doesn't say rules the roost in terms of what tour operators can and can't offer clients."
Travelers were unlikely to be able to change their plans if they were booked to travel in an area, such as Sharm el-Sheikh and other Red Sea resorts, that the government deemed safe, he said.
Cancellations
Other large travel firms were altering or canceling their Egypt travel programs, in addition to TUI.
Thomas Cook said it had canceled all excursions from Red Sea resorts to Cairo, Luxor and sights including Moses Mountain and St Catherine's Monastery on the Sinai Peninsula.
Kuoni, the UK-based operator, has also canceled all Egyptian excursions for 30 days.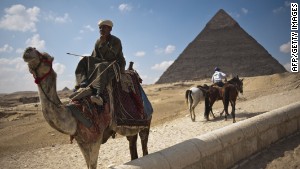 Tourism is vital to Egypt, employing around 10% of the workforce.
British Airways has changed its flight schedules to Cairo to avoid the dusk-to-dawn curfew the government has imposed as part of its state of emergency, although tour operators are still being allowed to operate overnight transfers to Sharm el-Sheikh.
"We are also offering customers the option of rebooking to a later date, or to another destination," a BA spokesman said.
Most tourists fly to the Red Sea resorts directly. Easyjet, which runs flights to Sharm el-Sheikh, said it was allowing some passengers with flights booked to Egypt within the next few days to change their destination.
The cruise operators MSC, Costa and Holland America Line have also reportedly canceled their Egypt-bound ships.
Tourism vital
The latest violence in months of unrest in Egypt can only do further damage to the country's vital tourism industry, which normally employs around 10% of the workforce and brought in $10 billion in 2012.
As chaos has increasingly gripped the country, beginning with anti-government protests in 2011 that led to the overthrow of the Hosni Mubarak regime, tourist numbers have fallen by almost one-third -- from 14 million in 2010 to 10.5 million last year.
In further news, the Egyptian ministry for antiquities has closed archaeological sites and museums across the country to protect them from looting, the Egyptian newspaper al Alhram reported.