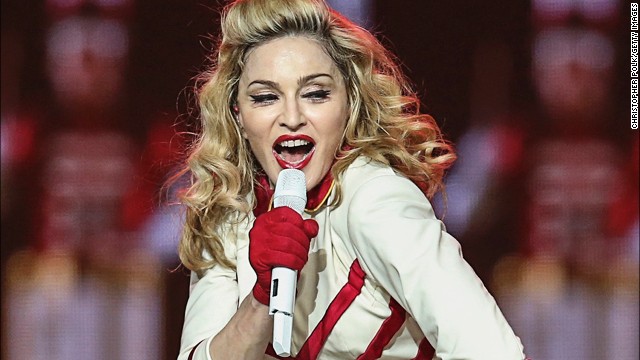 Madonna
turns 55 on August 16,
and she hardly looks it. But she is not the only star who is still smoldering after the half-century mark...
Actress Ellen Barkin is still turning heads at age 59.
Oh George Clooney, you make 52 look so good.
At age 58, Iman could still easily book modeling gigs.
Michelle Pfeiffer is still fabulous at 55.
Valerie Bertinelli may be 53, but she hasn't changed that much from her "One Day at a Time" days.
Actress Vanessa L. Williams is a stunner at 50.
Gina Gershon could still easily don her skimpy "Showgirls" outfits at age 51.
We have no problem with 53-year-old David Duchovny's nude scens in "Californication."
Like the legendary Tina Turner she portrayed, Angela Bassett is aging splendidly at 55.
Antonio Banderas is still a stunner at 53.
Demi Moore has been the patron saint of cougars everywhere for some time (even though it didn't work out with Ashton Kutcher). She is 50.
Daniel Day-Lewis (seen here with wife Rebecca Miller arriving at the 2013 Oscars) is still dashing at 56.
Sharon Stone, seen here at the Cannes Film Festival in 2013, is fabulous at 55.
That dapper chap Hugh Grant is 52.
It's hard to believe Johnny Depp is 50.
Brazilian director Walter Salles, left, adjusts Viggo Mortensen's bow tie at the 65th Cannes film festival in May 2012. Moretensen is 54.
Kelly Preston is a youthful 50.
Denzel Washington is still a bona fide sex symbol at 58.
Kim Basinger barely looks her age of 59.
At 52, Colin Firth still reminds us why we fell in love with him in "Bridget Jones's Diary."
Cover girl Christie Brinkley gives younger models a run for the runway at 59.
Eddie Murphy is 52 years old.
Heather Locklear hardly looks 51.
Julianne Moore is a ginger haired beauty at 52.
Dylan McDermott just keeps getting better and better looking with age. He's 51.
Julia Louis-Dreyfus is an adorable 52.
At 58, Kevin Costner is still booking leading man roles.
Sexy celebs in their 50s
Sexy celebs in their 50s
Sexy celebs in their 50s
Sexy celebs in their 50s
Sexy celebs in their 50s
Sexy celebs in their 50s
Sexy celebs in their 50s
Sexy celebs in their 50s
Sexy celebs in their 50s
Sexy celebs in their 50s
Sexy celebs in their 50s
Sexy celebs in their 50s
Sexy celebs in their 50s
Sexy celebs in their 50s
Sexy celebs in their 50s
Sexy celebs in their 50s
Sexy celebs in their 50s
Sexy celebs in their 50s
Sexy celebs in their 50s
Sexy celebs in their 50s
Sexy celebs in their 50s
Sexy celebs in their 50s
Sexy celebs in their 50s
Sexy celebs in their 50s
Sexy celebs in their 50s
Sexy celebs in their 50s
Sexy celebs in their 50s
Sexy celebs in their 50s