Prince William tells CNN about being a father in first interview since birth of son
updated 3:43 PM EDT, Thu August 15, 2013
STORY HIGHLIGHTS
Prince William gives first official interview after birth of son to CNN's Max Foster
William tells CNN about fatherhood and baby George
"Prince William's Passion: New Father, New Hope" to air on CNN on September 15
"Prince William's Passion: New Father, New Hope" premieres on CNN Sunday, September 15th at 10:00 p.m. ET. Portion of the interview will air on CNN's New Day on Monday, August 19th at 8:00 a.m. ET.
(CNN) -- Prince William has given his first official interview to CNN since his wife, the Duchess of Cambridge, gave birth to their first child.
The future king of Britain sat down with CNN's Max Foster to talk about baby George, his wife Catherine, and what it's like to be a new father.
The interview is part of a one-hour special, "Prince William's Passion: New Father, New Hope," which will premiere on CNN and CNN International on Sunday, September 15 at 10:00 p.m. ET.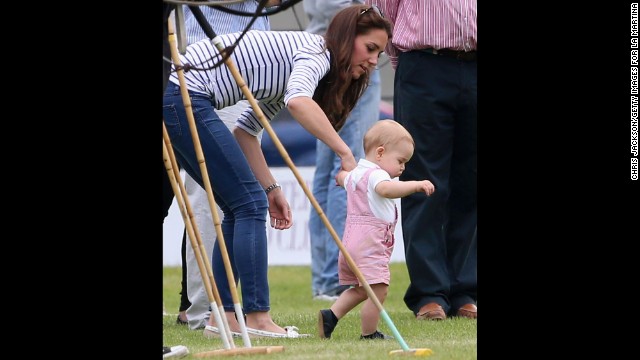 Prince George takes his first steps in public as his mother, Catherine, Duchess of Cambridge, holds his hand Sunday, June 15, at a charity polo event in Cirencester, England.
Prince William and Catherine with Prince George appear in a family portrait at Kensington Palace in March.
Prince William and Catherine leave with their son after the baby's christening in London on October 23. At right is the archbishop of Canterbury, Justin Welby.
Catherine carries her son after his christening.
The couple poses with Prince George in early August at the Middleton family home in Bucklebury, England.
The family is seen in August along with Tilly, left, a Middleton family pet, and Lupo, the couple's cocker spaniel.
The Duke and Duchess depart St. Mary's Hospital in London with their newborn son on July 23. The boy was born at 4:24 p.m. a day earlier, weighing 8 pounds, 6 ounces.
Catherine holds the baby outside the hospital for the public's first view.
The new parents stand in front of the Lindo Wing of the hospital.
A Kensington Palace spokesman said, "Mother, son and father are all doing well this morning."
Catherine hands the baby off to William.
"He's got her looks, thankfully," William said.
"It's very special," William said after the baby's birth. The prince had already changed his son's first diaper, the couple told reporters.
The new parents leave the hospital with William carrying the boy out in a car seat and installing him in the back of a black SUV.
The newborn sits in his car seat for the ride home.
Prince William gets ready to depart St. Mary's Hospital.
Catherine waves to the crowd gathered outside the hospital.
Well-wishers see the royal couple off after getting a glimpse of the newest heir to the British throne.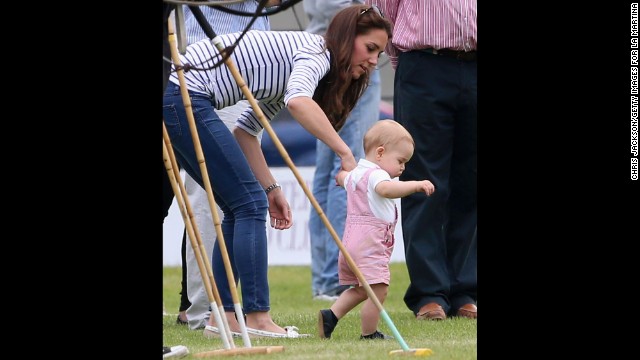 Photos: Prince George, the royal baby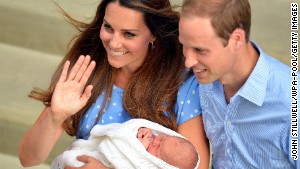 Keeping Prince George from prying eyes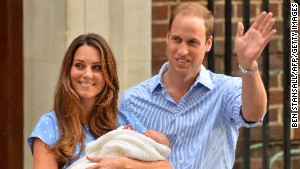 Royal baby media frenzy
Royal baby name: The history behind George Alexander Louis
A portion of the interview will air on CNN on Monday, August 19 at 8:00 a.m. ET.
The special chronicles the prince's passion for Africa and his dream to save the world's most endangered species.
As a new father, the prince discusses his hope that one day his son can experience the same Africa that he and Prince Harry did as young boys.
Britain's royal family has worked on conservation in Africa for generations. In the one-hour TV special William tells CNN how his love of Africa and its endangered species were instilled in him by his father, Prince Charles, and late mother Princess Diana.
The prince also highlights some of the work being done by individuals in the area of conservation including Tusk, an organization for which he and Prince Harry are both patrons.
Opinion: Baby helps make a monarchy matter