WWE star Darren Young: 'I'm gay'
updated 3:04 PM EDT, Thu August 15, 2013
STORY HIGHLIGHTS
Darren Young made the revelation in an impromptu interview on TMZ late Wednesday
"I'm gay. And I'm happy," he said when asked whether a gay wrestler could succeed in WWE
WWE says it is "proud of Darren Young for being open about his sexuality"
Young was expected to participate in an anti-bullying event in Los Angeles on Thursday
(CNN) -- WWE superstar wrestler Darren Young publicly came out as gay during an unplanned interview with the news entertainment website TMZ late Wednesday.
He is the first openly gay wrestler in the organization -- which is the premier professional wrestling company -- according to a tweet by WWE Executive Vice President Stephanie McMahon.
Young made the statement while at an airport baggage carrousel in Los Angeles after being asked if "a gay wrestler could be successful within the WWE."
"Absolutely. Look at me. Ya know. I'm a WWE superstar and to be honest with you, I'll tell you right now, I'm gay. And I'm happy. I'm very happy," Young said in response to the question.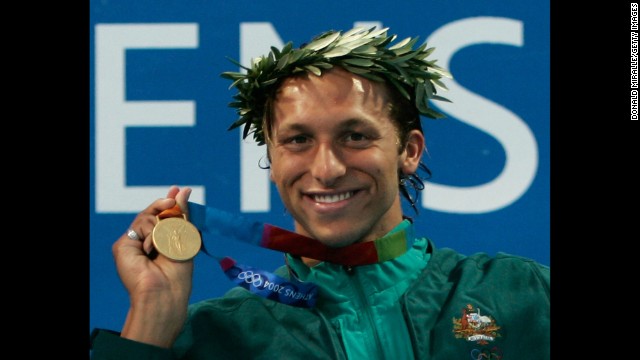 Swimmer Ian Thorpe, seen here in 2004 with one of his five Olympic gold medals, told an Australian news outlet that he is gay in an interview that aired on Sunday, July 13. Click through to see other openly gay athletes.
Former Missouri defensive end Michael Sam told ESPN and The New York Times that he is gay on February 9. Sam later became the first openly gay player to be drafted by a NFL team when he was taken by the St. Louis Rams in the seventh round.
Robbie Rogers became the first openly gay male athlete to play in a professional American sporting match when he took the field for Major League Soccer's Los Angeles Galaxy during a match against the Seattle Sounders on May 26.
"I didn't set out to be the first openly gay athlete playing in a major American team sport. But since I am, I'm happy to start the conversation," NBA player Jason Collins said in a Sports Illustrated article.
Sheryl Swoopes, a retired WNBA star and coach of the Loyola University Chicago's women's basketball team, came out in 2005.
Brittney Griner, selected No. 1 in the 2013 WNBA draft by the Phoenix Mercury, is openly gay.
In an exclusive interview with CNN, former San Francisco 49ers player Kwame Harris came out as gay after rumors circulated in the media.
Rugby player Gareth Thomas of Wales spoke about being gay to a British news channel in 2009.
Justin Fashanu became the first openly gay soccer player in Europe when he came out in 1990. Eight years later, he took his own life.
Tennis great Martina Navratilova came out in 1981.
After his retirement in 2007, basketball player John Amaechi announced he was gay.
After retiring from professional football in 1972, David Kopay acknowledged to the Washington Star that he was gay.
Villanova University's Will Sheridan came out to his teammates in 2003.
In 2012, U.S. women's soccer player Megan Rapinoe confirmed in Out magazine that she was a lesbian.
Champion figure skater Johnny Weir confirmed in his 2011 memoir, "Welcome to My World," that he was gay.
Australia's Matthew Mitcham came out in an interview with the Sydney Morning Herald in 2008.
In 2012, Orlando Cruz became the first active professional fighter to publicly announce that he was gay.
Openly gay British dressage rider Carl Hester helped his team win gold at the 2012 Olympics.
English cricketer Steven Davies announced he was gay in 2011.
Germany's Judith Arndt won the silver medal in cycling at the 2012 Olympics.
Billy Bean, a former Major League Baseball player, discussed being gay in a 1999 New York Times article.
Tennis legend Billie Jean King was outed by a former female partner in 1981.
In 2002, professional football player Esera Tuaolo came out on HBO's "Real Sports."
French tennis player Amelie Mauresmo came out in 1999.
Greg Louganis, who won four Olympic golds for the United States during his diving career, has been openly gay since 1995.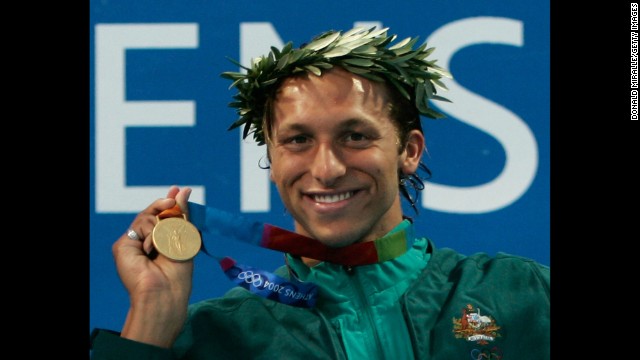 Photos: Openly gay athletes
The revelation, which is not thought to be part of the wrestler's onscreen character, apparently caught the cameraman off guard. He stumbled over his response.
"Man, that's in ... that's ... sorry. I'm kinda' of flabbergasted man. I think ... I didn't know and obviously I think that's just ... I commend your bravery," the cameraman said.
"I don't think it matters. Does it matter? Does it matter to you?...Does it change what you think about me?" Young rhetorically asked after making the statement.
"Not an iota," TMZ's cameraman said. "In fact I commend you even more that you would share something so beautiful and personal with me."
"We're all adults. All sports are physical. When I come to work, I come to work," Young said. "Business is business."
He added, "Some people might not like it, and some people will like it.
When contacted by CNN for comment, World Wrestling Entertainment Inc., said, "[The] WWE is proud of Darren Young for being open about his sexuality, and we will continue to support him as a WWE Superstar."
On Thursday, Young was expected to participate in an anti-bullying event in Los Angeles "to teach children how to create positive environments for everyone regardless of age, race, religion or sexual orientation," WWE added in its statement.
While Young's public disclosure made headlines, he is not the first wrestler to come out. In a posthumously released 2011 book, WWE and WCW star Chris Kanyon wrote about being both a gay man and pro wrestler. He committed suicide in April 2010 after battling with mental illness.