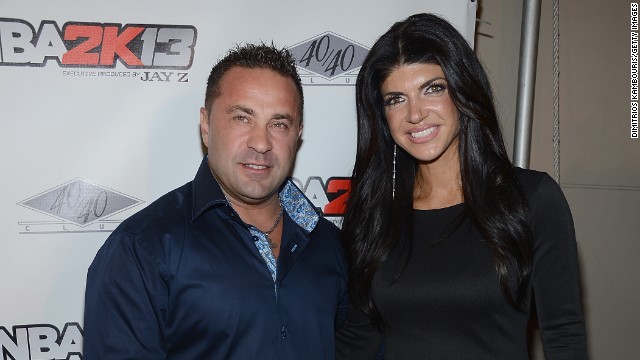 You can reportedly add major debt to Teresa and Joe Giudice's legal issues. The "Real Housewives of New Jersey" couple
pleaded guilty March 4 to multiple federal fraud charges,
including conspiracy to commit mail and wire fraud and lying on mortgage and loan applications.
Now TMZ is reporting t
hat the pair had a lavish lifestyle that includes $13 million in debt.
Apollo Nida, husband of Phaedra Parks from "Real Housewives of Atlanta," has been charged with bank fraud and identity theft in the U.S. District Court in Atlanta, Georgia. Nida was arraigned on January 23, and is currently free on a $25,000 signature bond.
NeNe Leakes recently remarried her ex-husband Gregg Leakes, and the "Real Housewives of Atlanta" stars are being accused by their wedding planner of
According to The Hollywood Reporter,
"Real Housewives of New York" star Bethenny Frankel settled a $100 million lawsuit in 2012 over her popular Skinnygirl Cocktail brand after a management company accused her of cutting them out of the lucrative deal when she sold her company.
sued by the bank that held their mortgage
on accusations of missing payments. The "Real Housewives of New Jersey" cast member has also been accused of owing state taxes.
Jacqueline Laurita and her husband, Chris, were
"Today" called it the "battle of the bulge"
when Heather Thomson was sued in March 2013 by Spanx over her brand of Yummie Tummie shapewear.
when a $250,000 breach of contract suit against her was dismissed
in July 2013. But boyfriend Brooks Ayers didn't fare so well in the case, which accused Gunvalson of giving Ayers a percentage of a vodka business without informing her business partner. The portion of the suit against Ayers was not dismissed.
"Real Housewives of Orange County" star Vicki Gunvalson dodged a legal bullet
financial troubles of cast member Sonja Morgan.
She blamed it partially on a $7 million judgment entered against her over a failed movie project she was producing.
"Real Housewives of New York" dealt a great deal with the
Kelly Bensimon of the "Real Housewives of New York" was arrested in 2009 for
was awarded more than $500,000 in damages
after an ongoing legal battle with a man who claimed to have had a secret relationship with her. When Jay Photoglou sued her for libel and slander, Rossi countered with accusations including stalking, battery and emotional distress.
"Real Housewives of Orange County" star Gretchen Rossi
was reportedly in dispute
with three banks over her mansion.
Micah and Peggy Tanous of "Real Housewives of Orange County" appear to be just the latest in a long line of cast members who have had financial woes. She
filed a discrimination charge
against her in 2011. The woman claimed she had been fired from Barshop's Completely Bare salon because of her race, but the suit was
eventually dismissed.
A former employee of "Real Housewives of New York" cast member Cindy Barshop's
TMZ reported
that a bench warrant had been issued for Curtin and her then-husband, Frank, for a $1.2 million judgment issued against them.
Fans of "Real Housewives of Orange County" watched as Lynne Curtin and her family were served an eviction notice in 2009. That same year,
According to Jezebel,
the famed White House gate-crashers have been named in more than 20 civil suits. The pair split in 2012 after
Michaele reunited with her former love
Journey guitarist Neal Schon.
Who could ever forget Tareq and Michaele Salahi of the failed "Real Housewives of D.C."?
'Real Housewives' with legal issues
'Real Housewives' with legal issues
'Real Housewives' with legal issues
'Real Housewives' with legal issues
'Real Housewives' with legal issues
'Real Housewives' with legal issues
'Real Housewives' with legal issues
'Real Housewives' with legal issues
'Real Housewives' with legal issues