STORY HIGHLIGHTS
Former congressman Jesse Jackson Jr. sentenced to 30 months in prison
Jackson and his wife misspent about $750,000 in campaign funds to finance lavish living
NEW: Jackson Jr. pleaded guilty to several charges; says be believes in "power of redemption"
His wife pleaded guilty to filing false tax returns; She gets a year in jail; weeps at sentencing
Washington (CNN) -- Former U.S. Rep. Jesse Jackson Jr., once a rising Democratic star whose political fortunes imploded over the use of campaign finances to support lavish personal spending, was sentenced to 30 months in prison on Wednesday.
"I misled the American people," Jackson, 48, said before U.S. District Judge Amy Berman Jackson imposed the term, which also included an order for restitution and community service.
The ex-Illinois lawmaker's wife, Sandi, received a 12-month sentence for her role in her husband's misuse of roughly $750,000 in campaign funds over several years.
"I don't have to tell you this is a very sad day and a very difficult case," Judge Jackson said, calling it an example of organized and joint misconduct and a violation of the public trust.
"You knew better," she said.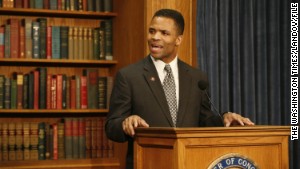 Jackson Jr.: I accepted responsibility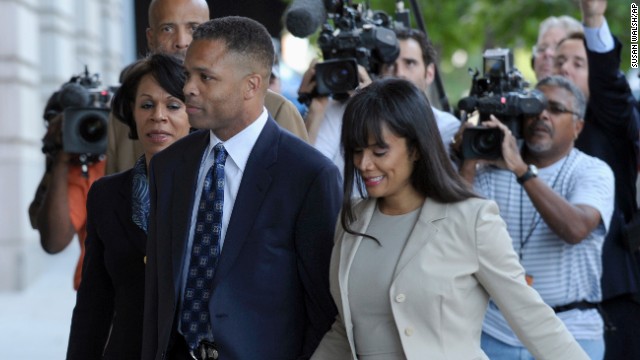 Former U.S. Rep. Jesse Jackson Jr. of Illinois arrives at federal court in Washington on Wednesday, August 14, 2013, with his wife, Sandi. Jackson was sentenced to 30 months in prison for misusing about $750,000 in campaign funds. Sandi Jackson received a 12-month sentence for filing false tax returns.
Jesse Jackson Jr. enters U.S. District Court in Washington on February 20, where he pleaded guilty.
Jackson and his wife, Sandi, leave U.S. District Court in Washington on February 20 after entering guilty pleas.
Jackson, here on the U.S. Capitol steps in December 2011, represented Illinois' 2nd Congressional District from 1995 to 2012. He resigned from Congress in November 2012, citing the need to spend time "restoring my health."
Jackson addresses the health care overhaul at an August 2009 town hall meeting at a Chicago church.
From left, Jackson, John Boehner, Nancy Pelosi and President Barack Obama stand for the national anthem at the U.S. Capitol in February 2009 during the bicentennial celebration of Abraham Lincoln's birth.
Jackson responds in December 2008 to allegations in a bribery scandal involving then-Illinois Gov. Rod Blagojevich. Blagojevich was accused of trying to profit as he considered whom to appoint to take Barack Obama's former U.S. Senate seat. Blagojevich began serving a 14-year sentence on a corruption conviction in March 2012. No charges were filed against Jackson.
Leaving a White House ceremony in December 2005 are Jesse Jackson Jr., right, and the Rev. Jesse Jackson Sr., who's holding his grandson, Jesse Jackson III.
Jackson addresses the 2004 Democratic National Convention in Boston in July 2004. The son of the civil rights leader was once viewed as a rising political star.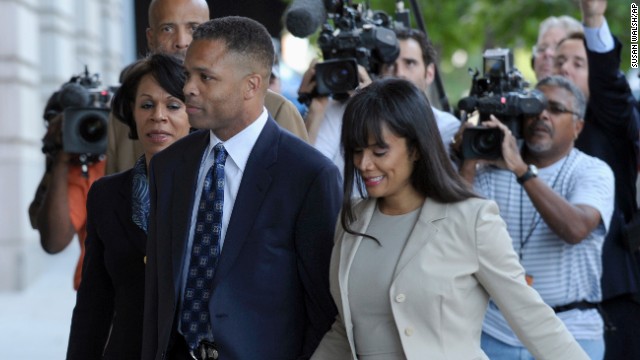 Photos: Jesse Jackson Jr.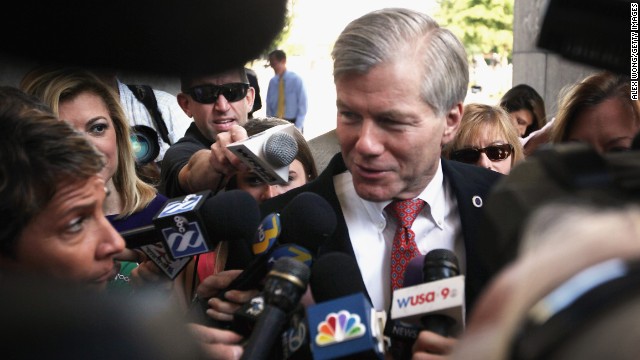 Former Virginia Gov. Bob McDonnell arrives at his corruption trial in Richmond, Virginia, on Thursday, September 4. A jury convicted McDonnell and his wife, Maureen, on charges related to influence peddling, concluding a sometimes dramatic trial and derailing the political ambitions of the one-time rising star in the Republican Party.
Rep. Vance McAllister, shown here as he awaits to be sworn in to the House last fall, asked for forgiveness from God, his family and his constituents after a newspaper published what it said was surveillance video showing the married Louisiana Republican making out with a female staffer.
Toronto Mayor Rob Ford addresses members of the media outside his office in Toronto, on November 7, after the release of a video showing Ford in a rage. Ford has admitted smoking crack cocaine.
Former U.S. Rep. Jesse Jackson Jr., D-Illinois, and his wife, Sandra, arrive at federal court in Washington for sentencing in August 2013. Jackson was sentenced to 30 months in prison for improper use of campaign funds, while his wife got 12 months for filing false tax returns.
Former Illinois Gov. Rod Blagojevich was sentenced to 14 years in prison in 2012 after being convicted of 18 criminal counts, including trying to sell the appointment to fill the U.S. Senate seat vacated by Barack Obama's election as president.
Former House Majority Leader Tom DeLay, R-Texas, leaves the Travis County Jail in Austin, Texas, after being sentenced to three years in prison for money laundering and conspiracy.
Lewis "Scooter" Libby, former Vice President Dick Cheney's chief of staff, was convicted in 2007 of obstructing a federal investigation into who revealed the identity of CIA agent Valerie Plame Wilson. He was sentenced to 30 months in prison and fined $250,000, but former President George W. Bush commuted his sentence.
Former U.S. Rep. William Jefferson, D-Louisiana, was sentenced to 13 years in prison in 2009 after being convicted of 11 counts of corruption related to using his office to solicit bribes. He was also ordered to forfeit $470,000.
Former U.S. Rep. Bob Ney, R-Ohio, was sentenced to 30 months in prison in 2007 after being convicted of conspiracy to commit fraud and making false statements to investigators.
U.S. Rep. James Traficant Jr., D-Ohio, spent seven years in prison after being convicted of bribery and corruption and tax evasion charges in 2002.
Former U.S. Rep. Randy "Duke" Cunningham, R-California, was sentenced in 2006 to eight years in prison after he was convicted of collecting $2.4 million in homes, yachts, antique furnishings and other bribes on a scale unparalleled in the history of Congress.
The late Rep. Dan Rostenkowski, D-Illinois, lost his seat in the Republican landslide of 1994 amid corruption charges. He served a year in prison after his 1996 conviction, then was pardoned by President Bill Clinton. He died in August 2010.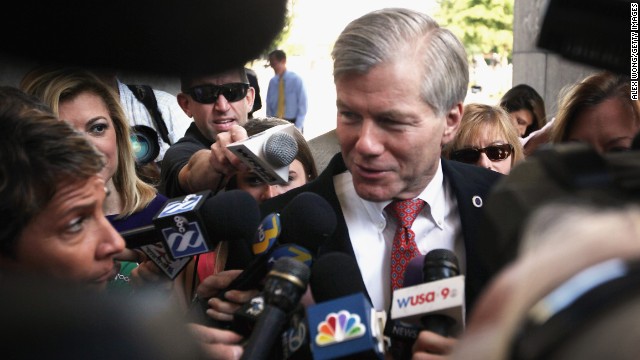 Photos: Politicians behaving badly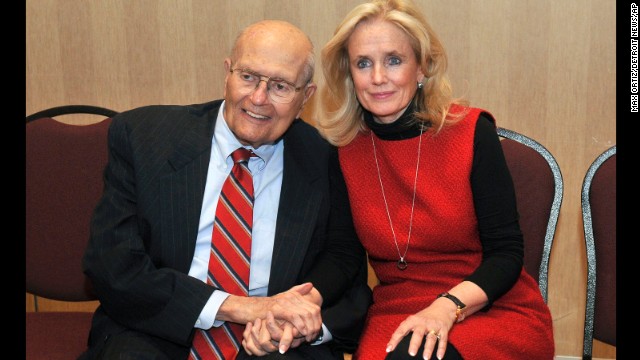 Debbie Dingell announced Friday, February 28, that she would run for the seat held for 58 years by her husband, Rep. John Dingell, D-Michigan, who announced earlier that he was retiring. Click through the images for other American political families.
Liz Cheney, daughter of former Vice President Dick Cheney, announced in July that she was running for Senate in Wyoming in 2014. Her bid set up an intra-GOP battle with Sen. Mike Enzi, a three-time incumbent. She dropped her Senate bid in January 2014.
The night after John F. Kennedy won the 1960 presidential election this family portrait was made in Hyannis Port, Massachusetts, on November 9, 1960. Sitting, from left, Eunice Shriver (on chair arm), Rose Kennedy, Joseph Kennedy, Jacqueline Kennedy, head turned away from camera, and Ted Kennedy. Back row, from left, Ethel Kennedy, Stephen Smith, Jean Smith, President John F. Kennedy, Robert F. Kennedy, Pat Lawford, Sargent Shriver, Joan Kennedy, and Peter Lawford.
Sen. Prescott Bush, center, is the father of former President George H.W. Bush, left, and grandfather of former President George W. Bush, far left.
The Bush family is a bona fide modern American political dynasty. Former President George W. Bush and former Florida Gov. Jeb Bush are the sons of former President George H.W. Bush. George P. Bush, Jeb's son, is running for a statewide office in Texas. George H.W. Bush is the son of Prescott Bush, a senator from Connecticut. Here, the former presidents and Jeb, right, pose for a photo at the christening of the aircraft carrier USS George H.W. Bush.
George P. Bush speaks during the 2011 Republican Leadership Conference in New Orleans on June 18, 2011. The grandson of former President George H.W. Bush is a candidate for commissioner of the Texas General Land Office in 2014
Former President Jimmy Carter spends time with his grandson Jason, wife Rosalynn, and daughter Amy on July 15, 1976. Jason Carter is a Democratic member of the Georgia State Senate.
John Adams was the second president of the United States.. His son John Quincy Adams was the sixth President.
New Orleans Mayor Mitch Landrieu and his sister, Louisiana Sen. Mary Landrieu, are interviewed during a special edition of "Meet The Press" in New Orleans on August 29, 2010.
Secretary of State Hillary Clinton and former President Bill Clinton attend a dinner for Kennedy honorees at the Department of State in Washington on December 1, 2012.
Former Sen. Sam Nunn, his wife Colleen, daughter Michelle, and his grandchildren Vinson and Elizabeth, left, walk the beach at Sea Island, Georgia, on January 4, 2007. Michelle Nunn is a candidate for Georgia's Senate seat in 2014.
Sen. Mark Udall, D-Colorado, and his cousin Sen. Tom Udall, D-New Mexico, attend a weekly Senate policy luncheon in Washington on May 15, 2012.
Former Arkansas attorney general, Sen. Mark Pryor, holds a news conference in Washington on July 25, 2006. Pryor is the son of former Arkansas Sen. David Pryor.
Father-and-son New York governors, Andrew, left, and Mario Cuomo appear at a rally in 2006. CNN anchor Chris Cuomo is another of Mario Cuomo's sons.
Delaware Attorney General Beau Biden embraces his father, Vice President Joe Biden, at the Democratic National Convention in 2008.
U.S. House Minority Leader Nancy Pelosi, D-California, is the daughter of Thomas D'Alesandro Jr., who was Baltimore's mayor and also represented the Baltimore area in Congress. D'Alesandro, center, attends Pelosi's swearing-in in 1978.
George W. Romney announces his intention to run for governor of Michigan, with his son Mitt and his wife Lenore in 1962. The elder Romney went on to run for president in 1968, and his son Mitt served as governor of Massachusetts befor winning the GOP nomination for president in 2012.
The Kennedy clan experienced a two-year absence on Capitol Hill beginning in 2011 with the departure of Rep. Patrick Kennedy, D-Rhode Island, shown here with his father, Sen. Edward Kennedy, at President Barack Obama's inauguration in 2009. The hiatus ended when Rep. Joseph P. Kennedy III, D-Massachusetts, was sworn in this year. He is the son of former Rep. Joe Kennedy and the grandson of the late Sen. Robert Kennedy.
Then-Rep. Harold Ford, D-Tennessee, left, and his son, Harold Jr. shake hands with supporters in this 1996 photo. Harold Ford Sr. announced earlier that year that he was retiring from the seat he had held for 22 years and Harold Ford Jr. won the seat that fall.
Former Rep. Jesse Jackson Jr. is the son of longtime civil rights activist the Rev. Jesse Jackson, who sought the Democratic nomination for president in 1984 and 1988.
Democratic New York state Sen. Jose M. Serrano is the son of U.S. Rep. Jose E. Serrano.
U.S. Sen. Lisa Murkowski, R-Alaska, is the daughter of Frank Murkowski, who also represented Alaska in the Senate and was later the state's governor.
William Taft was the 27th president of the United States and served from 1909-1913. Since Taft's presidency, three of his relatives have represented Ohio in the U.S. Senate.
Sen. Robert A. Taft is one of three Tafts to represent Ohio in the U.S. Senate.
Sen. Robert Taft Jr. attends a hearing in Washington on December 12, 1973. He is one of three Tafts to represent Ohio in the U.S. Senate.
Sen. Kingsley Taft is one of three Taft's to represent Ohio in the U.S. Senate.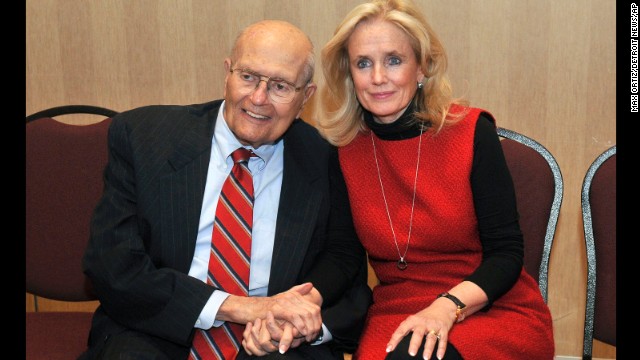 Photos: Political families
As the judge read her sentence, Sandi Jackson wept. Her husband smiled slightly when he received his punishment, which was less than what the government sought.
The pair pleaded guilty in February to various charges -- Jackson to one count of conspiracy to commit wire and mail fraud, and false statements; and his wife to filing false tax returns.
After the hearing, Jackson acknowledged his failings and hoped for a renewal.
"I still, believe in the power of forgiveness. I believe in the power of redemption. Today I manned up and tried to accept responsibility for the error of my ways," he said before climbing into a waiting vehicle.
Vacations, furs and memorabilia
A smooth politician and the son of a civil rights leader and one-time political heavyweight, the younger Jackson admitted to using campaign money to pay for things such as vacations, furs and Michael Jackson memorabilia.
In a statement read in court, Jackson said he wanted to be held accountable for his actions and he knew what he did was wrong.
He also asked the judge to not punish his wife for what he said "was a subset of what I did."
"I ask that my kids not suffer from my actions," Jackson said of his two children, 9 and 13. "If probation is not available to my wife, give me her time."
Jackson's lawyers reiterated that sentiment and asked the court for an 18-month sentence for Jackson and probation for his wife.
"This is not Madoff," Reid Weingarten, Jackson's lawyer, said in court, referring to notorious Wall Street swindler Bernie Madoff. "There was no Ponzi scheme."
Sandi Jackson sobbed through part of her courtroom statement and said she "put her family unit in peril" for filing false tax returns.
"I stand before you today asking for mercy," she said. "My heart breaks every day with the pain it's caused my babies. I ask the court for mercy."
Prosecutors had sought a four-year sentence for Jackson and 18 months in jail and restitution of $168,550 for his wife.
"This is a sad day that involves a waste of talent," prosecutor Matthew Graves said. "They were in the top 10 percent of household earnings in the United States. There's just no need for this kind of conduct."
Graves said that Jackson did not "deserve credit" for his job as a congressman.
"That's what he was paid to do," he said.
Jackson's lawyers pointed to his record in Washington -- one they said was good -- in arguing for a lighter sentence.
The judge said the sentencing guidelines were excessive and that apologies expressed appeared genuine. She also cited helpful cooperation.
"The real remorse you've shown is palpable in this courtroom," she said. "There's no question you've suffered. Your remorse is real."
After sentencing, the judge gave the couple a few minutes to discuss who wanted to serve their sentence first.
Jackson will begin his sentence around November 1 at a prison camp in Montgomery, Alabama, the judge said.
Jackson requested the location.
"I ask for Alabama so I can be as far away from everybody for a while as I can be," he said. "I want to make it a little inconvenient for everybody to get to me."
In addition to jail time, Jackson must repay in full the money he misused, while his wife was ordered to make restitution of $22,000.
Jackson and his wife also were ordered to perform community service.
Jackson in Congress until 2012
According to court records, Jackson misused about $750,000 in campaign funds from August 2005 through July 2012. Some of the eye-popping spending included $60,000 at Antiques of Nevada, where Jackson bought two hats belonging to the late singer Michael Jackson costing more than $8,000; a $5,000 football signed by U.S. presidents; and memorabilia involving the Rev. Martin Luther King Jr., Malcolm X and martial artist Bruce Lee.
The Jackson's also use campaign funds to purchase Blu-Ray DVD players from Best Buy, dresses and jewelry from a small boutique and fur capes and parkas from a Beverly Hills, California, furrier.
In total, prosecutors said Jackson made more than 3,000 purchases.
Jackson served in the House of Representatives from 1995 until 2012, when he took a medical leave of absence and never returned.
He was succeeded by Democratic Rep. Robin L. Kelly, who won a special election this year to fill the vacancy in the Illinois 2nd Congressional District.
Jackson's lawyers later stated he suffers from bipolar disorder.
A rising star, knows Obama
Early in his political career, Jackson was considered a politician on the rise.
In 1997, Newsweek named him one of the 100 people to watch in the next century.
"He's a hit in Congress," read the Newsweek article. "Will he be the first black president?"
Although Jackson never lived up to that hype, he was an extremely vocal supporter of then-candidate Barack Obama.
"I'm sure that Dr. King is looking down on us here in Denver noting this is the first political convention in history to take place within sight of a mountaintop," Jackson said in 2008, referencing the Rev. Martin Luther King's famous speech, "I've Been to the Mountaintop."
"I know Barack Obama," Jackson said. "I've seen his leadership at work. I've seen the difference he has made in the lives of people across Illinois."
Outside the courtroom, Jackson Sr. told reporters that his son was "unbelievably sick" a year ago, but is now doing better.
"I don't know how I missed so many signs," the elder Jackson said.
CNN's Carol Cratty, Athena Jones, and Kevin Liptak contributed to this report.