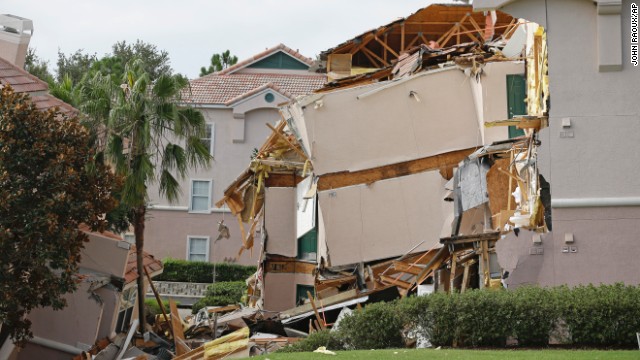 A
60-foot-wide sinkhole
formed under a resort in central Florida late on Sunday, August 11, forcing guests out of their rooms as one three-story building collapsed and another slowly sank.
Inspectors look over damage to buildings on Monday, August 12.
Guests at the Summer Bay Resort in Clermont, about 10 minutes from Walt Disney World, called for help before the collapse, saying they heard loud noises and windows cracking.
All guests inside the buildings -- an estimated 35 people, authorities said -- were evacuated before the first structure crumbled.
Florida is known for sinkholes. The Florida Senate Committee on Banking and Insurance reported that insurers received 24,671 claims for sinkhole damage in that state alone between 2006 and 2010.
Florida resort sinkhole
Florida resort sinkhole
Florida resort sinkhole
Florida resort sinkhole
Florida resort sinkhole
STORY HIGHLIGHTS
NEW: The situation hasn't changed noticeably since Monday, an expert says
NEW: Many guests will be able to get belongings, some will not, a resort executive says
A sinkhole caused a building at Summer Bay Resort in Florida to collapse Sunday night
The building was starting to fall apart as the evacuation began, a guard says
(CNN) -- Judging from the yells and sounds of breaking glass, security guard Richard Shanley thought there was a fight at Summer Bay Resorts' building 104 on Sunday night.
Then he listened a little closer.
"I hear people coming out and hollering, 'The building is coming apart!' At that time, I looked down the breezeway, and I could literally see the building coming down in pieces," Shanley recalled to CNN on Tuesday.
That's when Shanley, who'd been flagged down by one of the guests, hustled door to door, waking guests up to ensure everyone left the building's 24 vacation villas as windows cracked and parts of the building separated.
Sinkhole eating family out of house and home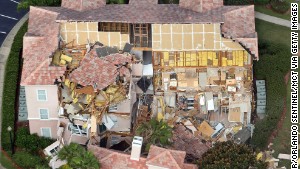 The science of sinkholes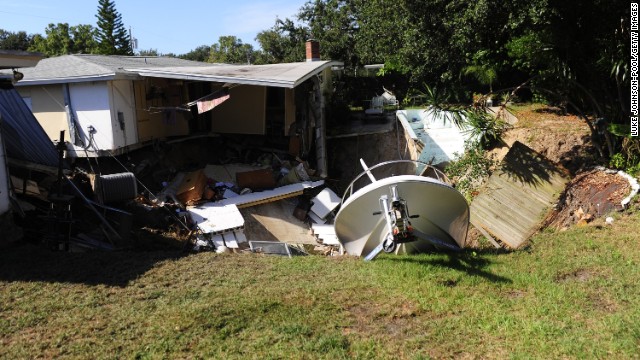 The rear portion of a residential home is consumed by a sinkhole on November 14 in Dunedin, Florida. Click through for a look at other sinkholes throughout the world.
A 60-foot-wide sinkhole formed underneath the Summer Bay Resort in Clermont, Florida, about 10 minutes from Walt Disney World, on Sunday, August 11. One resort building collapsed, and another slowly sank. The estimated 35 people inside the buildings were evacuated.
A backhoe is swallowed by a sinkhole in Montreal, Quebec, on Tuesday, August 6. A business owner says city officials ignored his warnings that there was a problem before the heavy machine tumbled in. The driver of the backhoe was not injured but was taken to a hospital as a precaution.
A sinkhole killed a guard in a construction site in Shenzhen, in China's Guangdong province, on Wednesday, March 27. The sinkhole might have been caused by heavy rains and the collapsing of old water pipes running beneath the surface, the Shenzhen Special Zone Daily reported.
Workers watch the demolition of the house where a sinkhole opened beneath the bedroom of Jeff Bush three days before in Seffner, Florida, on Sunday, March 3. Sinkholes caused by acidic groundwater corroding the limestone or carbonate rock underground are common in Florida, according to the Florida Department of Environmental Protection.
Tropical Storm Agatha caused a sinkhole to open in Guatemala City, Guatemala, in May 2010.
In Orlando, a sinkhole 150 feet wide and 60 feet deep swallowed trees, pipelines and a section of sidewalk near an apartment building in June 2002.
A water main collapsed an entire block-long part of Ocean Park Boulevard in Santa Monica, California, in December 2002.
An aerial photo shows sinkholes created by the drying of the Dead Sea near Israel in 2011.
A 30-foot-deep sinkhole appeared in a busy street in a suburb east of downtown Los Angeles. A motorist drove into the hole but was rescued before a concrete slab fell onto the car.
A utility worker examines the area around a sinkhole caused by a broken water main in Chevy Chase, Maryland, in December 2010.
A fire truck protrudes from a sinkhole as Los Angeles Mayor Antonio Villaraigosa talks to reporters in September 2009.
Construction on a subway line caused a huge sinkhole to form in a road in Beijing in April 2011.
Buildings fell into a sinkhole near a subway construction site January 2013 in Guangzhou, in south China's Guangdong province. The hole measured about 1,000 square feet across and 30 feet deep and was without casualties, according to a state media report.
A man inspects a 40-foot-deep sinkhole that a family found after they heard a booming noise in their kitchen in July 2011 in Guatemala City.
A basketball court in Ortley Beach, New Jersey, fell into a sinkhole caused by Superstorm Sandy in November 2012.
"The Great Blue Hole" is the name of a massive underwater sinkhole off the coast of Belize. The deeper you go, the clearer the water becomes, revealing amazing stalactites and limestone.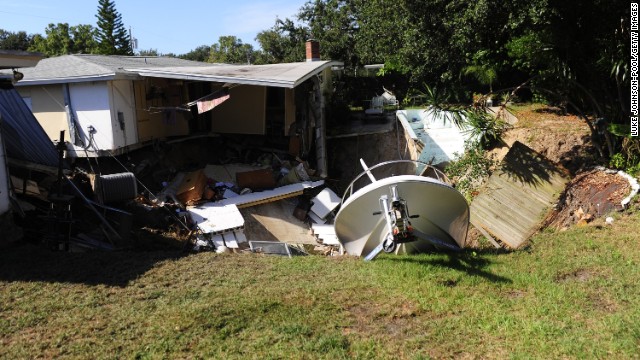 Photos: When the ground gives way
Later that night, much of the three-story structure collapsed into a sinkhole at the central Florida resort near Walt Disney World.
The sinkhole -- 110 to 120 feet wide and about 15 feet deep, according to an on-site expert -- swallowed a number of rooms and, with them, clothing and other belongings that the harried guests left behind. But no one was injured, earning Shanley praises from managers of the resort in Clermont, near Orlando.
"I'm proud of his quick thinking and responsiveness," the resort's executive vice president, Juan Barillas, told reporters Tuesday morning.
One end of the building -- which had held two-bedroom, two-bathroom villas -- still stands, but the rest has become a heap of debris. A guest in another building, Ben Warrick of Des Moines, Iowa, caught the collapse on video camera, showing part of the structure, already cracked and separated from the rest, falling with a loud rumble in the dark of night.
Most of the resorts' hundreds of other guests were unaffected -- two other structures were evacuated as a precaution, and the power and gas service that had been cut in some other villas was restored by Tuesday morning.
The other bit of relatively good news? There weren't any noticeable changes between Monday and Tuesday, Doug Yovaish, an expert hired by the resort, told CNN around 5 p.m. Tuesday.
Still, many of the evacuated guests were without important belongings, such as passports -- items that resort officials say probably won't be recovered. The Red Cross was helping 17 families who were staying at the resort with food and clothing through gift cards.
Sinkholes: Common, costly and sometimes deadly
Two buildings evacuated as a precaution are expected to reopen by week's end, a resort executive said. And some guests who left behind their belongings in the most heavily damaged structure will be able to get them back.
Others, though, will not.
"They will become part of the demolition," said Barillas.
The resort is working with county and other officials to ensure foreign guests get new passports and will make sure no guest suffers a financial loss, said the resort president, Paul Caldwell.
Caldwell, addressing a reporter's question about whether anyone had seen signs the building was in distress before the evacuation, said the security department had no record of any complaints.
Shanley told CNN someone flagged him down around 11 p.m. Sunday, just a few minutes into his shift. He said he banged on guests' doors, waking some of them up.
"I said, 'Get out to the stairwells as quick as you can. Don't worry about grabbing your stuff. Just get out!'" recalled Shanley, who started working at the resort about two months ago.
An interior breezeway connecting parts of the building "actually started collapsing right after I got there on scene to get the guests out," he told reporters in a news conference Tuesday morning.
"I was in the corridors of the breezeway, and the ceilings were actually coming down," he said.
A couple and their infant escaped through a window because a door frame had collapsed, witness Maggie Ghamry told CNN affiliate WFTV on Monday.
"He, his wife and an infant, he had to break the window so they could escape," said Ghamry, who said she escaped with her three children but lost the belongings she'd had in her room.
Some guests tossed their luggage over their balconies, WFTV reported.
Julian Moreno of San Antonio said he heard strange noises after he was told to evacuate.
"The center balcony, (there was) a lot of noise like popcorn and (banging), like a sledgehammer hitting a concrete block," Moreno told WFTV.