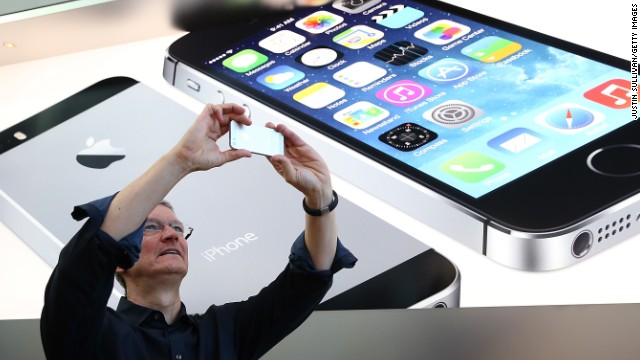 Apple CEO Tim Cook is expected to unveil the iPhone 6 -- and possibly more than one phone model -- early this fall. The phone reportedly will have a bigger screen than current Apple models. Here is a look at some other top smartphones on the market now or coming soon.
Announced in June, Amazon's Fire Phone will have a 5-inch screen that displays 3-D images. A feature called Firefly offers instant image, text and audio recognition and can supposedly recognize more than 100 million songs, videos and consumer products. It will sell for $199 for a 32GB model and $299 for 64GB and begins shipping July 25.
The Galaxy S5 is the latest in Samsung's line of big-screen, feature-laden phones.Considered an improvement, but not radical departure from, the S4, the phone features a 5.1-inch screen, 16-megapixel camera with ultra-fast shutter speed and a fingerprint sensor for added security. It sells for $199 with most mobile contracts.
The iPhone 5S is Apple's fastest handset yet, with an upgraded camera with slow-motion video capabilities and the Touch ID fingerprint scanner for security. It ranges from $199-$399, depending on storage. Apple also sells a new plastic iPhone, the 5C, which is simpler and cheaper: $99-199.
Hailed by some critics as the best Android phone yet, HTC's latest offering has a sleek, brushed-metal design that has charmed reviewers. It boasts a 5-inch screen, a dual-camera setup that lets users refocus even after they take an image and a hefty 2GB of RAM. The HTC One M8 retails for $199.
Google has sold Motorola to Lenovo, but the Moto X still has its admirers. The Moto X claims to be the first phone manufactured in the U.S. Hands-free voice controls allow you to operate the phone without touching it -- a handy trick if you're across the room -- and it's highly customizable. And because it's been out for a while you can pick it up cheaply with most wireless contracts.
The king of the "phablets," the Samsung Galaxy Note 3 has a vivid, 5.7-inch screen and comes equipped with a stylus. It's $299 and has been a popular No. 2 device for Samsung.
Some reviewers have called the Nokia Lumia Icon with a fast processor, 5-inch display screen and 20-megapixel camera, the best Windows phone yet. But the phone, selling for $199, is only available on Verizon. Nokia's other top-end phone, the bigger (6-inch) Lumia 1520, is similarly exclusive to AT&T.
BlackBerry, once the king of business-oriented phones, is now struggling to catch up. Unlike past models, its flagship Z10 phone has no physical keyboard. It also offers a feature that splits the phone into two separate devices -- one for work and one for personal use -- so IT departments can control the flow of sensitive data. The Z10 is now free with a two-year wireless contract.
This is the second generation of the Sony phone with an unusual claim to fame: The company says it's water-resistant, for up to 30 minutes. It also boasts a 20-megapixel camera, which Sony claims has the industry's largest sensor. The Experia Z1s is exclusive to T-Mobile.
The big-name smartphones
Amazon Fire Phone
Samsung Galaxy S5
iPhone 5S
HTC One M8
Moto X
Samsung Galaxy Note 3
Nokia Lumia Icon
BlackBerry Z10
Sony Experia Z1s
STORY HIGHLIGHTS
Report: New iPhone coming on September 10
Phone could be called the iPhone 5S
Leaks have also suggested a cheaper iPhone could be coming
Apple looks to respond to unprecedented competition from Android
(CNN) -- Apple will unveil the latest version of its iPhone on September 10, according to a new report.
The news comes from All Things D, the Wall Street Journal-affiliated tech blog that has a solid track record for reporting inside Apple information.
Apple is believed to be working on a smartwatch and a TV, but neither of those products are expected to be ready for rollout at next month's event. Apple did not immediately respond to a request for comment.
Likely to be called either the iPhone 6 or iPhone 5S, the phone's release date would fit the schedule Apple has established since the first iPhone was released in 2007.
The company has released a new iPhone model every year, and the release dates have all been in the summer or fall. The iPhone 5 came out in September 2012, the iPhone 4S in October 2011, and the three versions before that in the summer months.
The release date is the most recent, and probably one of the most accurate, rumors that precede this Apple release.
The upcoming Apple event will come at a unique time for the tech giant, which has dominated the smartphone and tablet markets for almost as long as they have existed. Android-based phones like Samsung's Galaxy S4 have put a dent in iPhone sales, while some critics have said the latest updates to the iPhone and iPad lack significant innovation.
READ: How Samsung is out-innovating Apple
The new iPhone will run iOS 7, the latest version of Apple's mobile operating system, which includes new typography, redesigned icons and a new color palette.
Here's a roundup of some of the speculation swirling around the next iPhone. As always with such things, take it all with a grain of salt. Leaks along Apple's supply line have become more frequent, but that doesn't mean all of them turn out to be accurate.
--The new phone will likely be the iPhone 5S and keep the same design as the current iPhone 5. The iPhone 4 was followed by the 4S, which maintained the same form.
--The company will also roll out a cheaper version of the iPhone, largely for sale in emerging markets. Reuters reported that it will cost $99 and come in five or six different colors. It may or may not be called the iPhone 5C. Apple Senior Vice President Phil Schiller has tossed cold water on this idea, though Apple is known for misdirection in advance of new product releases.
--Since there will be a cheaper iPhone, Apple will discontinue production of older models.
--There will be at least one larger iPhone model, with a 4.7-inch screen, a 5.7-inch screen, or both to compete with big-screen rivals from Samsung, HTC and other makers.
--The new phone will have a fingerprint scanner for added security and other uses.
--As usual, it will have a faster processor, longer battery life, and an improved camera. Not much of a stretch there -- all of these upgrades are typical of any gadget update.
Again, it remains to be seen which of these rumors and reports pan out. And Apple can be counted on for at least a few surprises.